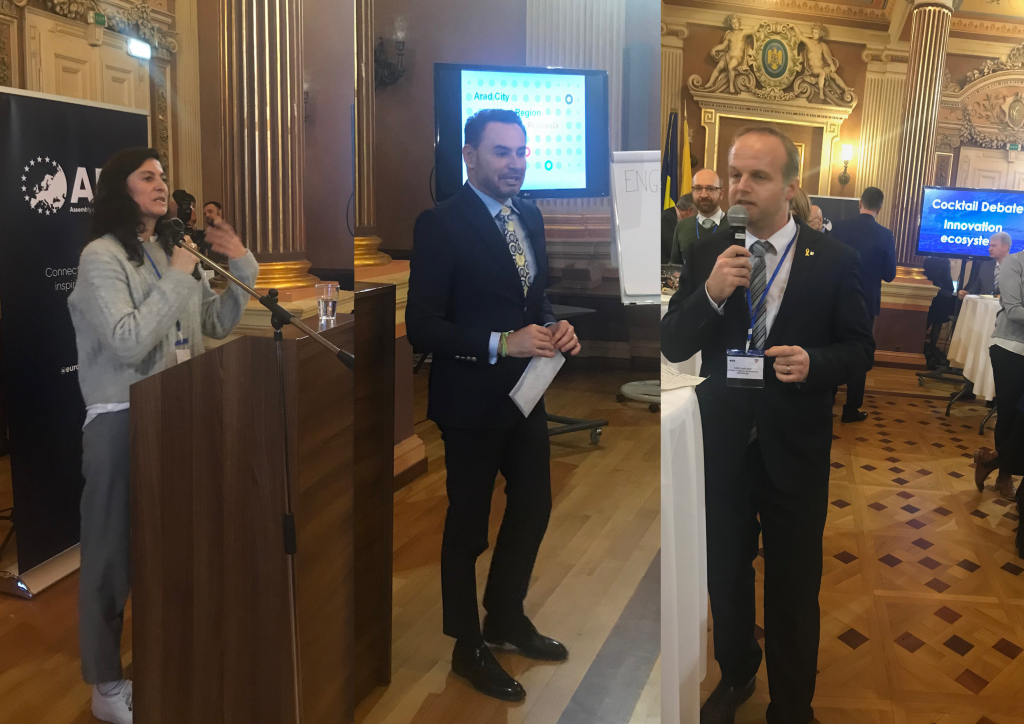 Share this!
On the occasion of the AER Spring plenaries in Arad, the main topic was, multilevel and open innovation ecosystems. This interesting and complex subject was moderated by Dr Sandra Evans, University of Tübingen, DE.  
Dr Evans highlighted the paradigm shift we are facing today, from closed innovation, linear subcontracts, to open innovation, clusters to the world of today open innovation 2.0, with ecosystems. The value chains are becoming more interregional in the Multi-level Quadruple Helix Open Innovation Ecosystem , where a wider spectrum of stakeholders are necessary. An openness and engagement from everyone is essential.
This opening was followed by a presentation by the President of Arad County Council, Iustin Cionca. 2018 marks 100 years since the formation of the modern Romanian state at the end of Word War 1. They celebrate the unification and the progress and reconstruction of the national identity. The Romanian modern state promote a peaceful integration of the Roma population in an eco-system. Romania is a model for integration of minorities, as an example all minorities are represented in the Parliament. Arad County is involved in multilevel cooperation to support the development of such innovation ecosystems. They collaborate with neighbouring regions in Serbia and Hungary which have an impact on over 5 million inhabitants.
Gheorghe Falcă, Mayor of the city of Arad, RO, continued to display how Arad is working with a multi stake holder approach. They have built an economic hub Arad-Timisoara. With EU funding, the two cities, have together built a highway connecting the two counties. The shared vision and shared strategy  has led them to drive the hub forward, in terms of economic development, economic activity  and also in regards to inclusion of the minorities.
The welcoming session was then transformed into a cocktail debate on the same topic, innovation ecosystems, with examples from Catalonia and Gelderland.
AER's Vice President Albert Castellanos, Catalonia, gave an example on how Catalonia is embracing the multi stakeholder ecosystem.  Catalonia's strategic objective is to consolidate the region as a European knowledge hub and link technological and creative capacities to existing and emerging sectors in the territory. They work in various levels regarding this, below are some of the examples:
Reinventing public services so that they provide a more efficient and effective response to societal needs. 
Reinventing the concept of community and develop new forms of cooperation among people and organisations in order to build collective intelligence that can generate effective responses to the complex problems that face our society. 
Reinventing business models so that they are more closely aligned to the needs of people.
Vivian Stribos, Gelderland, NL, presented the Gelder Energy Agreement, as an example from Gelderland.  Gelder Energy Agreement is a multi-stakeholder cooperation with a bottom-up approach for the energy transition. The shared goal is to make the province energy-neutral by 2050. Local and regional industries, governments and NGOs' in the province of Gelderland, Netherlands, have pledged for the province to become energy-neutral by 2050. It facilitates a co-creative process where initiatives, actors, and energy are integrated into society.
The Province of Gelderland invites all AER members to take part in a study-visit the 17-19 April, to get to know this unique multi-stakeholder collaboration for an energy-neutral Province.  For more information and registration, please read more here.
Follow AER!