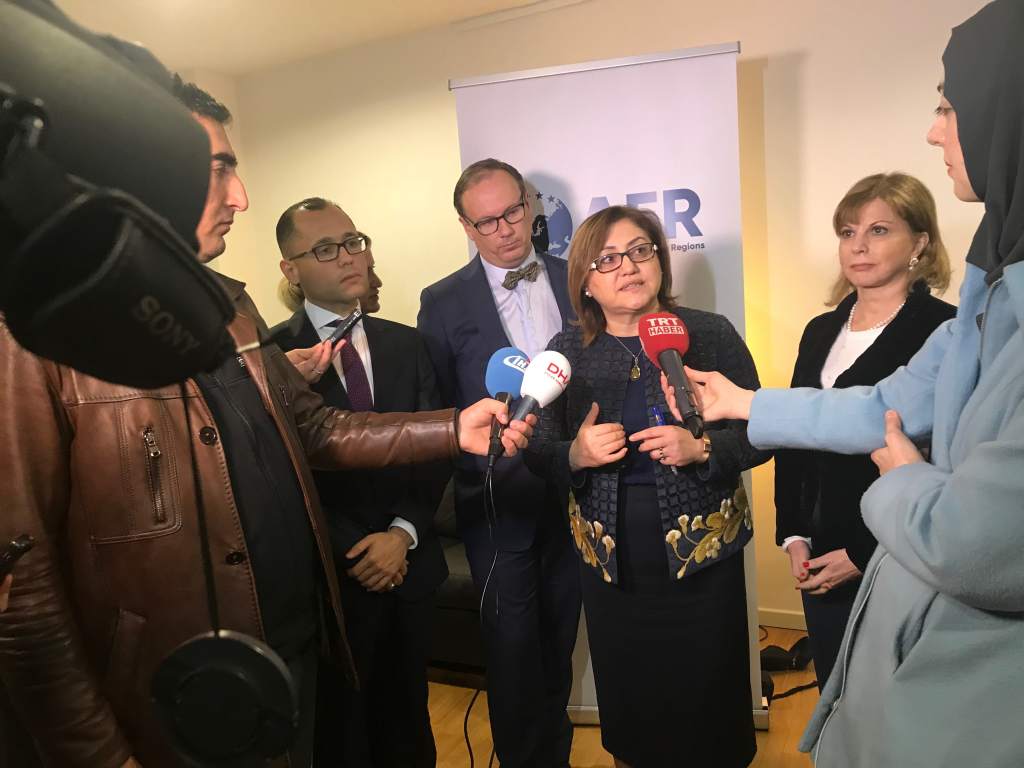 Share this!
A delegation of politicians from Turkish municipalities visited Brussels on the 24th and 25th of January 2018. Among them was Fatma ŞAHIN, Mayor of Gaziantep, Turkey and a 2016 nominee for the Nobel Peace Prize for her role in helping Syrian refugees.
Ms. Şahin was invited by the European Parliament to deliver a speech at the opening session of the Interparliamentary Committee Meeting on the European Agenda of Migration held on 24 January. There, she offered Gaziantep's perspectives on the opportunities and challenges of refugee integration in Turkey, and in the rest of Europe.
Magnus Berntsson, AER President, said "giving the opportunity to one of our members (Gaziantep) to share their view point on the refugee crisis and their important role in it is what the Assembly of European Regions' network is all about. Having this delegation in Brussels was an opportunity for exchanges between Turkey and Europe. We are glad to increase the voice of our members and are very thankful to our partners, the European Parliament Turkey Forum and Friends of Europe, for their support in these important endeavours."
Only 92 kilometres separate Aleppo (Syria) and Gaziantep, meaning that it has been one of the cities of Turkey to receive the most refugees following the conflict in Syria. Over 2.5 million refugees are living in and around Gaziantep. Another city located in the vicinity, Adana, was represented by deputy secretary general Halil Avşar who offered great insights in the challenges faced by Turkish cities and regions.
Following a closed workshop co-organised with the European Parliament Turkey Forum, in the AER offices, which allowed regions from all over Europe to exchange on how they can help each other, there was a public lunch debate, co-organised with Friends of Europe, on 'Urban responses to refugees'.
Dr. Özsan Bozatli, AER Honorary President said: "We were very happy to be discussing the role of regions and cities in welcoming refugees to Europe, and to learn from the experiences of our Turkish friends. Welcome them to our offices in Brussels to discuss the potential and limitations of Turkish municipalities in dealing with the Syrian refugee crisis, was an opportunity to create more links between Turkey and Europe. We hope that these many discussions will foster empowerment and recognition of Turkish municipalities and their role in welcoming refugees." 
Laura Batalla, Secretary General of the European Parliament Turkey Forum, said: "More than half of the world's refugees live in urban areas. In Turkey, more than 90% of Syrian refugees live outside the camps. As a result, Turkish municipalities have been faced with mounting pressure to accommodate refugees. The purpose of this delegation was to raise awareness about an often unrepresented topic in the migration debate – the role of cities and regions in welcoming refugees – and bring it closer to policy-makers in Brussels. The response has been very encouraging.
Download the press release here.
You can also see pictures from the event here. 
Follow AER!