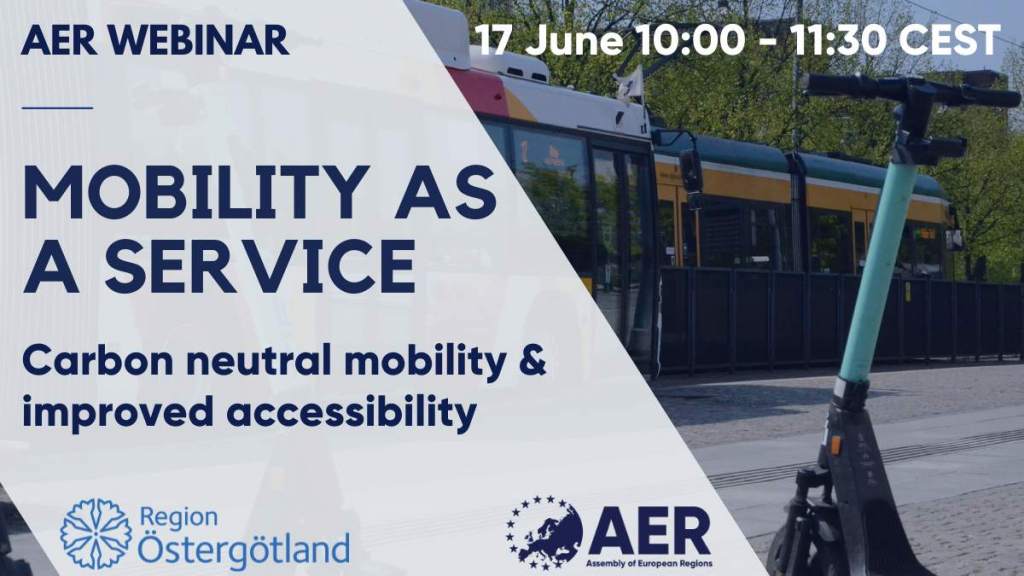 Share this!
On 17 June 2021 the Chair of the AER Working Group on Transports and Mobility, Martin Tollén, Östergötland (SE) is organising a webinar on Mobility as a Service, also known as MaaS.
MaaS… I beg your pardon?
There is an increasing demand for innovative services supporting seamless mobility combining on-demand transport modes in conjunction with public transport, leading to the Mobility-as-a-Service (MaaS) concept:
MaaS is a user-centric, intelligent mobility distribution model, in which users' needs are met via a single platform and are offered by a service provider, the mobility operator.

Source: http://www.maas4eu.eu/project/
This user-centricity shifts the focus from providers to users, which also means re-evaluating the role of the public sector, defining what matters, what stakeholders want to achieve, who needs to be involved and how. This is why the topic is relevant for all European regions: the issue indeed goes much farther than mobility only. It is linked to regional development, innovation, governance, access to services and territorial cohesion, to name a few.
Mobility & the digital transformation
The digital transformation is central in the concept of MaaS, it both pushes the demand and supports the offer. Users generally expect public services to be as easy to access as any service provided by the Five Tech Giants (Google, Apple, Facebook, Amazon, Microsoft) or Wallmart for instance. Which means the public sector is also re-inventing how it sees its role, and mobility is no exception to this general trend.
The webinar on MaaS organised on 17 June 2021 will strive to address questions such as:
What are the lessons learnt and success factors for MaaS?
What is the role of public organisations in the development of concepts and in terms of governance?
How should private and public stakeholders cooperate? Who should do what?
How to apply a city model of MaaS in rural areas?
Transport & the digital transformation at EU-level
For the 2021-2027 programming period, digital transformation is in focus and the European Commission has recently launched the Sustainable and Smart Mobility Strategy.
The webinar will also provide an update on the European Commission's New mobility strategy, the Trans-European Transport Network (TEN-T) policy, and the Connecting Europe Facility (CEF2) Digital programme. The information provided will be linked to the Green Deal and the wider topic of digital transformation.
For more information on the event and the draft agenda, please check the event webpage


Follow AER!