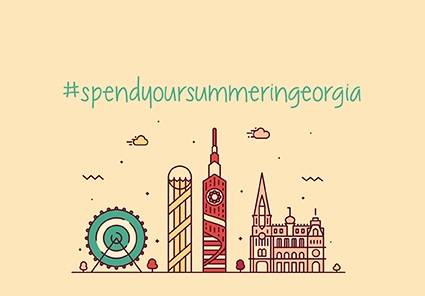 Share this!
Our member regions Adjara and Imereti (GE), are encouraging you to get to know the beautiful country of Georgia.
Situated on the crossroad of Europe and Asia at the east of the Black Sea, Georgia has a unique and ancient cultural heritage and is known for its hospitality and cuisine.
The nature is very diverse and is a good place for adventurous souls. It is one of the most ecologically diverse countries, from semi-deserts to subtropical and high alpine climate zones. People who like for example hiking, skiing, or taking the bike will have a great variety of places to go.
Georgia has three cultural monuments which are also included in the UNESCO's World Heritage, a long culture of winemaking, and a diverse culinary tradition depending on the different Georgian provinces.It has a very rich and old history as well, the state is 3000 years old. Another interesting fact is that the oldest archeological findings of human habitation was found in Georgia. They date from 1.7 million years ago, which means Georgia is the homeland of the first European.
Check out the Georgian National Tourism website to get more impressions, photos, and videos about Georgia.
Follow AER!