AER's youth mobility exchange programme, Eurodyssey, involves around 300 young trainees per year. It gives young people the opportunity to undertake an internship of three to seven months in another European member region.  
The benefits of enrolling in Eurodyssey are concrete and visible. The testimonials of former trainees and regional correspondents prove that Eurodyssey provides relevant professional opportunities to young people at the beginning of their professional career.  
Eurodyssey helps young professionals explore their professional vocation
On average, 300 young people complete a Eurodyssey traineeship every year in one of the 19 participating regions in Europe. The programme contributes to training and upskilling young trainees, and it supports them in entering the labour market. For some beneficiaries, Eurodyssey represents their first professional or vocational opportunity. The experience aims to increase their confidence and help them explore their professional vocation through quality paid traineeships. 
Eurodyssey and AER support young people in their international adventure with paid traineeships
Moving to another country and starting a professional experience abroad can be seen as a challenge, and not all young people have the resources to onboard in such adventure. The AER and the Eurodyssey participating regions believe that young people should be provided with adequate support.
That is why all Eurodyssey traineeships are paid, and why the regions support the trainees in terms of accommodation, language training, insurance, social and cultural activities. We wish Eurodyssey trainees to be provided with a quality environment to grow professionally and personally, and the way their stay is facilitated is one of the reasons why this programme is so unique. 
Eurodyssey in the words of Ana and Josep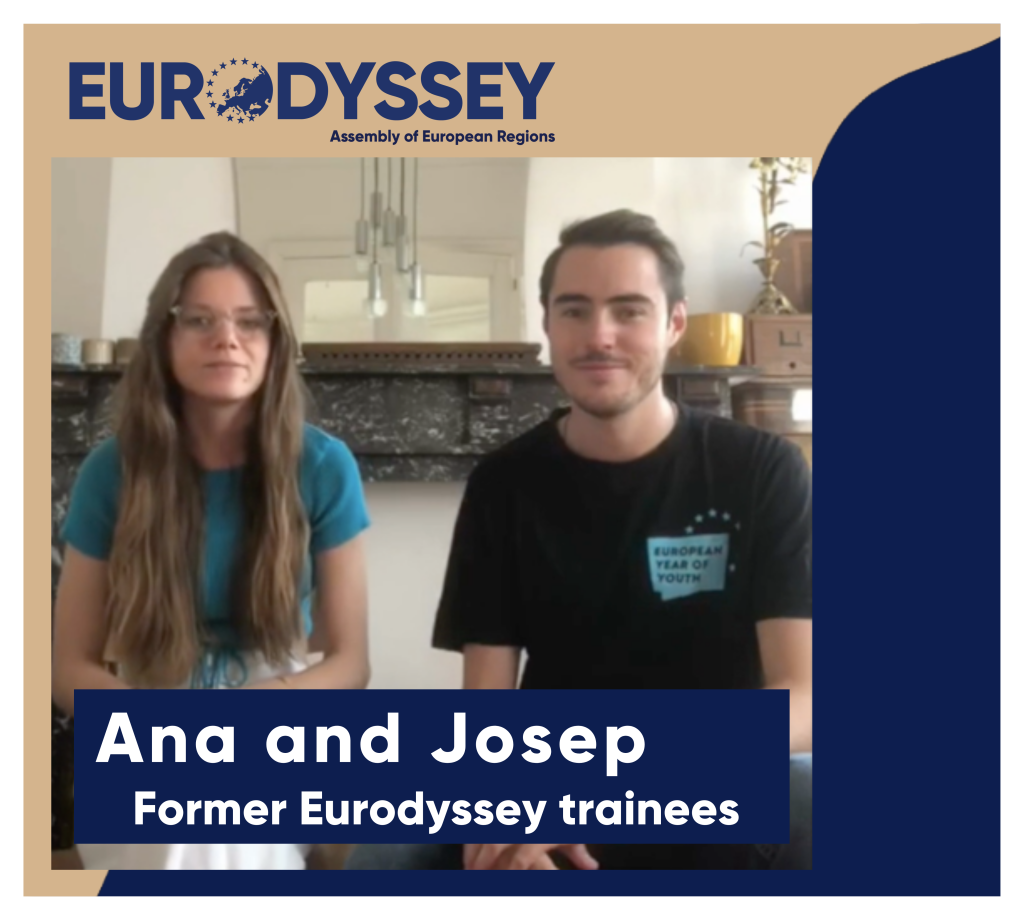 Ana and Josep, former Eurodyssey trainees, shared with AER their successful Eurodyssey. Originally from Catalonia, they have benefited from the programme in Brussels Capital Region: they have developed new skills in an international environment, and were offered a fixed-term contract in the organisations where they did their internship. 
A unique opportunity and supportive framework
After completing their bachelor's degree, Ana and Josep wanted to find a job in an international environment. "I have always wanted to work abroad and to gain international experience. When I learned about Eurodyssey, I thought it was a unique opportunity" Josep explains. 
"Eurodyssey has given me this possibility to better understand how European projects work, and how Brussels work too. This experience has allowed us to reflect upon how organisations and institutions work and what are the priorities on the agenda"- Josep 
As a matter of fact, one of Eurodyssey's main goals is to immerse the trainees in a European environment, where they can not only develop their professional skills in a tailor-made internship, but also gain confidence in living and working abroad. As Ana highlights, Eurodyssey is "a unique opportunity, not only to have an international work experience, but also to know other cultures and live outside of my comfort zone".  

A life-changing experience for young professionals
At the start of 2022, Ana was selected for a six-month internship in the political youth organisation JEF Europe, and Josep in the Centre for European Volunteering. Once their internship was completed, they both got hired by the two NGOs. The 2020 surveys actually show that 67% of Eurodyssey trainees find a job in less than 4 months after their internship was completed.   
67% of Eurodyssey trainees find a job in less than 4 months after their internship was completed
Emilio, Eurodyssey Coordinator from the Valencian Community corroborates this perspective. From his long experience, Eurodyssey "changes the trainees' lives, because it is no longer just another line in the curriculum, but it is also a useful experience for them, as companies value it more than the titles." 
Eurodyssey is beneficial to the hosting organisations
This life-changing experience cannot be done without the involvement of hosting organisations, meaning the companies, associations, etc. where the Eurodyssey trainees undergo their internship. They commit to providing Eurodyssey trainees with a concrete traineeship programme, focusing on hands-on experience and skills development, and consequently increasing their employability. For this reason, Eurodyssey provides a beneficial traineeship framework for companies to host, train and tutor Eurodyssey trainees. 
The Eurodyssey host regions grant all trainees with a monthly stipend, accommodation, and language courses. This makes it more manageable for companies and associations to be involved in the programme, and to cover smaller expenses such as public transportation or meal vouchers. 
Clara, International Programmes Officer at the Public Employment Service of Catalonia (SOC), also emphasizes that onboarding young European trainees brings about extra added value for the companies, as it "incorporates new ways of working, brings a new intercultural look to the company and opens up to foreign markets".  
"Eurodyssey is a great opportunity to meet new talents and to share experiences and work-styles different from the ones we are used to."
From a business perspective, Magrinyà I Lorente, hosting company from Catalonia, reiterates that "Eurodyssey is a great opportunity to meet new talents and to share experiences and work-styles different from the ones we are used to. In our case, as an architectural firm, we really like to incorporate new ideas and share our way of doing and understanding projects." 
How member regions benefit from Eurodyssey
When it comes to training and employment, all regions are different. Their labour markets face different realities, they have different industries in need of (young) workers, they have specific sectors of activity to offer (architecture, engineering, communications, tourism, education, non-profit sector…), they have different youth policies and youth employment challenges… Eurodyssey brings these regions together and addresses traineeship needs in an international youth exchange framework. 
The programme statistics show a good balance between the young people coming back to work in their region after their traineeship.
Eurodyssey increases employability of young people
Some may argue that such programme may have a brain drain effect, as young people leave their region to undertake a traineeship abroad and they might not come back. However, the programme's statistics show a good balance between the young people coming back to work in their region after their traineeship, the ones being employed in their hosting region, and the ones going elsewhere.
One of Eurodyssey's main goals is not to deprive regions from their skilled youth, but to provide young people with new experiences and skills that will allow them to find a job back home. In this regard, the AER has actually launched a new Taskforce on the Future of Work. 
Eurodyssey helps regions address youth unemployment
Eurodyssey aims to help regions address youth unemployment, while supporting young people in the pivotal moment of starting their career. Marta, who implements Eurodyssey in the Department of Labour in Valle d'Aosta, Italy, sees it as a fantastic occasion "for our young people to discover the outside world, fill their luggage with new competencies and experiences and bring them back home"
Eurodyssey is an asset for regional youth employment policies
This is a crucial element to consider if we want young people to stay (or come back) and create value in their region: we should motivate and support them by giving them opportunities to grow. Being assisted by their region to undertake a traineeship abroad can bolster the perspective that, once they complete their Eurodyssey internship, they will find more possibilities in their home region. 
Providing such opportunities to their young people is a strong asset for regional youth employment policies. Besides, teaming up, sharing good practices, and connecting with other European regions can foster new partnerships and launch new European projects that will benefit everyone. 
Eurodyssey and the European Year of Skills
This programme is an odyssey to grow professionally, socially, and culturally. As 2023 was labelled the "European Year of Skills" by the European Commission, and in keeping with the principles of the 2022 European Year of Youth, Eurodyssey proves its relevance as a unique youth mobility traineeship programme. Eurodyssey can be a driving force for regions, businesses, and people to develop young people's skills, and to match skills with needs in an international framework. 

Follow AER!

Share this!