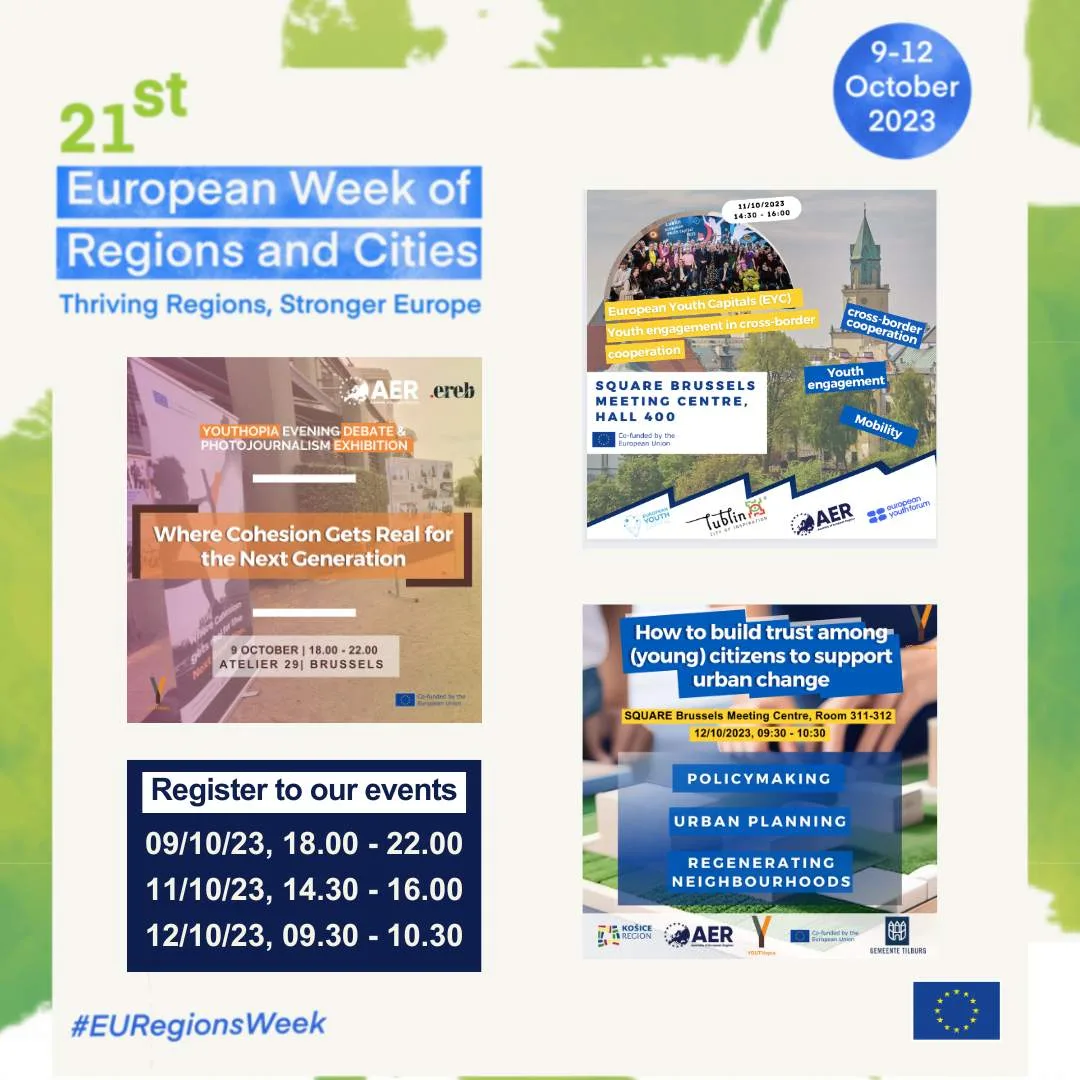 Share this!
The #EURegionsWeek, the largest event about Cohesion Policy in Brussels, is coming back from 9 to 12 October 2023.
The European Week of Regions and Cities (EWRC) is an opportunity to generate and circulate ideas about the present and future of regions in Europe. Counting on a wide participation from policy stakeholders, representatives of regional and local governments, as well as EU institutions, the EWRC is a key platform for establishing and reinforcing connections that make regions to thrive.
The AER is official partner of the #EURegionsWeek
As one of the official partners of the EWRC, AER is co-hosting three workshops giving visibility and discussing different and relevant issues and topics, with a focus on the benefits of Cohesion Policy and the opportunity it presents for regions and youth.
9.10.2023: YOUTHopia evening debate & photojournalism exhibition in partnership with ereb.eu

A picture is worth a thousand words policy essay. For this reason, photography is a fundamental part of the final event of the YOUTHopia project, which will include an evening debate and a documentary photography exhibition, digging into how Cohesion Policy offers solutions for pressing socio-economic issues.
On the one hand, the event is an opportunity to discover how regions, youth and media professionals exchange insights on strategies to support the visibility of relevant opportunities for young people, boosting talent retention and growth in Europe's Regions.
On the other hand, the evening debate seeks to trigger a constructive dialogue that acknowledges the diversity of perspectives on the future of Cohesion Policy and that builds upon it. Communicating Cohesion Policy is a two-worlds job: it needs the energy of youth representatives who seek a greener and fairer future, and the expertise of officers and politicians leading the way to regions' sustainable growth. 
11.10.2023
Youth Engagement in Cross-Border Cooperation in partnership with the European Youth Forum

The workshop with the European Youth Forum will be an opportunity to explore how youth engagement can help steering cross-border cooperation, also and especially in the context of Russia's war of aggression against Ukraine. The city of Lublin, currently European Youth Capital for 2023, will share relevant best practices about cooperating with Ukrainian regional authorities. This event will also be a strategic way to kickstart the conversation about Lviv as European Youth Capital 2025.
Retaining Talents and Skills for Regional Growth. What is the role of civil society partners?
AER Secretary General Christian Spahr will take part in a panel co-organised by the European Economic and Social Committee focusing on how civil society partners can support the retainment of talents and skills. Indeed, close cooperation must be developed between regional authorities, social partner organisations, employment services, and education and training providers. Social dialogue needs to be used effectively in order to attract companies to disadvantaged regions and ensure good quality jobs, good wages, job security via standard employment and access to social protection, and lifelong learning.
12.10.2023: How to Build Trust among (Young) Citizens to Support Urban Change in partnership with Tilburg Municipality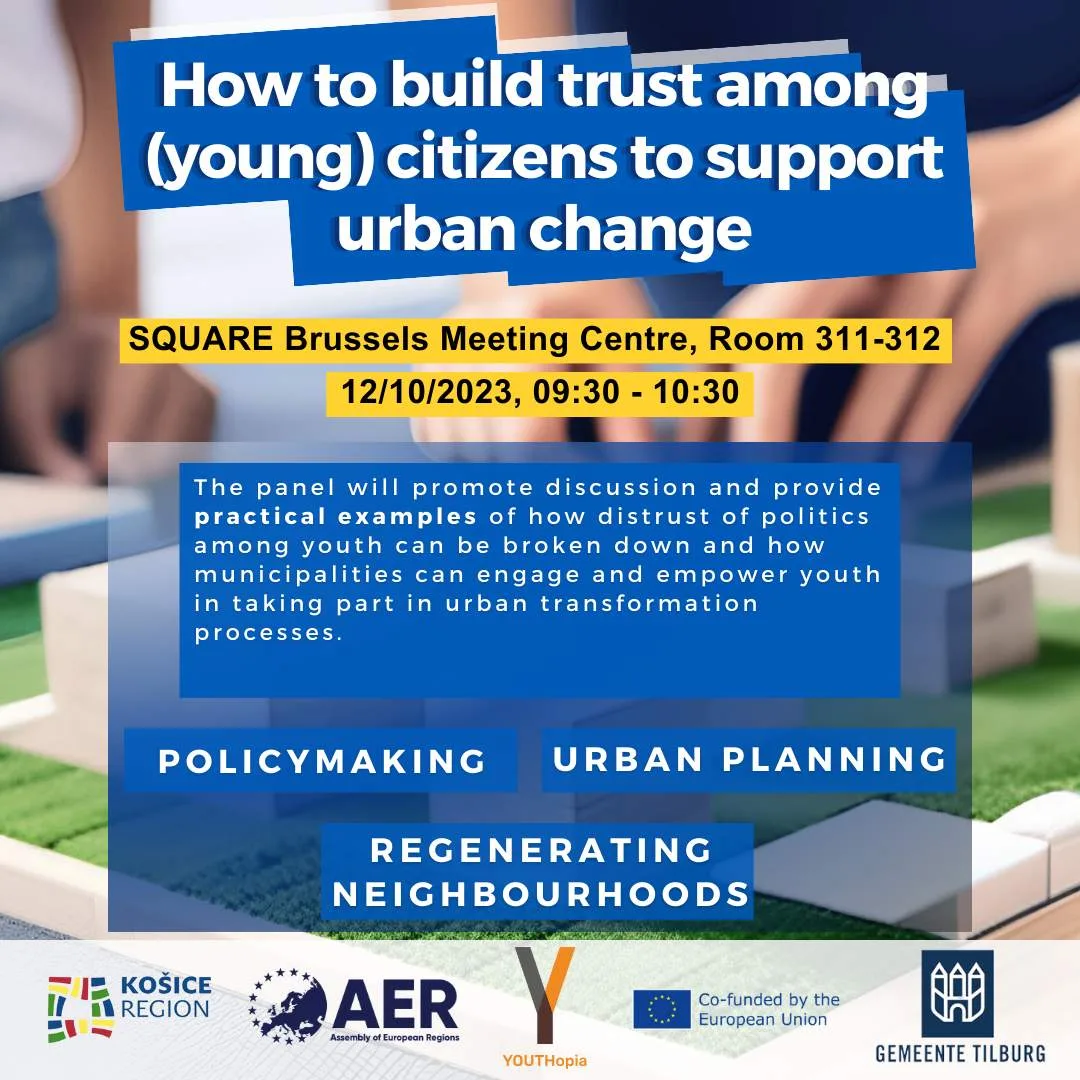 The panel will promote discussion and provide practical examples of how democratic deficit can be broken down and how municipalities and regional can engage youth in urban transformation processes and empower them. Examples from cohesion policy projects, from policy making to urban planning provide transferable practices on how to cooperate and build empowering partnerships with youth.
Follow AER!