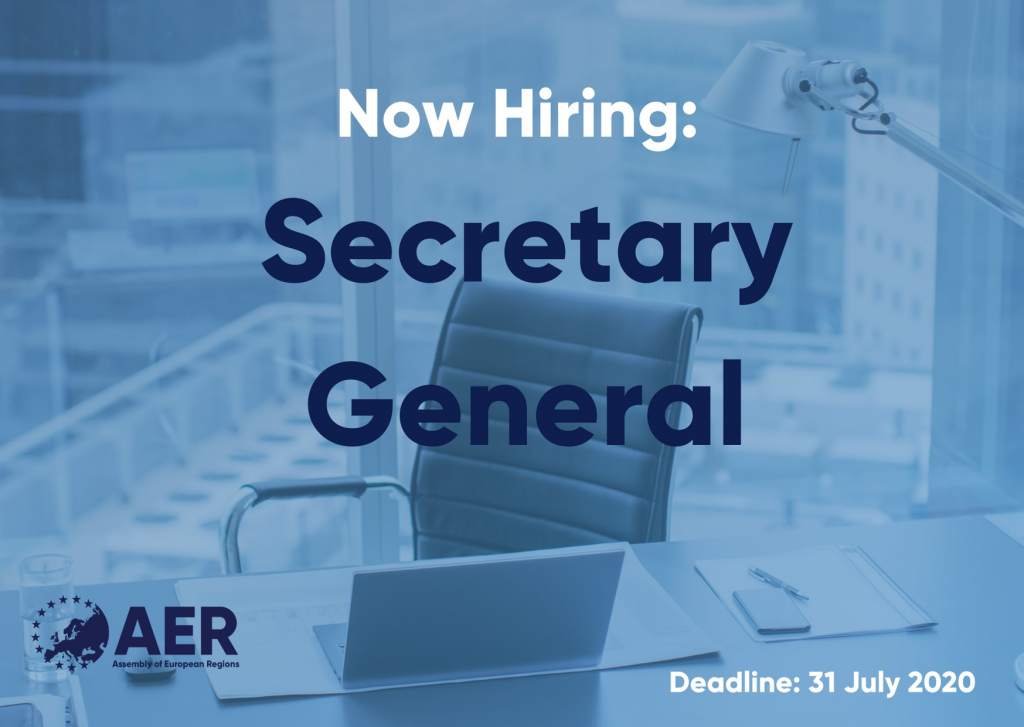 Share this!
Founded in 1985, the Assembly of European Regions is the largest independent network of regions in wider Europe, bringing together regions from 30 countries – from Norway to Turkey and from Russia to Portugal.
AER is present everywhere on the European continent, inside and outside the European Union. It is the political voice of its members, as well as a forum for interregional cooperation. AER has offices in Strasbourg (FR), Brussels (BE), and Alba (RO).
The Assembly of European Regions (AER) is looking for its new Secretary General to start ideally by early November. We are looking for an experienced leader to oversee the management of our three offices, to ensure a smooth transition and implementation of our ambitious work programme, and to represent AER externally.
JOB DESCRIPTION
As Secretary General, you will be responsible for leading and coordinating a team of 10 employees (the Secretariat). You will work in close cooperation with the Executive Board and the other statutory bodies of AER. The Secretary General will also provide updated reports on budget utilisation and current progress to the Executive Board 4-5 times a year as well as a report to all members during the annual General Assembly. Additionally, you will be responsible for strategically developing the future work plan and budget of the organisation.
KEY TASKS
Maintaining and developing relations with official bodies and institutions and policymakers, especially towards the European Institutions, the United Nations and the Council of Europe. Furthermore, maintaining and developing relations with national and regional offices in Brussels
Coordinating and preparing meetings of the Executive Board (4-5 times annually) as well as other statutory meetings per the internal guidelines
Connecting and maintaining relationships with members, as well as attracting new members. Ensuring that activities provided answers members' needs and that members are properly informed on new developments of interest to them.
Nurturing working relationships with other local & regional organisations as well as partner networks
Representing AER at high-level conferences and seminars including speaking engagements on behalf of the organisation. Additionally, contributing to AER's visibility in European, national and regional media.
Managing an international secretariat of 10 highly skilled and enthusiastic members of staff and set up and maintain a good and fair working atmosphere that favours team motivation and goals achievement.
Overseeing the budget and administration of the secretariat. This includes liaising with the auditors and social secretariat to ensure the sound financial and legal running of the organisation.
Developing the future work plan of the organisation in line with the goals and priorities of the members.
COMPETENCIES
Relevant academic degree
Excellent knowledge of regional affairs at European level
Experience working in a politically run organisation
Knowledge of European Union Institutions ways of working
Solid managerial experience in an international setting
Ability to develop and communicate a strategy empowering a team
Perfect knowledge of English (AER working language) and at least one additional European language
Computer literacy and the ability to be self-supporting
Experience with developing a strategic plan
PROFILE
Inspiring speaker and charismatic leader
Negotiation and diplomatic skills
Time management skills and the ability to work under pressure
Hands-on, willing to be flexible with deadlines and able to assist the team at all levels of work when required
GENERAL INFORMATION FOR APPLICANTS
Applications (cover letter + CV) must be done via the Eurobrussels platform by Friday 31 July midnight (Brussels Time). Please be sure to include your CV, Motivation Letter and References in one PDF.
If you have any questions regarding this position please contact us at [email protected]
Interviews will take place online for the first round (week of 24 August) and in-person for the second round in Brussels (week of 31 August).
AER is looking for a Secretary General able to start as soon as possible and ideally no later than Monday 2 November.
Given the high number of applications anticipated, only short-listed candidates will be contacted.
Please note that AER cannot refund travel and accommodation costs for the interviews. AER has no budget to cover relocation costs for candidates who are not based in Belgium or France.
AER will require candidates to demonstrate that they have the right to live and work in the EU
Frequent travel is required for this position
Please note that you may be contacted by our recruitment agency, Rtesian
AER is an equal opportunity employer and welcomes any application, whatever gender, racial or ethnic origin, religion or belief, disability, age or sexual orientation.
TERMS AND CONDITIONS FOR EMPLOYMENT
The SG will be required to work either in Brussels (BE) or Strasbourg (F), with frequent travels to the other office and to member regions.
The contract will be under French or Belgium law depending on the above.
The contract will be long-term
Follow AER!