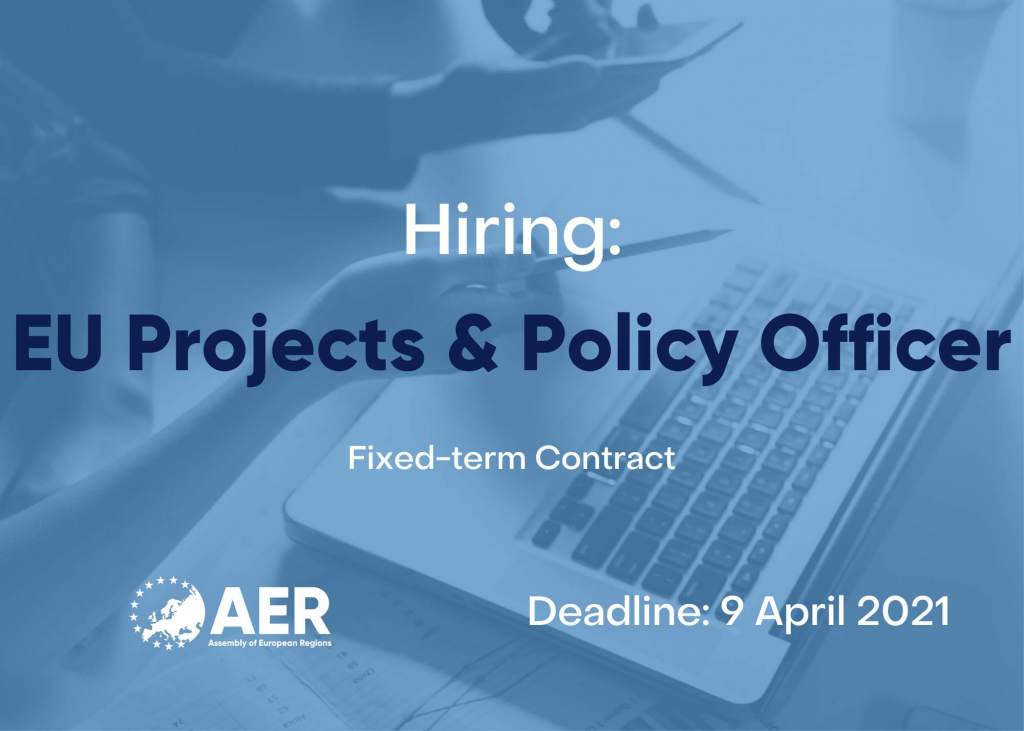 Share this!
Are you a motivated professional who is passionate about European policy? Do you have experience in the management of EU funded projects? Are you enthusiastic about knowledge sharing activities? If this sounds like you, and you are eager to reinforce an enthusiastic, international team with a wide range of responsibilities, you might be our new Project & Policy Officer. Apply now!
We are looking for a colleague to support our Project and Policy teams in the implementation of EU-funded projects, and the delivery of related activities. We want this to be combined with a knack for supporting our team in mutual learning activities, policy analysis, as well as contributing to our advocacy work.
We offer an initial 6-month, full-time Belgian employment contract, with the possibility of extension if our project activities continue to grow. You must have the right to live and work in Belgium.
This position is to be based in Brussels.
Are you our next colleague?
We need someone who is open-minded, a team player, organised, reliable and autonomous, and able to be operative from day one. In this position, you will be expected to ensure the proper implementation of EU projects within the AER portfolio, especially in the fields of education and training, culture, and inclusion. You will design and actively participate in mutual learning and knowledge sharing activities, as well as staying up to date on developments in relevant EU policy areas. You will work in our Project Unit under the guidance of the European Projects Coordinator, and additionally provide support to our Coordinators for Knowledge Transfer and Advocacy.
Key responsibilities
Project management – 40%
Implement project activities according to grant agreements, AER's political priorities, and membership needs
Prepare project deliverables, monitor project progress, and evaluation
Prepare and process technical and financial reports
Cooperate with project partners, stakeholders, and member regions on a daily basis
Communicate and disseminate project activities, deliverables and achievements through AER channels
Support the AER team in scouting funding opportunities and establishing partnerships for AER member regions
Contribute to writing new project proposals within EU funded programmes
Participate in project meetings, webinars, workshops, etc
Being a small team all staff members are asked to perform additional transversal tasks and some secretarial work
Policy-related tasks: knowledge sharing and advocacy – 60%
Both in relation to knowledge sharing and advocacy, monitor policy development and draft briefings in selected thematic areas (examples: culture and inclusion, social cohesion, regional public services, or neighbouring topics). We will discuss with you the details of your thematic portfolio, taking into account your expertise and the topics of other team members.
Deliver project activities on knowledge sharing, capacity building and learning events, including conferences, webinars, workshops and training seminars.
Ensure the smooth running of these events including the participation of highly relevant speakers and stakeholders.
Support advocacy work and influencing activities.
Your profile
At least 2 years of professional experience in the management of EU funded projects
University degree (MA or higher; or BA with additional academic qualification) in relevant subjects (e.g. Political Science, European Studies, International Relations, Cultural Studies, Economics, Management, or other courses related to this profile)
Fluency in English and another major European language, oral and written
Knowledge of EU funding programmes and opportunities
Good knowledge of EU policy-making, including regarding regional political challenges
Good understanding of several topical EU policy priorities (examples: sustainable economic development, innovation and digitalisation, social and territorial cohesion, public services and good governance, culture and inclusion)
Beneficial: experience in associations, non-profit work, or the public sector
Beneficial: experience in partnership development
Self-motivated and a self-starter
Strong team spirit and a positive attitude; eager to contribute to common objectives
Autonomous and independent in completing tasks, with good organisational and time-management skills
Ability to prioritise and multitask
Excellent interpersonal skills coupled with well-honed verbal and written communication skills
Excellent organisational and record-keeping skills
Good ICT skills (Microsoft Office Suite, various online tools, e.g. Slack, Google Drive, etc)
Readiness to occasionally travel between Strasbourg and Brussels, and AER events elsewhere
How to apply…
If this piques your interest, here's how you can apply:
Please send a cover letter (max. one page) along with your CV in English to [email protected] with "EU Project & Policy Officer" as the subject line.
Deadline for application: Friday 9 April – midnight.
Anticipated interviews (indicative days):
Round 1: 19/20/21/22 April
Round 2: 30 April/early May
Desired starting date: June 2021
Due to the large number of applications, only shortlisted candidates will be notified.
————–
Founded in 1985, the Assembly of European Regions is the political platform of regional governments in wider Europe, with direct membership of public authorities from 30 countries – from Norway to Turkey and from Portugal to Russia. As the largest independent network of its kind, AER promotes the regions as key players in the European project, as well as democracy and good governance. AER has offices in Brussels (BE), Strasbourg (FR), and a Southeast Europe Hub in Alba Iulia (RO).
The Assembly of European Regions (AER) is an equal opportunity employer – our membership is diverse and so is our team. In line with our political priorities, we are an organisation committed to fostering inclusion and embracing diversity, including in our recruitment process. We therefore guarantee equal treatment of all applications regardless of sex or gender identity, ethnic, national or social background, political or religious belief, sexual orientation, age, or disability.
Follow AER!