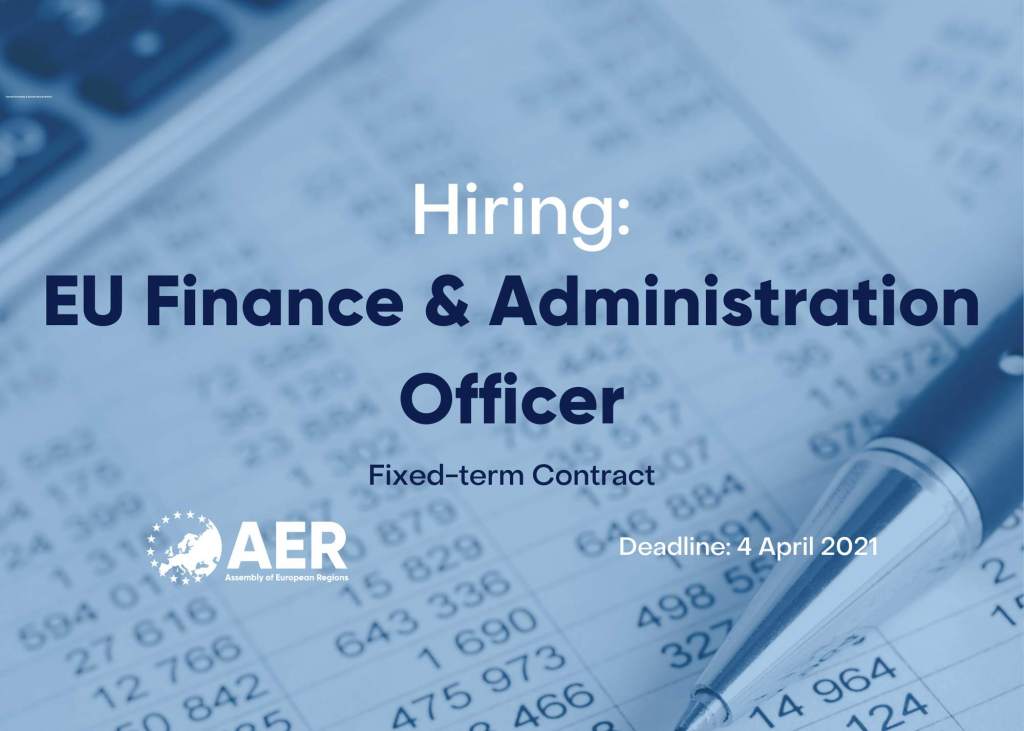 Share this!
Are you a numbers guru, with experience in project management? Are you also a good organiser who is happy to reinforce an enthusiastic, small, international team with a wide range of responsibilities? If so, you may be our new EU Finance & Administration Officer. Apply now!
We are looking for a colleague to support our Project Unit in the financial management of EU-funded projects. We want this to be combined with a knack for supporting the AER team in administrative matters, internal planning, and coordination tasks.
We offer an initial 8-month, full-time French or Belgian employment contract, with the possibility of extension if our project activities continue to grow. You must have the right to live and work in the EU.
This position is to be based in Strasbourg or Brussels.
Are you our next colleague?
We need someone who is responsive, responsible, systematic, and attentive. In this position, you will be expected to constantly refine our EU projects' finances, as well as recurring workflows of the AER in a proactive manner. You will be working in our Project Unit under the guidance of the European Projects Coordinator (Head of Unit), and additionally provide support to the Secretary General and other team members in related matters of administration.
Key responsibilities
EU finance & administration – 70%
Financial planning, budgeting, and reporting; outlining of contracts; processing payments; and monitoring budgetary performance for specific EU co-funded projects run by the AER, in close collaboration with the European Projects Coordinator and the Project Finance Manager.
Ensuring a high quality of finance-related workflows within the projects and in relation to our donors, notably the European Commission, as well as compliance with the specific guidelines provided by the European Commission. You will also be required to act as the contact point for the Project Unit and other members of the Secretariat when it comes to the European Commission guidelines for the financial and contractual implementation of projects.
Preparing monthly timesheets together with colleagues; collecting and archiving of evidence for projects as well as administrative and legal documentation.
Contributing to financial and administrative aspects of new project applications.
Organisational support for activities carried out as part of European Project implementation.
Internal administration – 30%
Supporting the Project Finance Manager in compiling data and documents for the AER's overall budgeting under the guidance of the Treasurer and the Secretary General.
Processing and archiving of invoices, including in view of external audits.
Liaising with our external Social Secretariat to ensure the smooth processing of payslips and holiday rights; and assuming other tasks related to salaries, social security, and taxes.
Administrative support to the AER team: Correspondence with internal and external stakeholders; organisation of meetings.
Being a small team all staff members are asked to perform some secretarial work.
Your profile
At least 2 years of professional experience in financial management and implementation of European projects, as well as in the preparation of financial contributions for project applications
Broad experience in workflow management and administration
University degree (B.A. or higher) in relevant subjects (e.g. administration, finance, management, European studies, or other courses related to this profile)
Fluency in both English and French, oral and written
Knowledge of EU funding programmes and opportunities
Beneficial: experience in associations, the public sector, or non-profit work
Self-motivated and a self-starter
Strong team spirit and eager to contribute to common objectives
Autonomous and independent in task accomplishment
Ability to prioritise and multitask;
Excellent interpersonal skills as well as verbal and written communication skills
Excellent organisational skills and record-tracking
Good ICT skills (Microsoft Office Suite and particularly proficiency with Excel; various online tools e.g. Slack, Google Drive, etc.)
Readiness to occasionally travel between Strasbourg and Brussels or to AER events
How to apply…
If this piques your interest, here's how you can apply:
Please send a motivation letter (max. one page) and your CV in English in one PDF document to [email protected] with "EU Finance & Administration Officer" as the subject line.
Deadline for application: Sunday 4 April – midnight.
Anticipated interviews (indicative days):
Round 1: 12-14 April
Round 2: 19-21 April
Desired starting date: 3 or 17 May
Due to the large number of applications, only shortlisted candidates will be notified.
---
Founded in 1985, the Assembly of European Regions is the political platform of regional governments in wider Europe, with direct membership of public authorities from 30 countries – from Norway to Turkey and from Portugal to Russia. As the largest independent network of its kind, AER promotes the regions as key players in the European project, as well as democracy and good governance. AER has offices in Brussels (BE), Strasbourg (FR), and a Southeast Europe Hub in Alba Iulia (RO).
The Assembly of European Regions (AER) is an equal opportunity employer – our membership is diverse and so is our team. In line with our political priorities, we are an organisation committed to fostering inclusion and embracing diversity, including in our recruitment process. We therefore guarantee equal treatment of all applications regardless of sex or gender identity, ethnic, national or social background, political or religious belief, sexual orientation, age, or disability.
Follow AER!