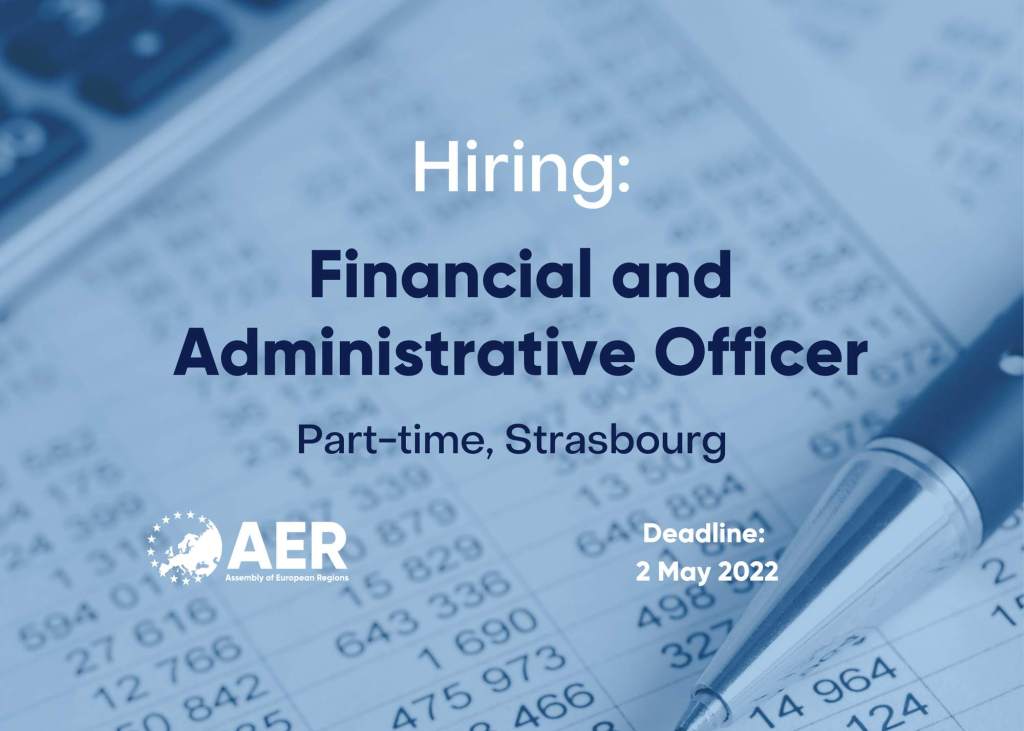 Share this!
Do you have a strong background in financial administration? Do you enjoy providing high-quality administrative support to a team? And do you have work experience e.g. in an association, small company or an international environment? If this sounds like you, you might be our new Financial and Administrative Officer (part-time, 19,5 hours/week).
Our new colleague will handle financial administration in our association. To be successful in this role, you should have previous experience with bookkeeping and a flair for spotting numerical mistakes. Ultimately, you will be responsible for the financial reporting and administrative tasks. The AER has its main offices in Strasbourg and Brussels. You will be based in Strasbourg, together with a part of the dynamic team of our Secretariat. You will work in Strasbourg and remotely, but directly with the Secretary-General who is based in Brussels. Together you will report on financial matters to the Treasurer and effectively the Executive Board. The working language in the Secretariat is English, while French is used to communicate with French service providers, members, authorities and partners.
Possession of a work permit for working in France is mandatory for this position.
Key Responsibilities
Key financial management tasks (75%)
Financial planning, budgeting and reporting
Responsible for presenting regular financial overviews and answering requests, notably for the Executive Board
Support the external accountant for the annual audit
Produce, track and organise invoices, and monitor payments
Collaboration with Member Relations Coordinator (on membership fees) and the Project Unit (on project income)
HR and administrative tasks (20%)
Monitor third-party contracts and subscriptions
Keep track of employee social benefits (e.g. reimbursements, leave)
Point of contact for questions from the staff regarding their contractual rights (e.g. salaries and benefits)
… as well as other administrative and transversal tasks as needed in a small team (5%).
Your Profile
Either minimum 2-3 years of experience in a similar role
Or university degree (BA, BSc or higher) in relevant subjects (e.g. accounting, finance) or successfully completed specialist or vocational training as an accountant, plus first concrete experience in this field of work as a freelancer or in a long internship
Strong attention to detail and good analytical skills
Excellent computer skills in Microsoft Office applications, especially Excel
Familiarity with cloud-based computing, collaborative document editing and working in business communication platforms, such as Slack
Good written and oral communication skills in English and French
Excellent organisational and interpersonal skills with ability to function in a fast-paced, multicultural environment
Familiarity with working with associations, non-profit organisations or small and medium enterprises
What we offer
Working for togetherness, solidarity, good governance, and innovation
Promoting values and sharing best practices across Europe
A salary, adjusted to the 19,5 working hours, of around 1200 EUR gross/month
Being part of a small team, which means the contribution of every person on the team is important
Using cloud-based team collaboration tools, which help us for community building
Opportunities for personal growth and widening your horizon
Attractive employee benefits and 14 extra holidays next to the legal holiday rights
Or, in short, being part of the coolest network in wider Europe!
How to Apply
Please send a cover letter (in English, max. one page) along with your CV (in English), as well as a reference letter or recommendation letter by a previous employer to [email protected] with "AER Financial and Administrative Officer" as the subject line.
Deadline for application: Monday 2 May – midnight CET.
Anticipated interviews (indicative days):
Round 1: as of 16-19 May
Round 2: as of 23-25 May
Desired starting date: June/July
Due to the large number of applications, only shortlisted candidates will be notified.
——–
Founded in 1985, the Assembly of European Regions is the political platform of regional governments in wider Europe, with direct membership of public authorities from 30 countries – from Norway to Turkey and from Portugal to Ukraine. As the largest independent network of its kind, AER promotes the regions as key players in the European project, as well as democracy and good governance. AER has offices in Brussels (BE), Strasbourg (FR), and a Southeast Europe Hub in Alba Iulia (RO).
The Assembly of European Regions (AER) is an equal opportunity employer – our membership is diverse and so is our team. In line with our political priorities, we are an organisation committed to fostering inclusion and embracing diversity, including in our recruitment process. We therefore guarantee equal treatment of all applications regardless of sex or gender identity, ethnic, national or social background, political or religious belief, sexual orientation, age, or disability.
Follow AER!