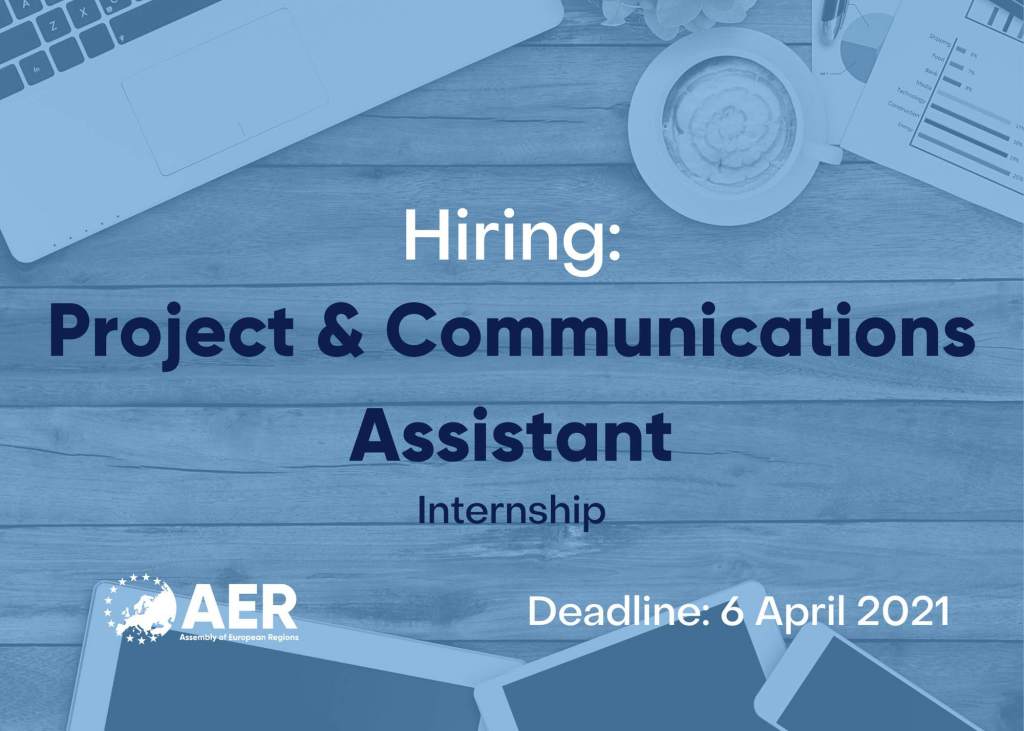 Share this!
Ready to train with the EU projects team of the largest independent network of regions in Europe?
We are looking for a motivated intern (STUDENTS ONLY) to join the Project Unit at the AER's Brussels Office, under the supervision of our European Projects Coordinator. The placement would be for 6 months, starting as soon as possible.
Your main tasks will be:
Mapping calls for proposals and collecting information on funding (based on desk research and by attending relevant events/webinars and meetings at the European level).
Supporting the AER's projects team in its partner searches and follow-ups with its members.
Contributing to the implementation of all activities related to ongoing projects, including financial elements.
Providing input and assistance in drafting documents for new project proposals.
Writing articles on funding, partner searches as well as on running projects and related activities.
Disseminating information about EU-wide projects and funding opportunities on the AER's social media channels.
Supporting in the development of communication tools such as infographics, brochures etc.
Contributing to the organisation of events and webinars in the context of European projects.
This is who we are:
We are a team where everyone—including interns—is respected and treated equally
We are a committed group of professionals, with terrific people on board
We have a meaningful mission; helping people across Europe to work together is what drives us
We provide a place for personal and professional growth. Working with a diverse group of colleagues and collaborators in an array of different policy areas widens your horizons and gives you the chance to develop valuable skills
We use cloud-based team collaboration tools, which allow us to work efficiently, keep in close contact, and strengthen our community despite frequent travel and different locations
This is the place for you if:
You want to gain concrete experience in the management of European projects
You want to build your knowledge of the different EU funded programmes
You have strong writing skills and an excellent command of both oral and written English
You have experience and interest in creating social media and web content
You are able to bring new ideas to help amplify our messages
You have well-developed IT, media and design skills e.g. Canva
You are self-motivated and interested in helping people work together to overcome challenges
You are able to perform tasks autonomously and take on responsibilities while organising your work with the rest of the team
You have a knack for multi-tasking and a solution-focused attitude
You are open-minded and would enjoy working in a multi-cultural, international and fast-paced working environment
The AER is happy to offer you the opportunity to:
Gain practical experience in the field of projects funded by European programmes
Gain experience using different communication tools and web channels
Be in contact with high-ranking politicians, project officers and partners across Europe and get inspired by them
Learn about regions and build your knowledge of contemporary issues in European politics and interregional cooperation
Work in a dynamic and multicultural environment
Develop your confidence and capacity to take personal responsibility and initiative
Gain invaluable experience in an international professional environment
You will be considered a full member of the team from day one.
Before applying, please keep in mind:
An internship contract must be signed by AER, the intern and a sending University/School/Institute.
The internship is intended for students who have to complete a compulsory internship and are therefore able to receive a scholarship through Erasmus+ or similar programmes. On top, you will receive a monthly financial contribution of EUR 150 by the AER during your internship period. Travel and living costs must be covered by the intern.
If you are a citizen of a non-EU country, you will have to make sure that you meet all the legal requirements (visa, residence permit, etc.) to stay in Brussels as specified by the Belgian Law for foreigners. Health insurance must be ensured during your stay.
Please keep in mind that we are following all COVID-19 measures so you may not be working in the office full-time.
How to apply?
If you are interested in joining us and making the AER your next professional experience, please send your CV and 1-page cover letter to [email protected], by June 20 midnight with the subject line "AER Projects & Communication Intern".
Interviews are planned to take place on a rolling basis throughout June. Only shortlisted candidates will be contacted.
Follow AER!