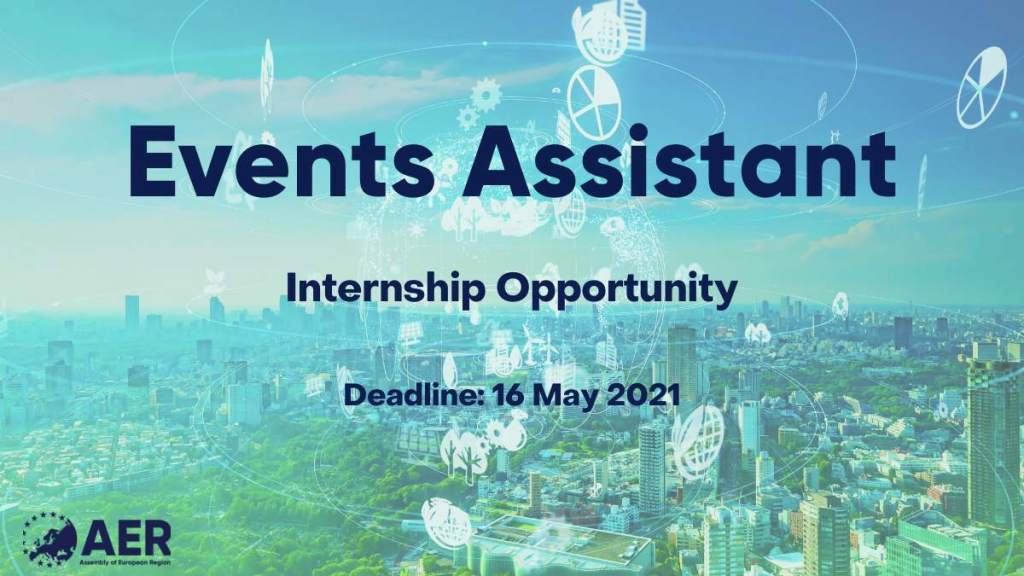 Share this!
We are looking for a motivated student to join the AER Team at our Brussels Office for six months from early to mid June 2021.
Working closely with the AER Institutional Relations & Advocacy Officer, Member Relations Coordinator and Communications & Events Officer, your main task will be to:
Assist in the event and communication management of the AER SDG Conference & General Assembly

About the Conference "Agenda 2030: Transforming Regions, Changing the World"
"Entering the year 2020, we will see a comprehensive review of the Sustainable Development Goals (SDGs) making this a year of symbolic importance to the global agenda.

This conference, jointly organised by AER, United Cities and Local Governments (UCLG), the Global Taskforce, Regions4, Strasbourg Eurometropole and the Grand Est region will gather local and regional stakeholders from around the world. It will call upon national and global leaders to strengthen the multilevel dialogue in order to facilitate local-global leadership on the 2030 Agenda.

The goal of the conference is to show that regions, alongside cities, play a key role to facilitate the transformation needed to successfully implement and reach the goals of the 2030 agenda."

You will assist in shaping the SDG Conference, inviting guests and speakers, organising logistics, creating content for the website, structuring communications and ensuring a successful event from A to Z.

This is the role for you if:
You want to grow your event and communication management experience in a hands-on way.
You have knowledge and interest in the Sustainable Development Goals and their implementation at the local level.
You are self-motivated, organised and well able to manage your time.
You are able to perform tasks autonomously and take on responsibilities while coordinating your work with the rest of the team.
You are a creative and problem-solving oriented person.
You have strong communications skills, with a strong level of English and French. Other European languages are an asset.
You are tech-savvy, with a knack for graphic design using tools like Canva, Photoshop and WordPress.
AER is happy to offer you the opportunity to:
Gain practical experience in event management from A to Z in a European environment
Liaise with high-ranking politicians, project officers and partners across Europe and be inspired by them.
Learn about regions and gain a deeper insight into contemporary issues in European politics
Work in a dynamic, multinational and multicultural environment
Develop personal responsibility and initiative
Gain invaluable experience in an international professional environment
Learn the ins-and-outs of implementing a communications campaign for a large, international event.
The internship period will be for up to six months, preferably starting in early to mid June
Before applying, please keep in mind…
An internship contract must be signed by AER, the intern and a sending University/School/Institute.
The internship is intended for students who have to complete a compulsory internship and are therefore able to receive a scholarship through Erasmus+ or similar programmes. On top, you will receive a monthly financial contribution of EUR 150 by the AER during your internship period. Travel and living costs must be covered by the intern.
If you are a citizen of a non-EU country, you will have to make sure that you meet all the legal requirements (visa, residence permit, etc.) to stay in Brussels as specified by the Belgian Law for foreigners. Health insurance must be ensured during your stay.
Please keep in mind that we are following all COVID-19 measures so you may not be working in the office full-time.
How to apply?
If you are interested in joining us and making AER your next professional experience, please send your CV and one page cover letter to [email protected] by 16 May with the subject line "AER Events Assistant".
Interviews will take place on a rolling basis until the vacancy has been filled.
Follow AER!