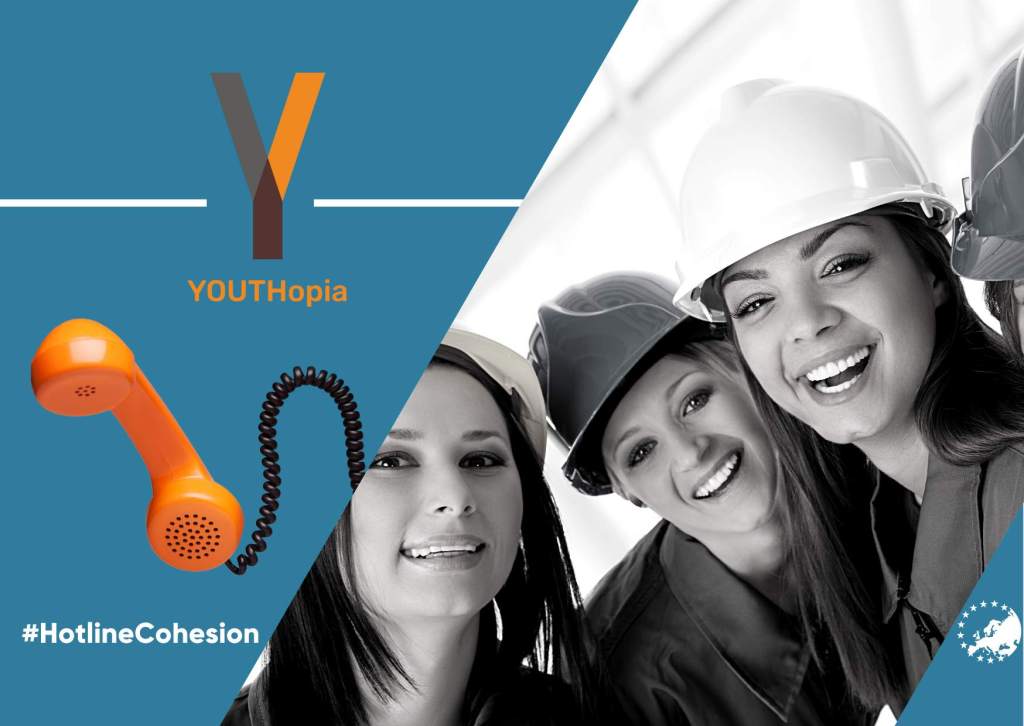 Share this!
Local, but European. Practical, but inspiring. #HotlineCohesion brings you the most interesting youth opportunities linked to EU Cohesion Policy.
Opportunities for youth employment and green transition offered by Cohesion Policy require appropriate visibility, especially amongst the youth. Widespread information makes sure that opportunities reach their target, and that the future is shaped to the needs of those who will live in it.
Every week the AER will publish its series #HOTLINE COHESION with information concerning new funding opportunities and participatory processes open to youth in your regions!
With ALMA, no young person is left behind
Social inequalities and unemployment stop young people from achieving good standard of living and healthy lifestyle. After the pandemic excluded them from the labour market, the cost of living crisis worsened their difficulties. The ALMA initiative gives young disadvantaged people the opportunity to improve their situation.
What is ALMA ?
The ALMA (Aim, Learn, Master, Achieve) initiative is a transnational working mobility scheme, where participants receive support in their education, training, or employment path. It aims to restore the confidence of young people with difficulties in finding job opportunities or from disadvantaged backgrounds.
How does ALMA work?
The programme boosts the employability of young people by putting them in touch with professionals who can support participants in accessing job opportunities and integrating in the labour market and in society.
A transnational collaboration between partner organisations, the ALMA "initiative aims to facilitate the transfer and upscaling of innovative solutions to the societal challenges of today. Through supporting transnational cooperation, the initiative aims to expand best practices in fields involving employment, education, skills and social inclusion across Europe."
Aim, Learn, Master, Achieve…but first of all, discover how to apply.
ALMA supports all young people under 30 who are neither in employment nor in education or training (NEET). The initiative targets those who are struggling the most and who come from disadvantaged backgrounds and "have difficulties accessing the labour market or training for individual or structural reasons (e.g. disability, long-term unemployment, insufficient school performance or vocational skills, migration background, etc)"
Eligibility of candidates and organisations
Candidates will be eligible if their EU Member State and region implement ALMA under their ESF+ programmes.
What does ALMA provide?
To ensure that nobody is left behind, ALMA grants to participants a tailor-made experience covering traveling costs, insurance, social security, accommodation, food, coaching and counselling before, during and after the stay abroad.
To achieve a well-coordinated initiative, ALMA operations consist of three phases:
Preparation: The participants receive intensive tailor-made training and coaching in their country to prepare them for a stay abroad.
Mobility: participants spend 2 to 6 months in another EU Member State, integrated into the work environment of a company.
Follow-up: After achieving new skills and developing their aptitudes abroad, they are guided in their home country to gain employment or further education.
If you are looking for further information on the implementation of ALMA mobility programmes, please consult the ALMA manual of guidance, published by the European Commission.
---
See you next week at #HotlineCohesion!


The Youthopia Project is co-funded by the Directorate General for Regional and Urban policy (DG REGIO) of the European Commission.
Follow AER!