Sitting within AER's Committee 2 for Social Policy & Public Health, AER's eHealth Network (which was created in 2006) has undergone some recent transformation and is now known as the AER Digital Health Network.
AER members are encouraged to consider joining the Digital Health Network so that they can share their experiences of implementing digital health in their regions. Please click here to register:
Objectives of the Network
The Digital Health Network aims to provide a platform for AER regions to share their experiences, knowledge and resources that support the effective deployment of digital health solutions within their regional healthcare systems. The digital transformation of health and care requires further action in these areas:
citizen's secure access to and sharing of health data across borders;
better data to advance research, disease prevention and personalised health and care;
digital tools for citizen empowerment and person-centred care.
The exchange of knowledge is crucial to support the implementation and sustainable transformation of digitally enabled health and care services. The Digital Health Network will:
Provide knowledge exchange opportunities for AER regions working to implement digital health.
Promote relevant policies to advance the implementation of digital health for all citizens.
Share good practices in the use of digital health in response to key health and care challenges for regions.
Recognise the diversity of regions and identify key lessons from their different approaches to digital health.
Develop our shared understanding of how digital health can support increased citizen participation in and self-management of their own health and wellbeing.
Identify key events, in which members of the Digital Health Network will participate, to promote and raise awareness of the Network's activities.
---
Network Activities for 2020-21
The proposed activities being planned for the Network in 2020 – 2021 are outlined in the roadmap below. These activities will be a blend of online and in-person events and will be planned and coordinated with the full participation and support from AER regions.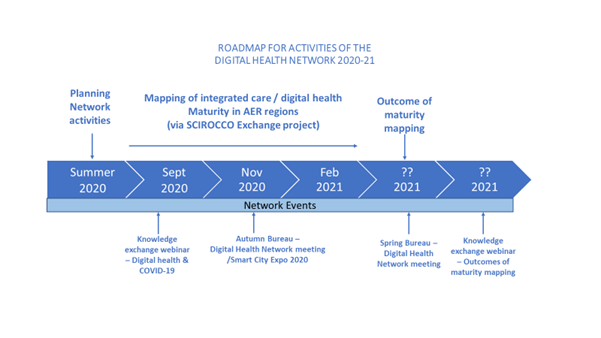 Proposed knowledge exchange topics for 2020-21:
Digital health tools in the response to COVID-19: lessons learned from AER regions and plans for the future

digital health tools to support recovery and rehabilitation: focus on physical rehabilitation
digital health tools to support recovery: focus on mental health and well being

Regions experience in citizen participation approaches to deliver sustainable digital health services
Capacity building to support the implementation of digital health