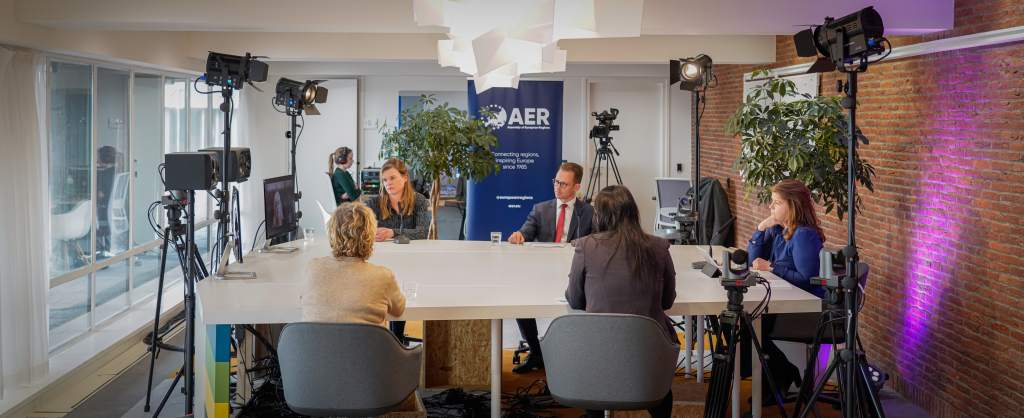 Share this!
Technology has brought many improvements to the lives of people across the globe. Life expectancy has been trending upward, and many diseases can now be successfully treated, contained, or even completely cured. A big part of this improvement is due to the advances made in the domain of food production and supply. However, recent events such as the COVID-19 pandemic have shown us that challenging times lay ahead and that we need to continue improving technology to rise to the challenge. But how can regions lead the way towards more sustainable food systems, while ensuring our citizens are not left behind?
The Innovation Show 2021 – How can we make food our most trusted ally?
On 3 March 2021, the AER and the Province of Gelderland in the Netherlands hosted a unique hybrid event on the opportunities presented by innovation in food value chains, and the key role of regions in driving innovation in the smart food field. 'How Smart is Your Food?' brought together local policymakers along with experts from academia and the private sector. Over the course of the morning, our panels discussed synergies between the work of local government and key stakeholders in smart food innovation, and where they can collaborate more closely to meet global goals in health, sustainability and climate.
After a warm welcome to all the speakers by our host from Gelderland Province, Vivian Stribos, the event kicked-off with an opening statement from AER President, Magnus Berntsson, who underlined the enormous potential smart food innovation has to address global challenges, "a sustainable food value chain has a tremendous effect in terms of fighting and adapting to climate change, as well as in protecting everyone's health and wellbeing." Nevertheless, he also stresses it is not feasible to bring about change in such a key aspect of human life without collaboration with regions: "Regions have the power to act upon several levels of the food chain, such as in production, logistics, distribution and waste management. If we want to make our food system future-proof, we cannot do it alone – there must be collaboration."
The Smart Food & Value Chain Dialogue – why innovation is an urgent matter
The COVID-19 pandemic has exacerbated pre-existing challenges in food production and supply. The virus has interrupted current practices at these levels of the food value chain due to the high infection rate that has crippled European regions over the last year. We invited Nelly Kalfs, mayor of the city of Lingewaard in the Dutch province of Gelderland, to give her views on how to overcome threats to people's livelihoods posed by the coronavirus. In her contribution, Ms Kalfs underlined that "now [in the current sanitary crisis] is the right time to invest in food innovation. We have observed that the pandemic has accelerated innovation and that everyone is very energised and motivated to do so."
Smart Food and Sustainability – is there an appetite for innovation?
The growing global population has created an ever-growing demand for food, leading to unsustainable supply-chains that put the Earth's habitats and ecosystems at risk. Moving towards more eco-friendly value chains is vital to protect our planet, but making these changes can be costly, especially for smaller producers. How can we balance the need for more sustainable value chains, while at the same time protecting people's livelihoods? Innovation in food systems – starting at local level – offers a way forward.
During our talkshow on smart food and climate, speakers laid out their thoughts on the complex issue of eco-friendly innovation. Martin Scholten, Principal Advisor to Wageningen University's Executive Board, stressed that "we all need a high-quality living environment, and we need a food system that is linked to it. Sustainable energy production and farming need to be integrated in this high-quality living environment." However, he also stressed that a more tailored approach that recognises the needs of Europe's regions is required, "regions are the living recipients of the transition. If we can go towards regional sourcing and regional marketing for agricultural products, we can set up solutions tailor-made for regions." He also warned that regions need to be properly supported by the European Commission as they make this shift, "otherwise there will be no Green Deal transition."
Paul Hospers, Project Leader in Energy Transition at NEXTGarden, was in agreement with Dr Scholten on the urgent need to diversify food value chains, starting at regional level, "Local control and local sourcing have to be prioritised because sometimes big global supply chains are vulnerable and it is good to have multiple sources."
Victor Serrano, Director of the Institute of Agri-food Research and Development in the Spanish region of Murcia, rounded-up the conversation by stressing a crucial fact yet to be discussed by the other panelists: "a closer relationship between producers and consumers is required to foresee upcoming trends and enable farmers to align their production with the current demand."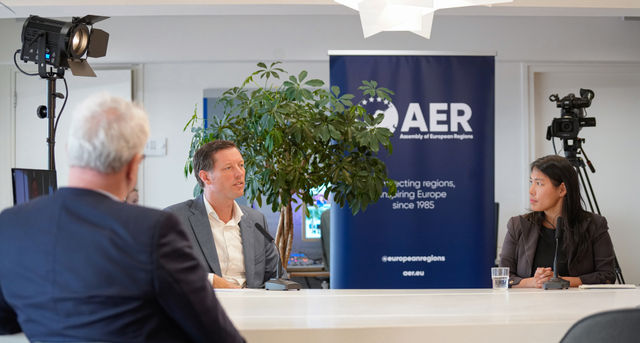 Smart Food Innovation – a cure for Europe's health woes?
During the Innovation Show's final panel, speakers discussed the opportunities and challenges of smart food technology in the health field. From monitoring our gut health, to improving food choice, smart food technology has obvious benefits when it comes to helping people lead healthier lives. Indeed, several AER regions are already fostering innovation in this area to help their citizens make better choices when it comes to food. But technology is not a panacea for Europe's health problems, and brings with it potential risks, especially around costs for individuals and data protection.
Thea van Kemenade, Director of Health at OnePlanet, believes that technology offers solutions to many problems in health, especially when it comes to making better choices: "we want to concentrate on enhancing food technology, because we strongly believe that consumers need to play a strong role in self-supporting their own health". Maartje Poelman, Associate Professor of Consumption and Healthy Lifestyles at Wageningen University, stressed that any system change using technology, "cannot just be reserved for the wealthy few, it should be available for all layers of society. Inclusivity is at stake and it needs to be safeguarded." This "system change" should start at local and regional level in our villages, towns and cities; working in collaboration with citizens "to improve food environments".
The value of locally-led innovation was something picked up by our final speaker, Irén Lejegren, Chair of the AER Task Force on Food and Councillor in the Swedish County of Örebro. Ms Lejegren set out how Örebro is a leader in sensory perception and gut health research; which in the long-term will help people make better food choices. She also noted that despite all the opportunities technology can bring, there are also inherent risks, especially when it comes to the use of AI technology and protecting people's personal data.
So while technology can certainly help us treat a number of Europe's health issues, there are several potential side-effects to consider. Policymakers will therefore have to carefully weigh-up the obvious benefits of technology while at the same time ensuring that citizens' rights are protected.
Food for thought – a bottom-up approach to smart food innovation
'How Smart is Your Food?' successfully illustrated the complexity but also the necessity of innovation in food value chains to address societal issues, such as unhealthy lifestyle choices and the ecological impact of irresponsible food sourcing and production.
What is clear is that a bottom-up approach, led by regions as the links between stakeholders is the only way to nurture sustainable, inclusive innovation in the long-run. As AER Secretary General, Christian Spahr put it in his closing remarks, "a single size does not fit all. Regions are different both in terms of production and consumption. We need to form alliances between governments, private stakeholders and researchers to work together towards a common goal: a healthier and more sustainable future for all."
***
Regions and other stakeholders can find more information and learn about more opportunities by contacting or visiting the websites of:
Did you ask a question during our Q&A we didn't get around to? Check out some more responses below!
Follow AER!