We are a network
Multiple times per year, AER brings together regions, so that they may stand stronger together, and grow in a space of best practice exchange.


Lifelong learning: Upskilling and reskilling of 50+
21 October 2020 10:00

-

11:15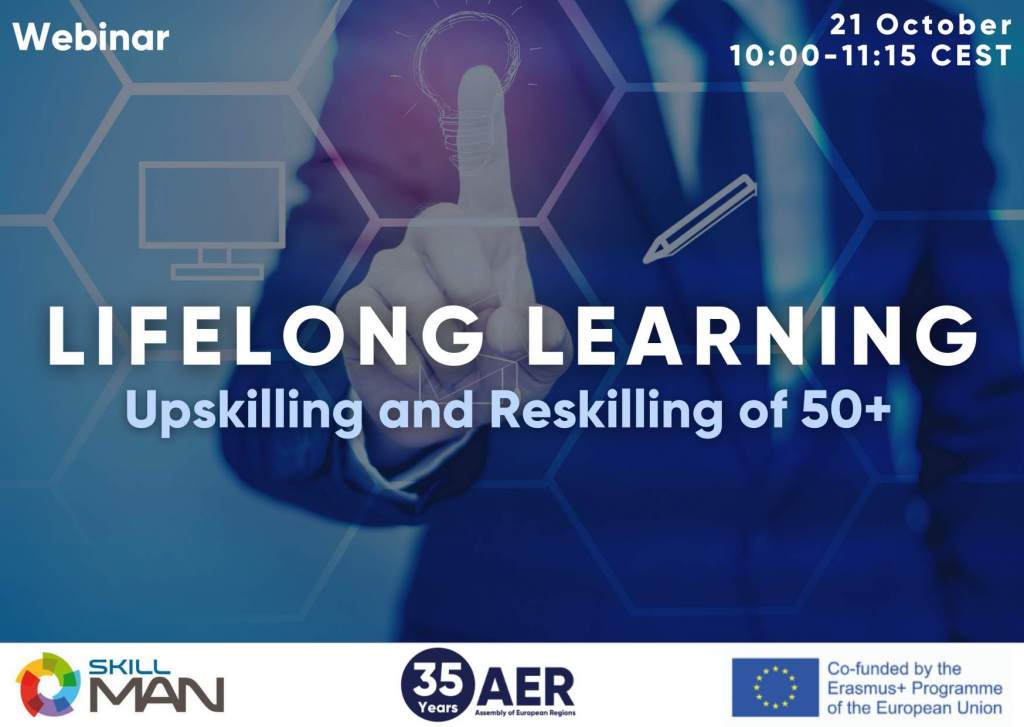 We are pleased to invite you to the webinar "Lifelong learning: upskilling and reskilling of 50+" that aims to bridge the gap between the need for reskilling and upskilling and funding opportunities and programmes offered by the EU.
This webinar will highlight regional examples on upskilling and re-skilling and provide insights into the funding mechanisms used.
In the context of rapidly changing labour markets, the upskilling and re-skilling of adults has become a priority. Technological changes and digitalisation require new skills, while many regions in Europe are faced with both an ageing population and labour and skills shortages. People over 50 oftentimes are not the target group approached for the majority of employers and there is a consistent association between ageing and reduced participation in learning. Effective social inclusion and employment policies, therefore, require strong and regularly updated skill foundations.
During this webinar, Ms Elena Romanini,  Senior Project Manager, Skillman, will explain different programmes and funds on lifelong learning offered by the European Union.  Mr Michael Heaney, Chief Executive Officer, Údarás na Gaeltachta will share possibilities in which programmes and projects on re-skilling and upskilling are financed and implemented from the regional perspective. Ms Ana Gale, Director of Uciliste Studium – Institution for Adult Education will emphasize the importance of the development of the skills in accordance with the industry needs.  She will share the implementation example on cross-border cooperation in the field of upskilling and reskilling adults.
The webinar will cover:
10.00 – 10.10 Introduction to the Skillman network and to the webinar (Valentina De Vico, Skillman Communication Manager)
10.10 – 10.20 EU fund opportunities for lifelong learning (Elena Romanini, Skillman Senior Project Manager)
10.20 – 10.30 Empowering adults to reskill and upskill (Michael Heaney, Chief Executive Officer, Údarás na Gaeltachta)
10.30 – 10.40 Cross-border cooperation in the field of lifelong learning (Ana Gale, Director, Uciliste Studium – Institution for Adult Education)
10.40 – 11.05 Panel discussion and Q&A session
11.05 – 11.15 Closing remarks
This webinar is organised in the context of SKILLNET, an EU-funded project which aims to strengthen the Vocational Education and Training (VET) system's role and capacity to design high-quality VET programmes tailored to current societal needs through enhanced transnational and cross-sectoral partnerships.