We are a network
Multiple times per year, AER brings together regions, so that they may stand stronger together, and grow in a space of best practice exchange.


The Sharing Economy: Reshaping the way we do business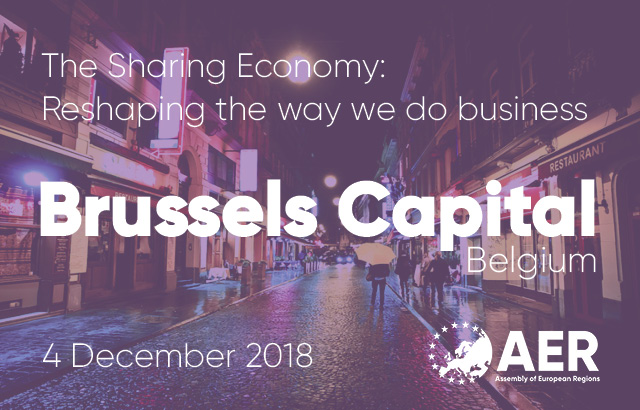 As is now a tradition and has been promised during the elaboration of the Committee 1 work programme, Brussels Capital will host this year again a mutual learning event on a current and transversal topic. This year it will be the Sharing economy, which will be in the spotlight. The event will be organised in cooperation with Catalonia.
The event will raise awareness on the evolution of the business landscapes. The collaborative and platform economy request new business models but also different types of support to citizens in their roles of entrepreneurs, consumers, workers. What does this mean for policy makers? Where can policymakers play a role? Why it is necessary to have a holistic approach?
Stakeholders from the private and public sector, industry specialists, entrepreneurs, and policy makers will engage in genuine exchange. The idea is to share and discuss initiatives which can be implemented right away. A major asset of these events is to discover projects and initiatives and hear of stories first hand. In a setting where each participant is a contributor, the event will highlight opportunities and points of action of the sharing economy.
Participants will:

Share regional experiences on the development of the collaborative economy and how this is impacting areas as diverse as work, education, culture or health
Hear from different stakeholders what they see as threats and opportunities of the sharing economy
Examine the role of regions: are there new roles emerging?
Discuss social and economic impacts, needs in terms of policy making and fields for cooperation
Learn about funding opportunities for regional stakeholders: both companies/ organisations & regional governments
Learn about regional examples: presentations by companies from the sharing economy
Presentations
The Sharing Economy in real life: meeting stakeholders from the Sharing Economy
Our photo album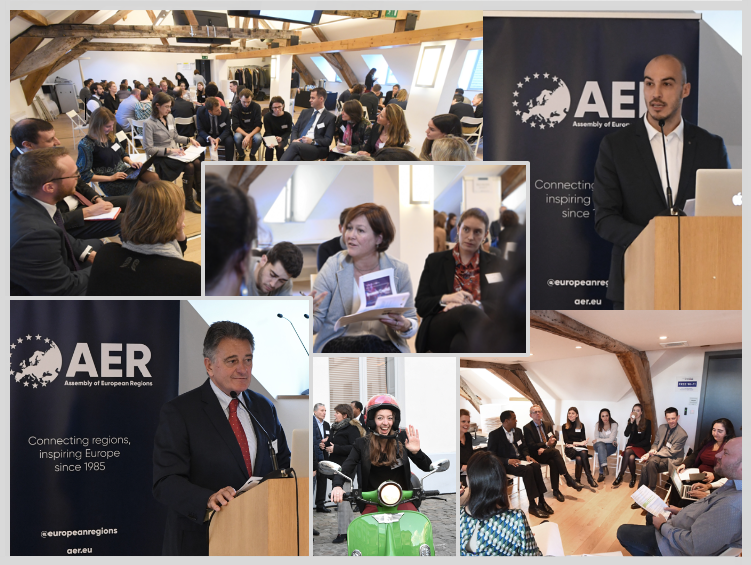 Agenda
08:45

  Registrations & Coffee

09:15

  Welcome

Magnus Berntsson, President AER
Jean Luc Vanraes, President AER Committee 1, Chair Working Group SMEs & Investments
Lluís Juncà, General Director for Economic Promotion, Competence and Regulation, Generalitat de Catalunya

09:30

Introduction

The European Commission's view on the Sharing Economy

Henning Ehrenstein, Deputy Head of Unit, E1 – Service Policy for Consumers, DG Growth, European Commission

09:40

Keynote: Inspiration

Lieza Dessein, Project manager SMart

 10:00

 Sharing experiences

Parallel discussion groups

Business in a world of mega-changes

How to encourage entrepreneurship, and support innovation?
The sharing economy represents a wide span of very different types of businesses, spanning from very green and very social to large companies which can in some cases have predatory behaviours
How to help disrupted industries to change or to protect what needs to be safe-guarded.
How to support citizens in their roles of entrepreneurs, consumers, workers?
What kind of support do businesses need?


Contributors:
– Jean Luc Vanraes, President AER Committee 1, Chair Working Group SMEs & Investments
– Mar Alarcón: CEO SocialCar
– Camille Lepinay, Enterprise Europe brussels, EU-GIVE project
– Philippe Eiselein, Social Entrepreneurship, Vrije Universiteit Brussel, Vrije Universiteit Brussel

Moderator: Aurora Sanz, Lawyer Grant Thornton

Sky's the limit, or is it?

Ethics: what is good, what is desirable, how to build open, inclusive & cohesive societies?
The platform economy can support very positive initiatives but it could also multiply the impact of  organisations harming regional development, social cohesion or inclusion: where to draw a line?
The platform economy is supported by technology, how to ensure technology is inclusive and doesn't amplify existing biases?
What is fair?
How can the sharing economy contribute to territorial cohesion?
To define the role of regions it is essential to be able to identify first what is positive or negative for society. This requires dialogue with the different stakeholders of the sharing economy and citizens at large to avoid using old solutions for new challenges.


Contributors:

– Víctor Moyano, Fundación Creafutur
– Xavier Marichal, CEO of USITOO

– Dimitri Berliner, cofounder of Communa

Moderator: Albert Cañigueral, Founder Consumo Colaborativo

Towards an uberisation of public services?

The role of governments and regions specifically: from regulation, taxes and protection to collaboration
What used to be a model disrupting only transports and tourism may soon drastically change the way we envision public services such as transports, health and care or employment agencies. These changes reveal differences between rural and urban areas, as well as differences between regions which invest significantly in public services and regions which experiment considerable gaps

The platform economy poses new challenges to governments in terms of taxation but also in terms of protection of citizens, security or health. Different governments have taken steps to at the same time provide protection to workers and impose taxes. The disruption however goes further than taxes and insurances and involves changes in the very role of governments and the way they share information and collaborate with other entities.
What kind of cooperation is possible between the public sector and the stakeholders of the platform economy?

Contributors:
– regional representative
– François Gerard, Managing Director Helpper
– Yves Muyters, Project Manager KlaarIsKees
– Mayo Fuster, Dimmons director of research on collaborative economy, Open University of Catalonia

– Èlia Ferrer, Public Affairs Manager, mytaxi The Taxi App

Moderator: Anna Merino Castelló, Economist, Expert in competition, better regulation and digital markets.

Education & training

Preparing tomorrow's workforce for new business models & priorities
The world is changing and so is business.
When the priority is on having access to and not owning, how to enable citizens to invent and implement tomorrow's services and products?
How do we ensure we are not creating obsolete workers?
What are the skills and competences with high added value in this new context?
Where should the focus be in terms of education?
What can be the lessons learnt from cooperatives, which are a model that has been existing long before the platform economy?


Contributors:
– regional representative
– Lieza Dessein, Project manager SMart
– academic

Moderator: David Vuylsteke, PiggyBee founder

11:00

Coffee Break

11:45

Let it grow!

Reports from the discussion groups: findings and proposals for action

12:20

Information on funding & support to the Sharing Economy

Camille Lepinay, NCP Brussels

 13:00

 Working and Networking Lunch

15:00

The Sharing Economy In Real Life

Meet companies from the Sharing Economies

16:30

End of the event

17:00
Presentations
The Sharing Economy in real life: meeting stakeholders from the Sharing Economy
Our photo album