We are a network
Multiple times per year, AER brings together regions, so that they may stand stronger together, and grow in a space of best practice exchange.


Skillman International Forum 2021 Webinar: Fostering Entrepreneurship in Education and Training
16 November 2021 15:00

-

16:00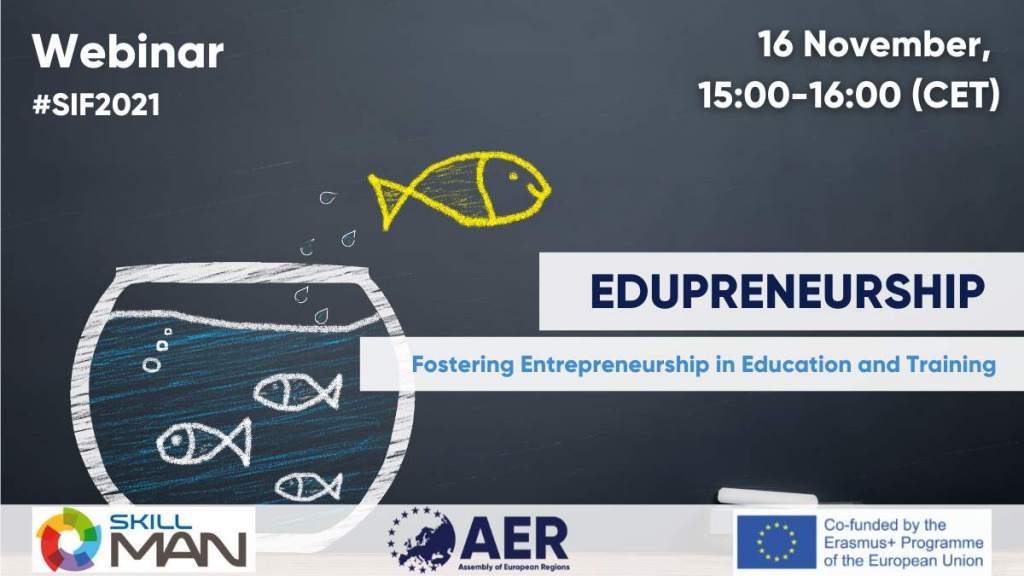 As part of the Skillman International Forum 2021, the AER is delighted to bring you a webinar on fostering entrepreneurship in education and training. 
Date: 16 November 2021
Time: 15:00-16:00 CET
Venue: Online


---
Skillman International Forum 2021
The Skillman International Forum 2021 is taking place from 15-18 November 2021 and plans to redefine the future of learning in the advanced manufacturing sector. This year the forum addresses three main topics: Digital and green revolution, Micro-credentials and Sharing is caring.
About the webinar 
The global pandemic has left many freelancers and entrepreneurs without income for months, which imposes an incoming challenge to stimulating entrepreneurship.If we want Europe to continue to nurture talent, create great startups and compete on a global scale we need to teach entrepreneurship. This will require joint efforts from the public and private sectors, as well as regional, national governments and European Institutions.
In this webinar, we will have a glimpse of different actions needed at different levels to foster an inclusive entrepreneurial mindset and discuss local challenges for their implementation and replicability.
Moderated by Manos Andread (Erasmus for Young Entrepreneurs).


---
For more information contact:
---
This webinar is organised as part of the SKILLMAN series of webinars on redefining the future of learning in the advanced manufacturing sector.
SKILLMAN is a partner of the SKILLNET project, funded by the Erasmus+ Programme of the European Commission aiming to strengthen the Vocational Education and Training (VET) system's role and capacity to design high-quality VET programmes tailored to current societal needs through enhanced transnational and cross-sectoral partnerships.