We are a network
Multiple times per year, AER brings together regions, so that they may stand stronger together, and grow in a space of best practice exchange.


[SOLD OUT] Eurodyssey Forum 2022 – Limassol, Cyprus
7 November 2022

-

9 November 2022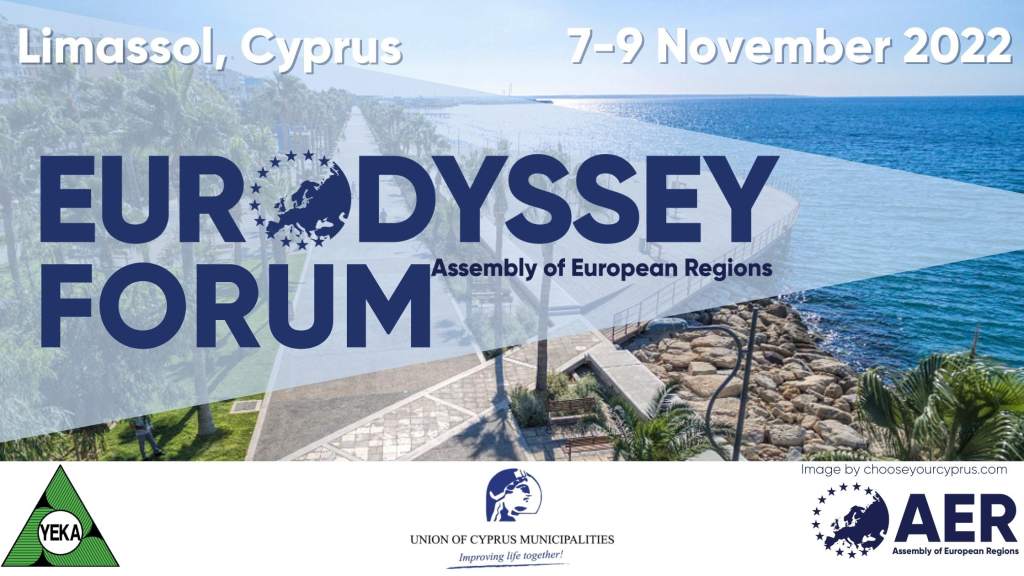 The Eurodyssey Forum is back!
This year's edition will be a fully in-person event and will take place in Limassol, Cyprus, from the 7th to the 9th of November. The Forum will be hosted by the Union of Cyprus Municipalities and the Department of Labour of the Republic of Cyprus. An opportunity not to be missed!


*Registrations are open until the 30th of September on a "first-come, first-served basis", with priority being given to the Eurodyssey participating regions. After this date, registrations will be possible only based on the number of spots still available.
What is Eurodyssey?
Eurodyssey is the flagship youth regional mobility programme of the Assembly of European Regions, entirely managed at regional level. Together with our participating member regions, AER provides fully-funded traineeships, allowing young people from diverse backgrounds to benefit from a paid traineeship, in various sectors. During 3 to 7 months, trainees will benefit from valuable professional experience in another European region, together with language training and cultural and social activities. Enriched from this experience, the programme's beneficiaries will have boosted their employability, skills, international comfort and personal development. Besides the traineeship experience, Eurodyssey is also a unique opportunity to boost mutual understanding and intercultural learning, and to raise awareness about regional diversity in Europe –  one of AER's strong pillars.
A panEuropean youth mobility programme… before Erasmus!
Established in 1985, the Eurodyssey programme celebrated its 35th birthday in 2020. The COVID-19 pandemic didn't make 2020 the celebration year we expected, but the 2022 Eurodyssey Forum will provide us with an exciting programme to make up for it!
Bouncing back from the pandemic
As the COVID-19 pandemic hit hard international mobility, and particularly affected mobility opportunities for young people across Europe and the world, the Eurodyssey programme also faced challenges due to the sanitary and travel restrictions. However, the programme bounced back! In 2021, and even more in 2022, our participating regions were able to host and send trainees again. And after two editions organised online, the Eurodyssey Forum is now back for a fully in person event!
This year's edition will focus on International Youth Mobility in the post-pandemic era, and the priorities set by the European Commission as part of the European Year of Youth, especially Education & European Learning Mobility, and Employment & Inclusion.
During plenary sessions and workshops, our participating regions, Eurodyssey trainees and alumni, and involved organisations will share their experience and good practices on the benefits of the programme. From valuing youth and employment policies at regional level, to developing young people's skills and employability, while expanding intercultural learning, inclusion, diversity, and more, we strongly believe in the resilience and relevance of the Eurodyssey programme, in the aftermath of the Conference on the Future of Europe. This Forum will also be the occasion to reflect on past and current challenges faced by the programme, and to co-develop, together with our participating regions, young people and public and private stakeholders, the Eurodyssey of tomorrow.
Check the programme below and make sure to register here.


Launching Our Brand New Project YOUTHopia!
Last but not least, the Forum will mark the launch event of AER's "YOUTHopia – Generating Perspectives for Cohesion". This pan-European project, supported by DG REGIO and conducted together with five member regions of AER, aims at raising awareness about the concrete benefits that Cohesion Policy offers to boost the economic and social well-being of its citizens and regions, with a focus on youth employment and the transition towards a green and climate-neutral Europe.