We are a network
Multiple times per year, AER brings together regions, so that they may stand stronger together, and grow in a space of best practice exchange.

SAVE THE DATE: Includ-EU – First Regional Network Workshop 30 June & 1 July
30 June 2021 09:00

-

1 July 2021 13:30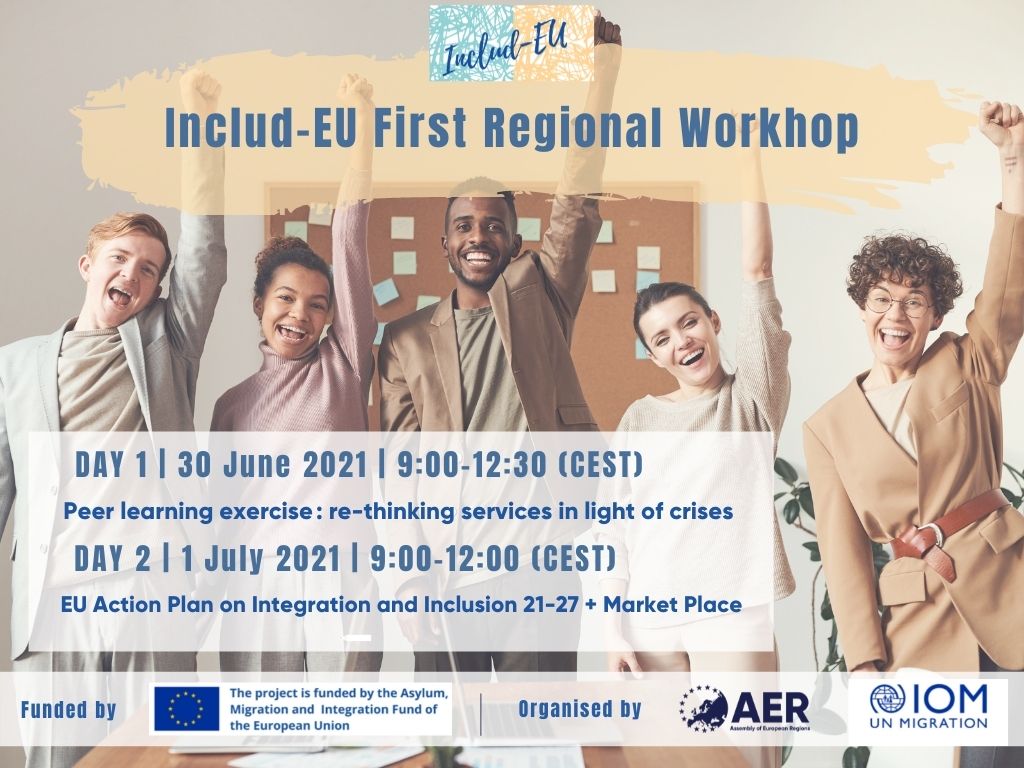 The first regional workshop for our Includ-EU Project will take place on Wednesday, 30 June (09:00-12:30 CEST) & Thursday, 1 July 2021 (09:00-12:00 CEST)!
What is the Includ-EU Workshop about?
Our Includ-EU Project brings regions together to share insights, experiences and ideas for creating more targeted, successful migrant integration policies at local and regional level. Creating venues for knowledge-sharing is key to this process. With that in mind, we are delighted to invite you to our first workshop for regions later this month!
On Day 1, an immersive peer learning exercise will help us re-think integration services in light of crises. On Day 2, there will be presentation by DG Home, followed by a structured exchange with local and regional stakeholders. The Workshop will conclude with a dynamic "market-place" activity, where participants will have the chance to showcase their best practices and exchange ideas with one another.
Who can join?
This first online workshop is geared towards partners from the Includ-EU Project Consortium, as well as key stakeholders identified in the countries with no official partners.
While this particular workshop is geared towards the project partners, we also warmly invite all interested regions from the Intercultural Regions Network to join as well. For those who don't know, the Intercultural Regions Network (IRN) is our platform for regions to share knowledge, resources and experiences to promote intercultural integration.  Participation of IRN members will bring an added value to our activities and discussions, so please do not hesitate to register as well!

For more information, please contact: Johanna Pacevicius, Policy & Knowledge Transfer Coordinator by e-mail at  [email protected]
***
This project is funded by the European Union's Asylum Migration and Integration Fund programme (AMIF).