We are a network
Multiple times per year, AER brings together regions, so that they may stand stronger together, and grow in a space of best practice exchange.


REGISTER NOW! – 2022 Autumn Bureau Meeting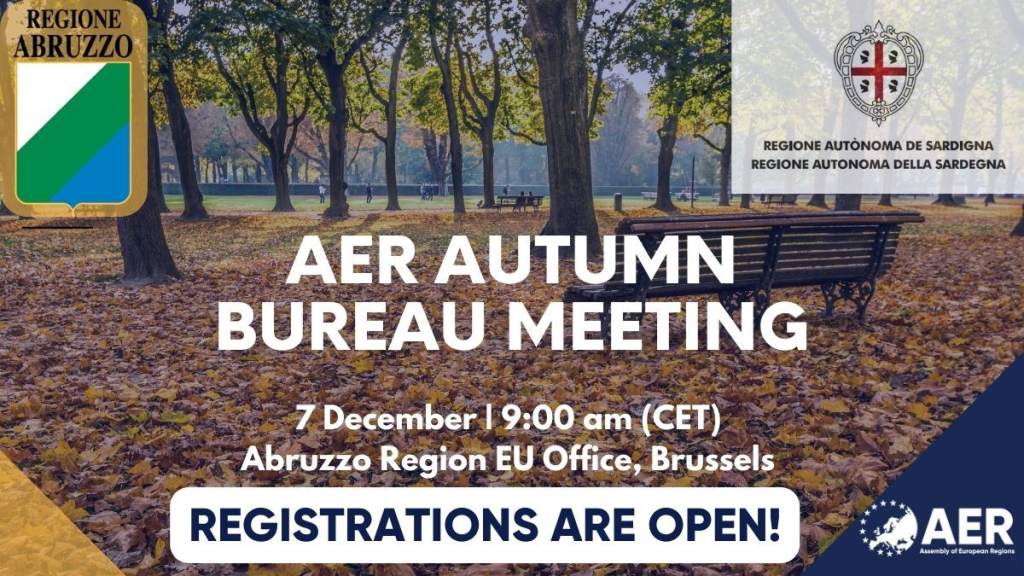 You are invited to register for the Autumn edition of the AER Political Bureau on 7 December in Brussels. The Bureau Meeting will be hosted by the regions of Sardinia & Abruzzo (IT).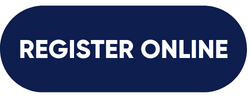 NEW DEADLINE: 30 NOVEMBER 2022
We highly encourage you to participate in person in Brussels in the AER Autumn Bureau as the planned web streaming will offer limited interaction possibilities.
Working Documents
7 December – Autumn Bureau Meeting Programme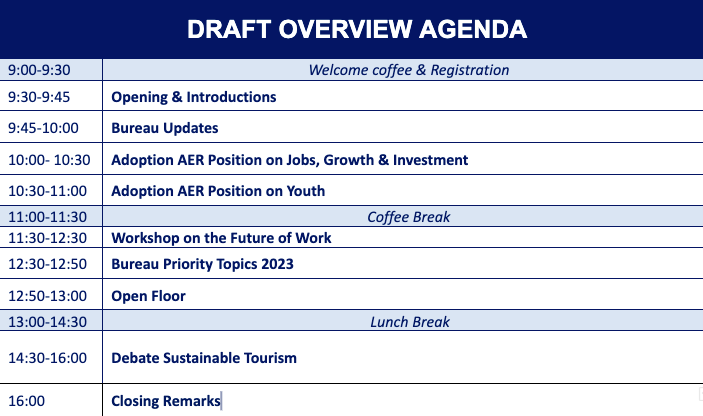 Adoption & Discussion AER Position Papers
Position Paper on Jobs, Growth & Investment
AER members are invited to propose their amendments to the Draft Position Paper on Jobs, Growth and Investment.
This draft paper sets recommendations on how regions can boost growth, drive investment and create jobs that will accelerate Europe's economic recovery. This position will be discussed and voted upon by Bureau members at our Autumn Bureau meeting on 7 December 2022.
More information is available in our article. Call for amendments CLOSED.
This paper aims to provide a comprehensive position advocating for a better future for European youth. It addresses various topics, from the development of socio-economic opportunities for young people to the several diverse inequalities faced by the youth, to the future of work and skills in the context of the green and digital transition, to the inclusion of young people in decision-making processes, to the development of political and civic education, to supporting young people's mental health.
To make these proposals stronger, the Task Force is inviting AER member regions to share their inputs about the Draft Position.
More information is available in our article. Call for amendments CLOSED.
Bureau debate on Sustainable Tourism
In an interdisciplinary debate, panellists will highlight how the post-pandemic recovery of tourism is key to revitalising regional economies and nourishing their cultures.
This debate will bring together representatives of local and regional authorities, European Institutions and other relevant stakeholders to answer the following questions:
What are the key priorities for a sustainable, resilient, inclusive recovery of tourism in Europe that effectively builds on the opportunities from the green and digital transitions?

How can local and regional governments best contribute to the relaunch of the European tourism sector?

What synergies and cooperation can be exploited among all involved actors and how can this best support recovery of tourism that is resilient, sustainable and inclusive?
6 December – Workshop on the Bieoconomy & the New European Bauhaus
Prior to the Autumn Bureau Meeting, the AER Working Group on the Bioeconomy is organising a workshop on "The Bioeconomy & the New European Bauhaus" at the Oslo Region European Office, on 6 December, 09:00-13:00, which will look at
The European strategies supporting the decarbonisation of the construction sector
The link with societal challenges, the territorial approach
Technical innovations in bio-based constructions materials