We are a network
Multiple times per year, AER brings together regions, so that they may stand stronger together, and grow in a space of best practice exchange.


REGISTER NOW: Unboxing the Multiannual Financial Framework Session III – Making EU funds work for your region
25 March 2022 10:00

-

12:30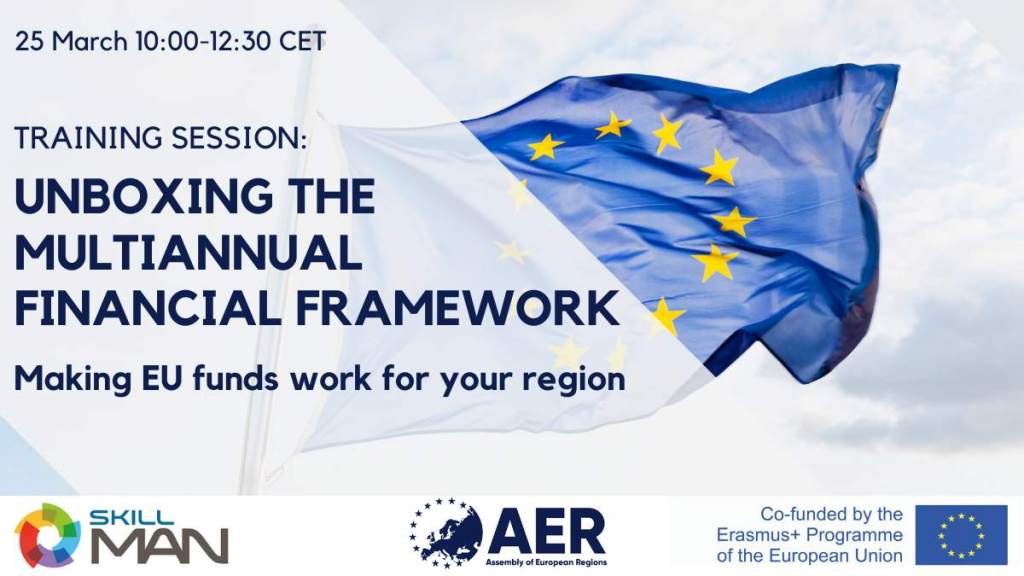 Date: 25 March 2022 
Time: 10:00 – 12:30 CET
Venue: Online (via Zoom)
Background
Together with the NextGenerationEU recovery instrument, the Multiannual Financial Framework (MFF) represents an unprecedented €1.8 trillion of funding to support Europe's recovery from the COVID-19 pandemic and the EU's long-term priorities across different policy areas. It is therefore essential that Europe's regions get training with these instruments to ensure a robust and sustainable recovery. 
That is why as part of the Skillnet Project, the AER has put together three information sessions to help regions make the most of the MFF and NextGenerationEU Package. Featuring insights from experts at the European Commission, these webinars will give regions guidance on how to plan initiatives and projects that can benefits from the different funds.
What's in it for regions?
The third session of the 'Unboxing the Multiannual Financial Framework' will give regional authorities and their stakeholders the knowledge to best access and manage European funds. The current programming period contains new rules, instruments and processes that might result difficult for the beneficiaries to fully understand and consequently to put in place the right actions to access them. Additionally, the management and the proper reporting of the use of these funds might be an additional challenge  that leads to some gaps in how the funds are used.
This webinar will provide an overview of what is available for regions and put their questions to European Commission experts in our extended Questions & Answers session.
Thematically, the webinar is structured in three main sessions covering the different tools:
Session on mutual learning and exchange of practices – Taxiex-Regio Peer2Peer, Taiex, Regio Communities of Practitioners, ESF Transnational Cooperation Platform;
Session on administrative capacity – EU Competency Framework for management and implementation of the ERDF and Cohesion Fund, Roadmap for Administrative Capacity Building;
Session on measures to prevent mismanagement, fraud and corruption – Integrity Pacts (Civil Control Mechanism for Safeguarding EU Funds Against Fraud and Corruption), Arachne, Training on Cohesion Policy for EU Member State Experts, EU Funds Anti-Fraud Knowledge & Resource Centre.
This overview of tools and instruments will be provided by experts from the European Commission.
Meet our Speakers!
We are delighted to announce the following experts will join this webinar:
Bruno Mola, Policy Officer, Administrative Capacity Building and Solidarity Instruments, Directorate-General for Regional and Urban Policy, European Commission
Marianne Doyen, Policy Officer, European Social Fund +, Directorate-General for Employment, Social Affairs and Inclusion,  European Commission
Luca Baldin, External Auditor, Joint Audit Directorate for Cohesion Directorate-General for Regional and Urban Policy, European Commission
Luc Molemans, External Consultant and IT Project Manager, Information Technologies, DG Employment, Social Affairs and Inclusion, European Commission
***
This training session is being organised as part of the Skillnet Project, which is funded by the Erasmus+ Programme of the European Commission. Skillnet aims to strengthen the Vocational Education and Training (VET) system's role and capacity to design high-quality VET programmes tailored to current societal needs through enhanced transnational and cross-sectoral partnerships. To learn more about funding opportunities within the Skillnet Project, visit our dedicated Partnerships in Focus Hub.