We are a network
Multiple times per year, AER brings together regions, so that they may stand stronger together, and grow in a space of best practice exchange.

Mobility as a Service: low carbon mobility & improved accessibility
17 June 2021 10:00

-

11:30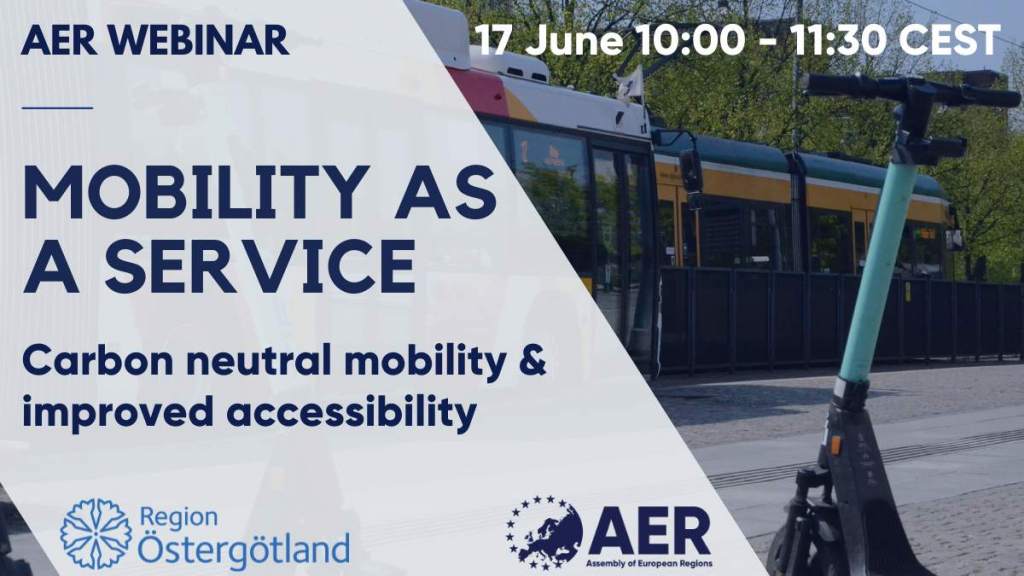 For the 2021-2027 programming period, digital transformation is in focus and the European Commission has recently launched the Sustainable and Smart Mobility Strategy. The Chair of the AER Working Group on Transport & Mobility, Martin Tollén from Region Östergötland (SE) is pleased to invite AER members and partners to a webinar focusing on Mobility as a Service (MaaS).
Focus: Mobility as a Service (MaaS)
The aim of the webinar is to share experiences on the topic of Mobility as a Service (MaaS) from urban and rural perspectives, as well as from different geographical contexts.
The webinar will also provide an update on the European Commission's New mobility strategy, the Trans-European Transport Network (TEN-T) policy, and the Connecting Europe Facility (CEF2) Digital programme. The information provided is linked to the Green Deal and the wider topic of digital transformation.
Draft Agenda & Presentations
10:00
Welcome words

Martin Tollén, Chair of the AER Working Group on Transports & Mobility

10:03
Update on transport & the digital transformation at EU-level

Ebba Bjerkander, EU Policy Advisor, Central Sweden European Office

10:15
Examples of MaaS implementation in European regions

Moderation: Edwin Mermans, Senior advisor international affairs Province of Noord-Brabant

John Kuijs,

Strategical advisor mobility Province of Noord-Brabant (NL) Presentation

Siri Vasshaug, Project Manager, Nordland (NO) Presentation
Jean Pascal Klipfel, Project Manager, Grand Est (FR) Presentation
Katarina Jonsson Bratu, Senior Adviser Sustainable Mobility, Östgötatrafiken, Östergötland (SE)
Sandra Viktor, Senior Environmental Officer, Linköping municipality (SE) Presentation
Eleonora Sottile, Senior Research Fellow presso CRiMM – Research Center On Mobility Models, Sardinia (IT) Presentation
Marko Javornik, Founder M8Lab, Ljubljana (SI) Presentation

11:15
Panel debate between regional representatives

MaaS, lessons learnt and success factors?
The role of public organisations in terms of development of concepts and governance?
How to apply a city model of MaaS in rural areas?

11:30
 Conclusion