We are a network
Multiple times per year, AER brings together regions, so that they may stand stronger together, and grow in a space of best practice exchange.


SPEAKERS ANNOUNCED: Bureau Debate on Growth, Jobs and Investment!
24 March 2022 14:20

-

15:50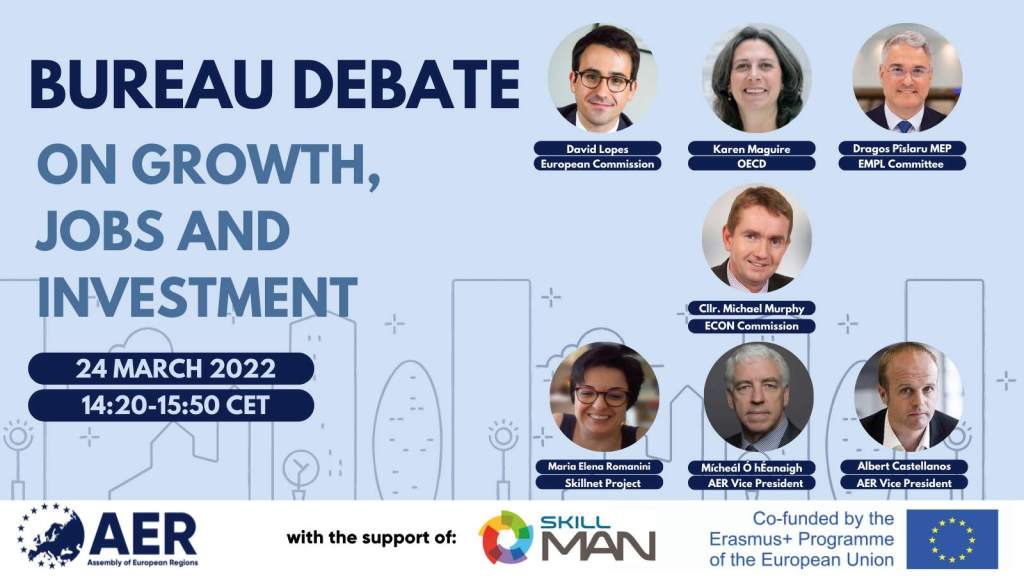 ***Our first speakers have been announced — don't miss your chance to join what promises to be a fruitful discussion!***
NOTE: The registration button below is for non-members only. AER members should fill in the form HERE. 


The COVID-19 crisis had a profound impact on European regions and on the lives of our citizens. Businesses were negatively affected by the public health restrictions, leading to jobs losses and income reductions, with disproportionate impacts for women, younger and older workers and people in low paid jobs. As a result, economic activity declined, poverty increased and inequalities widened, jeopardizing progress towards the 2030 Sustainable Development Goals.
That's why as part of our Bureau meeting on 24 March, we will bring together representatives of local and regional authorities, European Institutions and other relevant stakeholders to debate on the opportunities and challenges that lie ahead after the pandemic.
The debate is also a follow-up of AER´s political work from the Bureau Meeting in December 2021, where AER Bureau members made "Growth, Jobs and Investments" a topic of priority for its political work in 2022 and set up a Task Force, co-chaired by Vice-President Alessandra Zedda (Sardinia, IT) and Vice-President Damir Zobenica (Vojvodina, RS) to drive it forward.
As we recover from the crisis, there is an opportunity to maximize the opportunities offered by the digital and green transition to strengthen sustainable economic growth that delivers jobs, prosperity and wellbeing for all citizens. Local and regional authorities have a critical role in supporting the recovery by delivering services and infrastructure, providing education and skills opportunities, helping businesses, and supporting innovation locally.
This debate will consider three key questions:
What are the key priorities for a sustainable, resilient, inclusive and wellbeing European economy that takes the opportunities of the green and digital transition?
How to maximise the contribution of local and regional governments to Europe's recovery and economic and social renewal following COVID-19?
How to build successful partnerships to support sustainable and inclusive economic growth and recovery?
Meet our panel!
Our first speakers have been announced — stay tuned to fine out who will join:
David Lopes,  Team leader, Recovery and Resilience Facility, Economics of resilience and transition Unit, Directorate-General for Economic and Financial Affairs, European Commission
Karen Maguire, Head of the OECD Local Employment, Skills and Social Innovation Division, Organisation for Economic Co-operation and Development
Dragoş Pîslaru, Chair of the Employment and Social Affairs Committee, European Parliament
Cllr. Michael Murphy, Chair of the Commission for Economic Policy, European Committee of the Regions;
Maria Elena Romanini, TVET expert, Skillnet Project.
With insights and unique regional contexts and recovery experiences from:
Mícheál Ó hÉanaigh, AER Vice President and Chief Executive of Údarás na Gaeltachta (IE)
Albert Castellanos Maduell, AER Vice President and Secretary for Business and Competitiveness, Ministry of Business and Labour, Government of Catalonia (ES)
For any questions, please contact AER Institutional Relations & Advocacy Coordinator, Vania Freitas HERE.
Organised with the support of: