We are a network
Multiple times per year, AER brings together regions, so that they may stand stronger together, and grow in a space of best practice exchange.

Innovating Cultural Heritage, A workshop by AER Working Group on Culture and CUBES Project
28 September 2021 10:00

-

12:45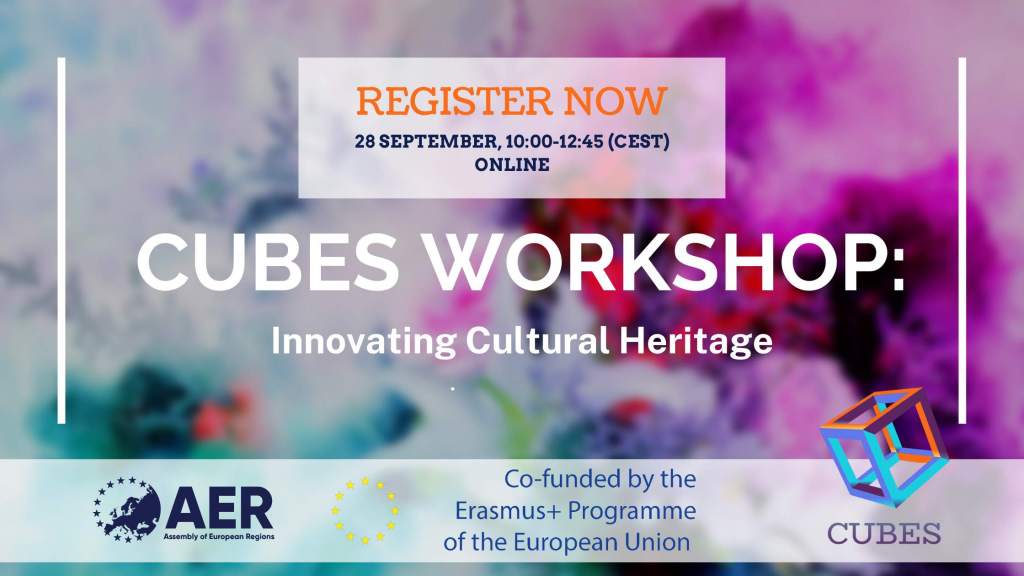 Cultural heritage has an inspiring and creative role in present European societies and communities. It has a positive impact on social cohesion as well as regional development and sustainable tourism. In the context of cultural heritage, innovation has a key role to play in the field of technology, social impact, policymaking, administration, and entrepreneurship.
The workshop "Innovating Cultural Heritage", jointly organised by the AER working group on culture, chiared by Fereshteh Jalayer Hess, and the CUBES Project, c0-funded by the Erasmus+ Programme, brings together practitioners, policymakers and experts. It will discuss current challenges and opportunities for European regions to invest in cultural heritage innovation and learn about sustainable and participatory cultural management practices. The workshop will be an opportunity to showcase and guide participants through the new digital platform produced by CUBES and invite stakeholders to get involved in the project.
Agenda
10:00-10:15 Welcome and Keynote Speech
Snezhina Petrova

, Member of Gabriel's Cabinet, European Commissioner for Innovation, Research, Culture, Education, and Youth;

Fereshteh Jalayer Hess

, Chair, Working Group on Culture, AER; Regional Council Member, Värmland (SE);
10:15-11:45 Session 1 
Panel discussion with:
Anne Grady

, Cultural Heritage National Expert DG EAC;

Viktor Negrescu,

Vice-chair, CULT Committee, European Parliament;

Patrick Torrent,

President,

NECSTouR: The Voice of European Regions for Sustainable Tourism;

Fereshteh Jalayer Hess

, Regional Council Member, Värmland (SE);

Chiara Dall'Aglio

, Responsible for EU projects and Pl Interreg Europe SHARE, Sviluppumbria (IT).
Moderator: Maria Kouri, Lecturer in Cultural Management & Local Community Development, University of Peloponnese
11:45-11:55 Q&A
11:55-12:05 Coffee Break  
12:05- 12:35 Session 2-CUBES:
12:05-12:15 Highlights from the Policy Paper and sustainability of the project;
Maria Kouri

, Lecturer in Cultural Management & Local Community Development, University of Peloponnese, and CUBES Project Manager.
12:15-12:30 Exemplary session on training including the methodology and the guidelines to navigate the digital platform and resources;
Anna Comacchio

, Project and Policy Officer, AER.
12:30 Q+A
12:45 End of Workshop
Workshop facilitator: Johanna Pacevicius, Policy and Knowledge Transfer, AER.