We are a network
Multiple times per year, AER brings together regions, so that they may stand stronger together, and grow in a space of best practice exchange.


Improving the attractiveness of Technical and Vocational Education & Training for women
13 July 2021 10:00

-

11:00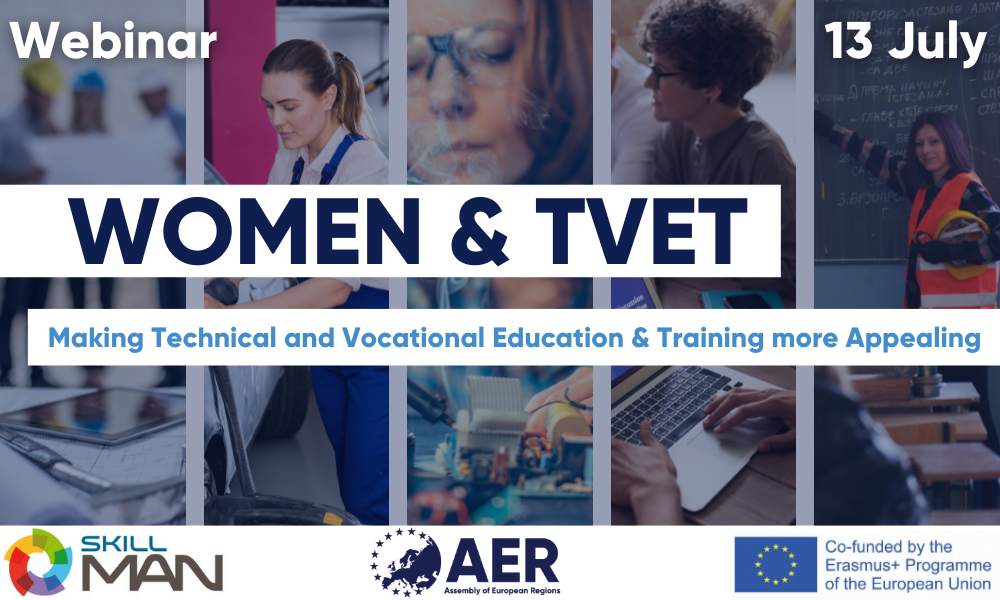 We are pleased to invite you to the webinar on Improving the attractiveness of Technical and Vocational Education and Training for women.
The Technical and Vocational Education and Training sector has a major role to play in providing the skills Europe will need in the future. Moreover, countries with well-designed vocational training programmes find it easier to avoid youth unemployment, even in times of crisis. However, this sector has traditionally been a predominantly male environment.
This is why the European Parliament underlined the need to
continue to address gender bias and gender-stereotypical choices by ensuring and encouraging the equal participation of women in vocational training for what are usually traditional 'male' professions and of men in 'female' professions; calls for the gender dimension to be reinforced in efforts to modernise VET systems and to make learning both at and outside work more accessible to women employees and those with family care duties, not least in sectors where women are under-represented, notably the digital, STEM and green sectors, in order to combat gender segregation in education and employment and combat gender stereotypes

European Parliament resolution of 17 December 2020 on the Council Recommendation on vocational education and training (VET) for sustainable competitiveness, social fairness and resilience (2020/2767(RSP))
The event will be held on 13 July 2021 at 10:00 CET and will give regions the chance to share insights and hear about support initiatives at EU level.
AGENDA & PRESENTATIONS: 
10:00-10.05: Housekeeping rules and quick presentation of the Skillnet project, Valentina De Vico, Communication Manager, Skillman Team
10:05-10:10: Opening, Andrew Gibson, AER Vice President for Inclusion, Diversity & Equal Opportunities
10:10-10:20: Combating gender stereotypes, Alexia Fafara, Junior Policy and Campaigns Officer, European Women's Lobby, SRHR lead
10:20-10:30: The Gender+ project, Michael Miller, Project Officer, The Opportunity Centre
10:30-10:40: Hampshire (GB) Women in Construction, Carolyn Jay Project Manager in the Skills, Partnerships and Strategy Team
10:40-10:55: Discussion with all speakers and attendees
10:55-11.00: Closing
The webinar is also available on Youtube
The events are part of the Skillnet webinar series AER is organising, which provides an opportunity for mutual learning around topics identified by AER members.
This webinar is organised as part of the SKILLNET series of webinars on EU funding opportunities. SKILLNET is a project funded by the Erasmus+ Programme of the European Commission aiming to strengthen the Vocational Education and Training (VET) system's role and capacity to design high-quality VET programmes tailored to current societal needs through enhanced transnational and cross-sectoral partnerships.