We are a network
Multiple times per year, AER brings together regions, so that they may stand stronger together, and grow in a space of best practice exchange.


Green (H)ydrogen: Powering Our Regions' Future
17 May 2022 10:00

-

13:00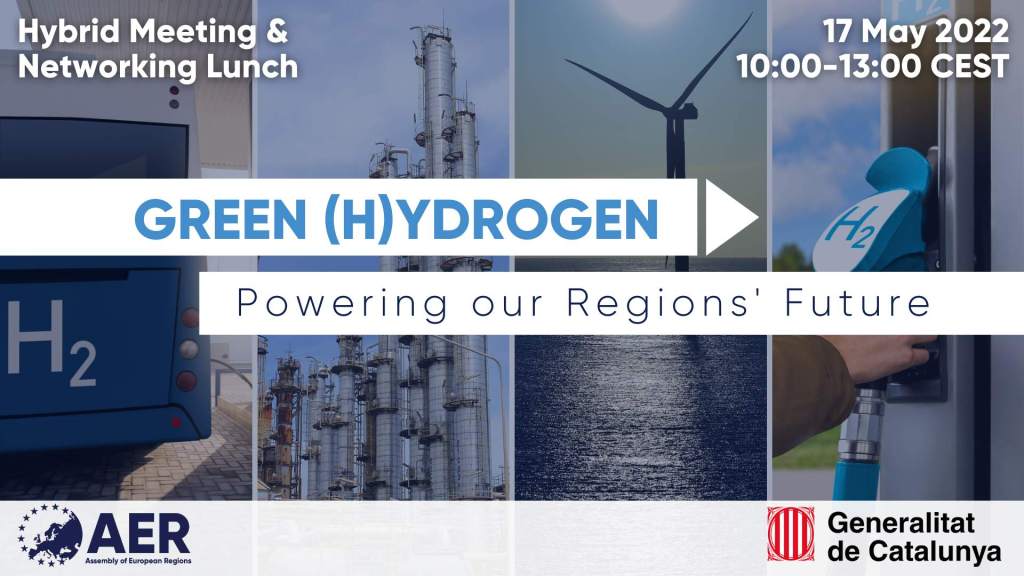 You can check out the agenda and full list of speakers HERE.
Why is Europe talking about hydrogen?
Hydrogen is a versatile energy source with significant potential. It can be used as a feedstock, a fuel or an energy carrier, and has many possible applications across industry in the transport, heating and construction sectors. Most importantly, it does not emit CO2 and produces almost no air pollution when used. The European Commission estimates that "green" hydrogen from renewable sources could make up 13-14% of Europe's energy supply by 2050, and act as a replacement for fossil fuels in high polluting sectors. 
However, there is significant work to do to scale-up production and demand. At present, hydrogen makes up less than 2% of Europe's energy mix, and is still largely produced from fossil fuels. Producing clean hydrogen from renewable sources like wind and solar is expensive, and while technology has improved and come down in cost, there remain challenges connecting hydrogen production to energy grids and securing enough investment to make it viable.
What's in it for Regions?
Regions have a key role to play in scaling-up the renewable hydrogen economy across Europe.  With the right level of private and public investment, European regions can lead in the creation of self-contained "hydrogen hubs" that link all elements of the value chain. Indeed, the EU has committed to a total generation capacity of 40GW of renewable hydrogen by 2030, and in early 2022 launched a call worth €300.5 million for projects to develop "cutting-edge hydrogen technologies" under its Clean Hydrogen Partnerships programme.
In this context, the AER and the Government of Catalonia are initiating discussions among European regions on hydrogen in the energy transition. This knowledge exchange and networking session will be the first step towards sustained exchanges between regions on the development of green hydrogen. It will be an opportunity for AER members to identify common priorities in the field, project and funding opportunities with the European Commission, and accelerate work towards building a hydrogen community within the AER network.
How can I get involved?
Members are welcome to register online to view this event remotely. There will be limited possibilities for those who join online to take the floor during the open session.
Members interested in joining a future working group on green hydrogen can fill in this survey.
Presentations
Presentation by Pere Margalef SVP Technology Officer Hydrogen
Presentation by Albert Ballbé, Head of technical evaluation, monitoring and verification of R&D projects in ACCIÓ, Catalonia (ES)
Presentation by Ana Ursua, General Director, Navarra Industrial Association, Navarra (ES)
Presentation by Giampaolo Canestri, Head of Energy Efficiency and Open Innovation Sector – engineer at Compagnie Valdôtaine des
Eaux, Valle d'Aosta (IT)