We are a network
Multiple times per year, AER brings together regions, so that they may stand stronger together, and grow in a space of best practice exchange.


European Week of Regions and Cities 2022 – Regions4Youth: Strengthening Cohesion Through Youth Empowerment ONLINE WORKSHOP
11 October 2022 09:30

-

11:00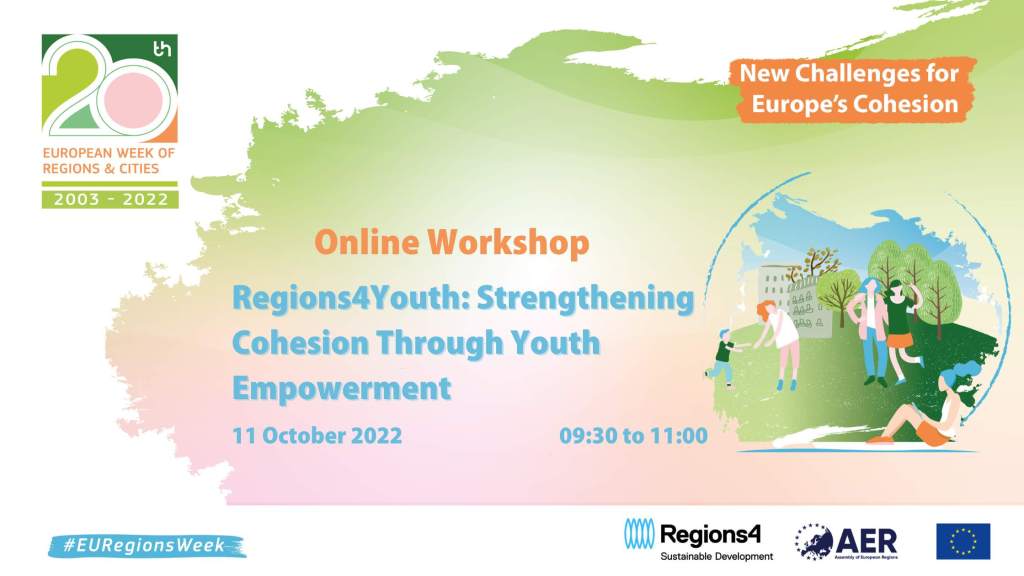 How can youth development contribute to achieving
territorial,
economic
and
social
cohesion?
Empowering our next generation empowers all of us.
Territorial, economic and social cohesion cannot be achieved without providing younger generations with opportunities to thrive and without including them in decision–making processes. The COVID–19 pandemic has put a heavy burden of both sacrifice and uncertainty over young generations. It is today crucial for policymakers to place future generations at the core of policies and to foresee how empowering our young people from a civic, social and economic perspective can be a catalyst for recovery and real cohesion across Europe.
The year of youth
The European Year of Youth provides a unique opportunity for European regions to identify ways of better supporting youth participation and autonomy. Young generations often have a strong sense of territorial development, and roots, not to add sustainability and protection. In parallel, they are keen on embracing innovation and modernity for growth and the bettering of society. It is therefore fundamental to better link youth and cohesion policy; their mutually reinforcing potential can only
benefit to EU's cohesion objectives as well as regional and territorial prosperity. Through our EU funded projects, youth exchange programme and political work, the AER has worked tirelessly to create avenues for civic participation of young people, and empower them at local and regional level.


Why?
The purpose of this high–level workshop is bring together policymakers, civil society and most importantly young people to demonstrate how promoting youth development in our regions can drive territorial, economic and social cohesion. Equally important, to explore how best practices from AER regions can be scaled–up across Europe.
Who?

This panel will engage AER members both online; putting young people from civil society in the driving seat of discussions with regional policymakers from our network. We will use interactive tools like Sli.do and a "reverse Q and A" with our on–site AER regional politicians to ensure a lively conversation with youth voices, concerns and priorities front and centre.