We are a network
Multiple times per year, AER brings together regions, so that they may stand stronger together, and grow in a space of best practice exchange.

Eurodyssey Events & Forum 2018
18 April 2018 12:00

-

20 April 2018 16:00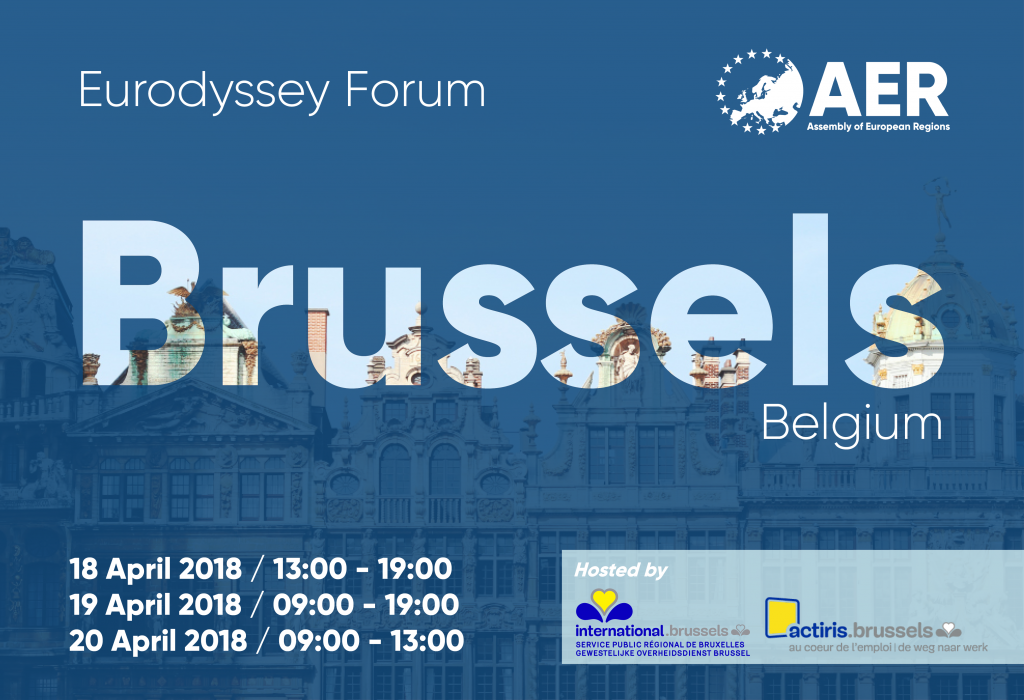 Following the successful Eurodyssey Forum 2017 in Sibenik, this time we propose a new format to Eurodyssey members in order for them to make the most of the Forum as well as to interact with various stakeholders in the field of youth mobility. Eurodyssey members are invited to participate in every session programmed from the 18th to 20th of April.
Their role on the 18th of April ("Discover Eurodyssey" event) will be central to provide information to young job-seekers interested in joining the Eurodyssey network. Additionally, Eurodyssey regions may be asked for contributions and inputs on 19th morning to feed into the proposed panel discussions. On the 19th afternoon, the General Assembly will take place at the premises of Actiris to discuss the state of the play of the programme as well the annual calendar.
But there will be also some room for leisure! Following the General Assembly, Brussels International is organising a cultural event either on the theme of chocolate or beers (according to members' preferences expressed in the registrations forms) which are indeed the two main local attractions of the city of Brussels.
On the last day (20th of April), Eurodyssey correspondents are invited for a working session dedicated to discuss the operational implementation of the programme by exchanging good practices, showcasing lessons learnt, brainstorming on the promotional strategy of the programme as well as discussing the mentoring technicalities for new members joining the network.
Do not miss out on the chance to join us for this year's edition by filling in the "Registration form for Eurodyssey members" (closed)! 
Brussels Capital-Region will be hosting this event (Brussels International and Actiris).
Check out the detailed programme!
---
Are you a Eurodyssey member?
Register below and find out more about the event by contacting Olga Conde Martin from the AER Secretariat.
Registration for Eurodyssey Members (CLOSED)
---
You're not a member of Eurodyssey?
Visit this article, to find out more about how you can make the most of the Eurodyssey events. Already convinced? then please follow the non-member registration link below!
Registration for non-Eurodyssey Members (CLOSED)
Look out! Come and discover Eurodyssey at the Brussels Event! (Registrations closed)
---
Useful information:
Practical Information
Detailed programme
Invitation letter
Eurodyssey Events' presentations
Laurence Hermand, Wallonia, European project AKI 
Emilio Terrado, Valencia, "The European Social Fund (ESF)" 
Clothilde Dorieux, Actiris, "Funding support for professional mobility in Europe"
Andrés Muñoz (AER), "Five steps towards becoming a Eurodyssey member"
Laurence Hermand, Wallonia, Arlette Bronne, Brussels-Capital Region, "Eurodyssey Pilot Actions"
Eurodyssey Forum's presentations and documents
2017 Eurodyssey Statistics Report
AKI project, Wallonia, "Assessment of transversal competencies" document
2018 Eurodyssey Hosting Calendar
Eurodyssey age range limit of trainees by region
Olga Conde (AER), "2017 Eurodyssey Statistics" presentation
Agneta Kardos, Timis (RO), "Eurodyssey 2017 report from the Secretariat" presentation
Freddie Martyn (AER), "Re-branded Eurodyssey website" presentation
Laura Pitteri, Trentino's Presentation
Anna Ascani, Umbria's Presentation
Videos
Brussels-Capital Region, Eurodyssey promo-video
Istria, Croatia, "20 years of Eurodyssey"
Pictures
Pictures by Brussels-Capital Region
Contact:
Andrés Muñoz Rojo
Phone: +32 2 400 10 54
E-mail: a.munoz(at)aer.eu
Skype ID: am-rojillo
Languages: en, fr, es
Programmes
Eurodyssey
YRN
Summer Academy