We are a network
Multiple times per year, AER brings together regions, so that they may stand stronger together, and grow in a space of best practice exchange.


EU-Belong Joint Event with COR – Empowering Regions and Cities in Migrant Integration Governance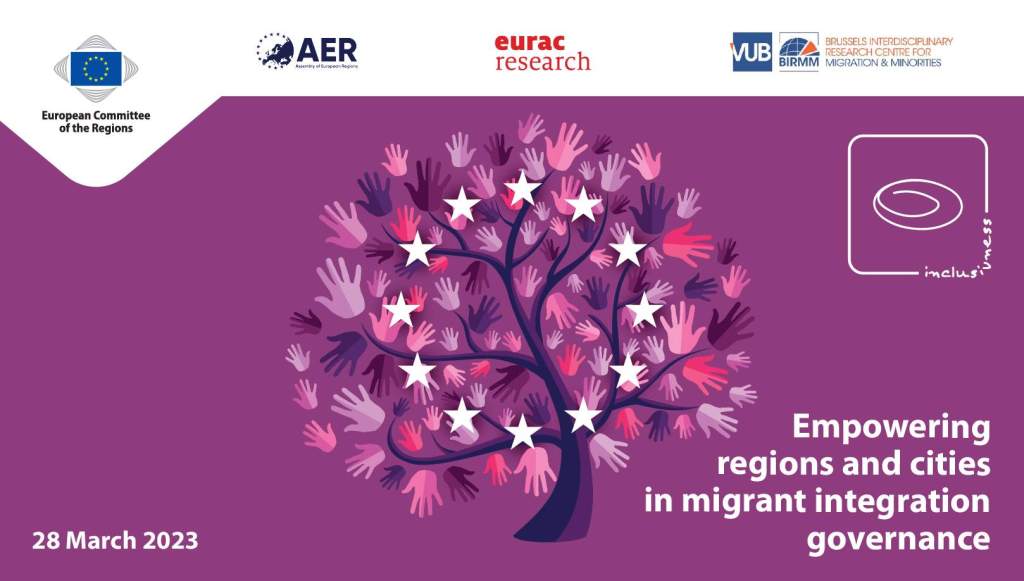 ​On 28 March 2023, the Cities and Regions for Integration of Migrants network of the European Committee of the Regions will celebrate the conference "Empowering regions and cities in migrant integration governance."​
Organised in cooperation with the Assembly of European Regions (AER) and Eurac Research and the Brussels Interdisciplinary Research centre on Migration and Minorities (BIRMM) & Brussels School of Governance at Vrije Universiteit Brussel, the conference will focus on the multi-level coordination and intercultural approach to the integration of migrants and refugees in cities and regions across Europe.
The conference will take place on Tuesday, 28 March 2023, from 10:00 to 12:30 and from 14:30 to 17:30 at the European Committee of the Regions, Rue Belliard 99-101, Brussels, room JDE 51. Online participation will be possible via Interactio.
To attend the conference, in person or online, please fill in the registration form here.
Building intercultural and inclusive regions
Within this event, the AER is preparing a capacity-building session on Intercultural Regions: Embracing Diversity, Fostering Equal Opportunities in close cooperation with the European Committee of the Regions and the Council of Europe. 
The session will aim at addressing the current challenges of migrant integration in our regions and cities, and discuss the benefits of applying an intercultural approach to foster a sense of belonging. 
The intercultural approach as understood by the Council of Europe, and implemented by its Intercultural Cities Programme, aims at harnessing the benefits of diversity as a central aspect of building more inclusive, prosperous and democratic societies. This requires an intercultural approach to integration and joined-up action across all levels of government and actors, based on the principles of equal opportunities, recognition of diversity, and positive interaction between people from different origins. 
Regional and local authorities play a vital role in responding to the increasing diversity of our communities, delivering public policies and services that promote the inclusion of migrants and refugees, intercultural interaction and social cohesion. 
The Assembly of European Regions has played a fundamental role in bringing the intercultural approach to European regional integration, thanks to the establishment in 2019 of the Intercultural Regions Network (IRN), and the development and implementation of the AMIF-funded project EU-Belong: Intercultural Integration of Migrants in Europe's Regions, which aims at improving the socio-economic inclusion of migrants at the regional level through the development of intercultural integration strategies. During this session, the main outcomes and policy tools developed by this European project so far will be presented.