We are a network
Multiple times per year, AER brings together regions, so that they may stand stronger together, and grow in a space of best practice exchange.


Digital Health, Wellbeing and Smart Specialisation
18 November 2020 10:00

-

11:30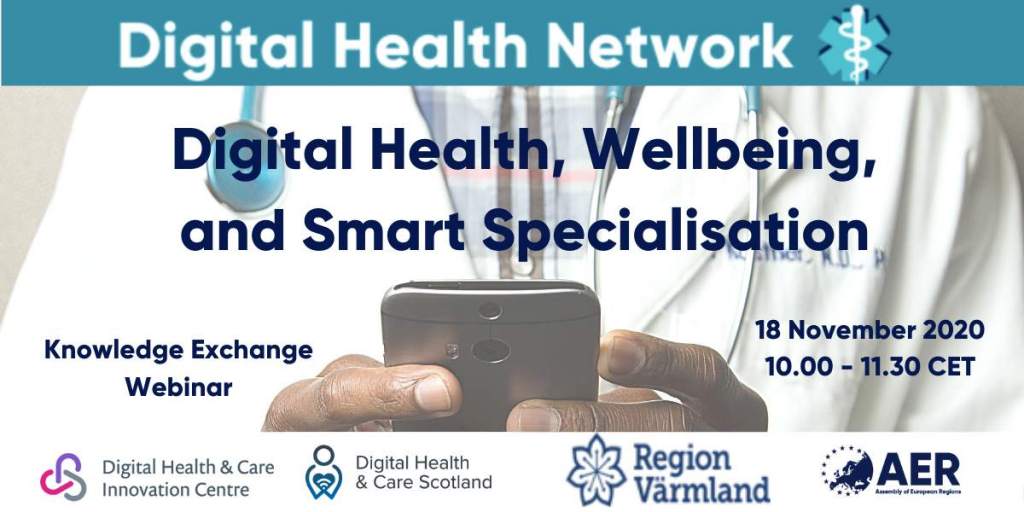 The AER Digital Health Network is pleased to invite you to a webinar on
"Digital Health, Wellbeing and Smart Specialisation"
In partnership with Region Värmland, Scottish Government, Digital Health & Care Innovation Centre
The rapidly evolving digitalisation of health and wellbeing requires new knowledge and collaboration models to accelerate growth globally. Small to medium-sized enterprises (SMEs) need to increase their business development expertise and capabilities in the field of digital health. Health care providers need to speed up their adoption of digital innovations and assess the impact of digital solutions on healthcare processes. New collaborative action models at the European level will speed up this development and knowledge building.
Objective
The webinar will present the experiences of two AER regions on:
supporting the development of digital solutions that support healthy living.

fostering collaboration between the public sector, universities; civil organisations, entrepreneurs, and businesses.

how we intend to achieve business growth and efficiency in public health services.

how digital health innovation fits with our regions' smart specialisation strategies.
Programme
10.00 – 10.05: Welcome and introductions:
Kenneth Johannesson

, AER Committee on Social Policy and Public Health, Vice President for Health Innovation / Councillor Region Värmland

Donna Henderson, Chair of AER Digital Health Network / Head of International Engagement, TEC & Digital Healthcare Innovation, Scottish Government

10.05 – 10.35: Setting the Scene – Smart Specialisation in Värmland and Scotland
Anders Olsson, Manager of Research and Innovation,  Värmland Dept of Regional Growth

Linda Murray, Director of Strategy, Scottish Enterprise
10.35 – 11.15: Creating an ecosystem for digital health and wellness
Magnus Bårdén

, Process Leader, DigitalWell Arena, (Region Värmland, Sweden)

Prof George Crooks, Chief Executive, Digital Health and Care Innovation Centre. (Scotland, UK)
11.15 – 11.30:  Q&A and discussion: about common approaches, opportunities for collaboration, etc