We are a network
Multiple times per year, AER brings together regions, so that they may stand stronger together, and grow in a space of best practice exchange.


2023 AER General Assembly in Barcelona – REGISTRATIONS ARE CLOSED
27 June 08:00

-

30 June 17:00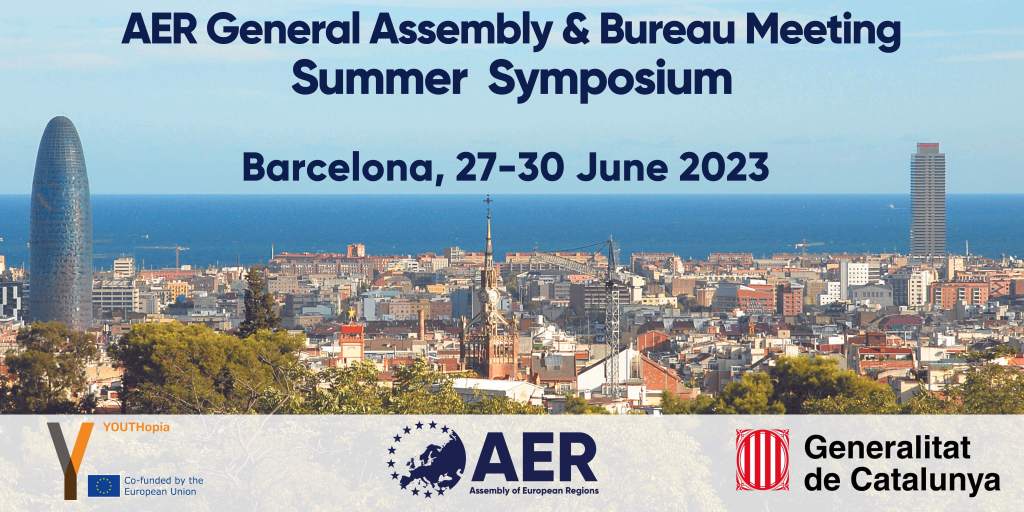 Registrations are closed.
If you are an AER representative, a member of the Executive Board and Bureau, and/or a representative from a member region, please contact the AER Communications and Events Manager Barbara Polin ([email protected]) and/or AER Communications and Events Assistant Laura Bassan. 
The Assembly of European Regions is glad to announce that the General Assembly 2023 will take place ON-SITE in Barcelona from the 27th to 30th June and it will be hosted by the member region of Catalonia.
The General Assembly will be part of the Summer Symposium, a three-day event about the challenges and opportunities of European regions enabling members to reconnect and revive their pan-European network.
The event will take place at the World Trade Center Barcelona (click here to check the venue on Maps).
Draft Programme of the Summer Symposium
Please bear in mind that the programme may be subject to changes.
29 June 2023 – 09:30-13:30
Bureau Meeting
The AER Summer Bureau Meeting will take place in Barcelona on 29 June.
The Bureau will define positions on key AER action areas that will guide our advocacy work for 2023 – 2024 and will be joined by institutional representatives and other stakeholders to discuss the challenges and opportunities facing regions in the future of work, and the role local and regional authorities can play in delivering a brighter future of jobs and skills in Europe.
Please find the draft agenda HERE.
Direct links:
Working Documents (available two weeks before the meeting)
Bureau Debate "Next Generation Skills: Regions shaping the Future of Work"
Conversations about what the work landscape will look like in the future are happening around the world. As Europe recovers from the impacts of the Covid-19 crisis and seizes the opportunities of the green and digital transition to build a more prosperous, greener and fairer economy, this debate will explore the challenges and opportunities that regions face in adapting to the changing nature of work, and how they can best prepare for the future. 
Further information on the debate can be found HERE.
30 June 2023 – 11:15-13:45
General Assembly
The AER General Assembly will take place on 30 June 2023 from 11.15 to 13.45.
Practical Info
ilovepdf_merged (4)

Please find the downloadable version HERE.
In case of questions please contact Barbara Polin, Communications and Events Manager, at [email protected] and Laura Bassan, Communications and Events Assistant at [email protected].