We are a network
Multiple times per year, AER brings together regions, so that they may stand stronger together, and grow in a space of best practice exchange.

Economy 4.0: shaping a future that works for everybody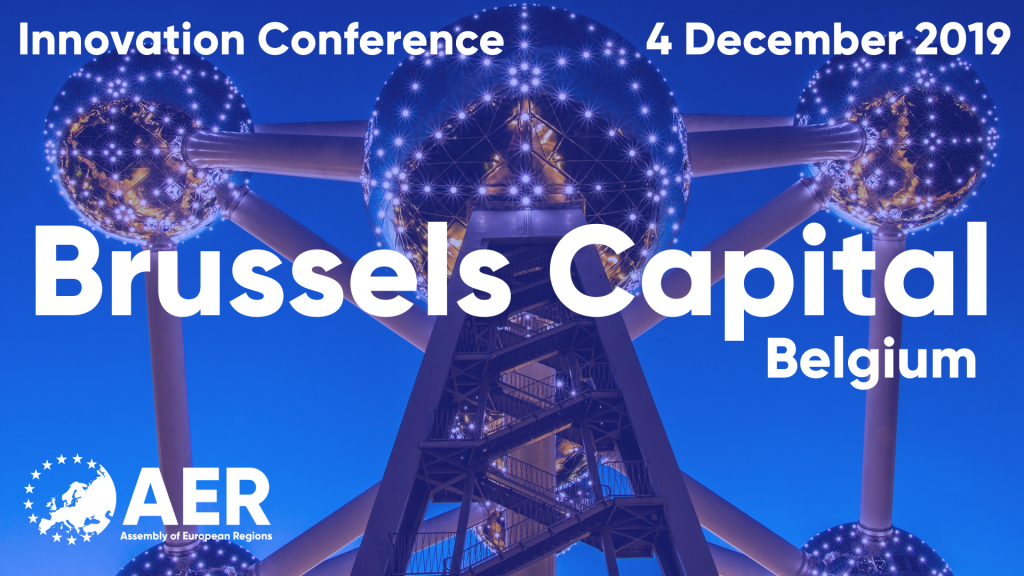 4 December 2019 – 08:45 – 16:30 – BIP (2-4 rue Royale – 1000 Brussels)
As is now a tradition and has been promised during the elaboration of the Committees' work programmes, Brussels Capital will host this year again a mutual learning event in the context its AER Vice Presidency. The event will be organised in cooperation with Catalonia.
The current era, also called the fourth industrial revolution is characterized by the development of big-scale automatization, robotics, artificial intelligence, virtual reality, big data analytics software and high-tech infrastructure allowing for the deployment of the internet of things (IoT). Economy 4.0 is a new era of productive, industrial and economic development which has deep implications on sectors as diverse as education, culture, health, agriculture, industrial production and work in general. The complexity of the societal challenges arising from this transformation makes it all the more important to use collective intelligence and diverse perspectives to shape the future.
What does this mean for policymaking? Where and how should policymakers play a role?
Objective
The event will raise awareness on the ways in which the fourth industrial revolution is changing the way we live and work. More importantly, the event will encourage all participants to contribute in thinking and shaping the future.
Stakeholders from the private and public sector, industry specialists, entrepreneurs, academics, creatives and policymakers will engage in genuine exchange. The idea is to share and discuss initiatives which can be implemented right away. A major asset of these events is to discover projects and initiatives and hear of stories first hand. In a setting where each participant is a contributor, the event will highlight opportunities and points of action of the Economy 4.0.
Participants will:
Share regional experiences on the development of the Economy 4.0 and how this is impacting areas as diverse as work, education, culture or health
Hear from different stakeholders what they see as threats and opportunities of the Economy 4.0
Examine the role of regions and public bodies: are there new roles emerging?
Discuss social and economic impacts, needs in terms of policymaking and fields for cooperation
Learn about funding opportunities for regional stakeholders: both companies/ organisations & regional governments
Learn about regional examples of Economy 4.0: presentations by companies and other stakeholders

REGISTRATION DEADLINE: 25 November 2019
---
Agenda
08:45 …………..

Registrations & Coffee
09:15
Welcome

Magnus Berntsson, President AER

Pascal Smet, Secretary of State for international relations (tbc)

Jean Luc Vanraes, AER Vice President for Cooperation & Strategic partnerships

Representative from Catalonia

09:30
Introduction

Representative Robotics Industrial Development and Impact, Directorate‑General for Communications Networks, Content and Technology, European Commission (tbc)

09:40
Pitch fight: choose your battle

4 speakers pitch the topics of the discussion groups and explain why, based on their expertise and experience, their topic is the most pressing

10:00
Sharing experiences

Parallel discussion groups

●    The future of work in the brave new world

Building a workforce fit for purpose in a radically changing environment

As automation continues apace the skills gap and job insecurity fears are real. Sectors as diverse as health, tourism, industrial production, agriculture, sales are being disrupted. Technological developments will mean that a number of the more 'process-related' technical jobs will become obsolete. Instead, a premium will be placed on the need for 'human' skills to address new challenges. At the moment nearly every technologically advanced state in the world is working out how to fill a skills shortage.

How to support workforce transformation and develop new workforce strategies?
How to develop scenarios which will create new opportunities for workers of all demographic segments and skill levels?
How to foster and develop the very skills which will be "expensive" in the cyber arena: creativity, problem-solving, leadership & people management, critical thinking?

Contributors:

-Politician responsable for labour & skills


-Actiris (tbc)

-representative from Trade Unions


-IT Company

-sociologist

-a rapporteur for the Task Force on digitalisation

Moderator: design & policy lab

●    Innovation in an era of massive competition

How to help businesses and specifically SMEs to innovate and flourish in a winner takes all economy?

How to foster innovation in an ever changing and globalised environment?
What will be the differentiating elements between winners and losers on the market?
What kind of innovation is needed in a 4.0 world?
What role for creativity?
How to foster innovation ecosystems?

Contributors:

-Jean Luc Vanraes, AER Vice President for Cooperation & Strategic partnerships

-speaker on social innovation


-Academic on photonics (tbc)

-art curator/ specialist on creativity

-a rapporteur for the Task Force on digitalisation

Moderator: 

●    Creative bureaucracy & public services

The role of regional governments & public services: how to reinvent to serve better?

The disruption of the economy 4.0 involves changes in the very role of governments, the way they share information and collaborate with other entities as well as the way services such as healthcare, transports or social services are delivered

How should the public services of tomorrow be designed?
How to make sure public services provide answers to current challenges?
How to create public services which improve the lives of citizens and provide support to grow capability?

Contributors:

-representative of lab on healthcare design

-Donna Henderson, Chair of the AER digital health network (tbc)

-Public policy Designer

-user organisation

-Chief Digital Officer of a Regional Council

-a rapporteur for the Task Force on digitalisation

Moderator:

●    Is a sustainable economy 4.0 possible?

The Economy 4.0 is also a resource intensive economy, will green innovation live up to its promises?

Technology requires rare-earth elements for batteries or magnets for instance. The extraction of resources and the production of technology generate considerable pollution, generally in less developed countries. Moreover many tech products are poorly recycled. On the other hand a number of economy 4.0 innovations are already contributing to less polluted cities, efficiently irrigated cultivated land, more efficient use of resources

Contributors:

-Policymaker on sustainable mobility

-representative on agriculture 4.0/ smart villages

-someone on blockchain and logistics and how this is allowing for less waste, better use of resources etc

-representative from Oxfam tbc

-academic on sustainability

-a rapporteur for the Task Force on digitalisation

Moderator: SDG specialist?

11:00
Coffee Break
11:45
Let it grow!

Reports from the discussion groups: findings and proposals for action

12:20
Information on funding & support for stakeholders in the context of the Economy 4.0
13:00
Working and Networking Lunch
15:00
Economy 4.0 In Real Life

Meet companies and stakeholders of the Economy 4.0

16:30
End of the event