We are a network
Multiple times per year, AER brings together regions, so that they may stand stronger together, and grow in a space of best practice exchange.

ANNOUNCEMENT: Bureau Debate on Youth, August 31 2022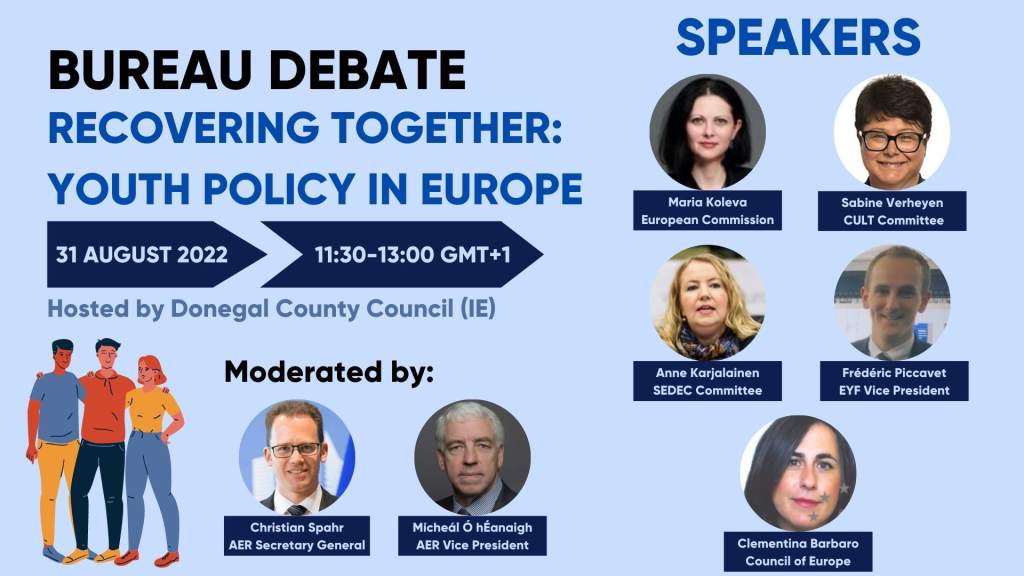 The COVID-19 crisis has taken a toll on the education, employment, mental health and disposable income of youth all across Europe. Young people used to work in sectors most affected by lockdowns, like retail, consequently those about to enter the job market faced dwindling employment opportunities.
This is why, as part of our Summer Academy on 31 August, we will bring together representatives of local and regional authorities, European Institutions and other relevant stakeholders to debate the opportunities and challenges of youth policy in the context of post-pandemic recovery.
During the last Spring Bureau Meeting, the AER Bureau members set up a new Task Force on Youth, chaired by Údarás (IE), which aims at promoting youth inclusion, participation and well-being in the context of the European Year of Youth and post-pandemic recovery, with a particular focus on the key role of regional and local governments. This debate will be hosted during the AER Summer Academy in Donegal County Council, Ireland, and chaired by Mícheál Ó hÉanaigh, Chair of the Task Force on Youth.
The debate will address three key questions:
What should the focus of youth policy be in our post-pandemic European societies?
How can youth contribute to building more resilient and strengthened European regions?
What can public actors do to avoid facing a "lockdown generation" and maximise the well-being of European youth?
For further information on the content of the debate, please, go to this article.
Panel:
Maria Koleva, Deputy Head of Cabinet; Commissioner for Innovation, Research, Culture, Education and Youth – European Commission
Anne Karjalainen, President/chair of the Commission for Social Policy, Education, Employment, Research and Culture (SEDEC) and Chair of Kerava City Council – European Committee of the Regions
Frederic Piccavet, Vice-president – European Youth Forum
Clementina Barbaro, Head of Youth Policies Division – Council of Europe
Youth Delegate

, Congress of Local and Regional Authorities, Council of Europe

Paul McLeannan

, Member of the Scottish Parliament; Local Government, Housing & Planning Committee and Social Justice & Social Security Committee
With insights, unique regional contexts and recovery experiences from the Task Force on Youth member regions.