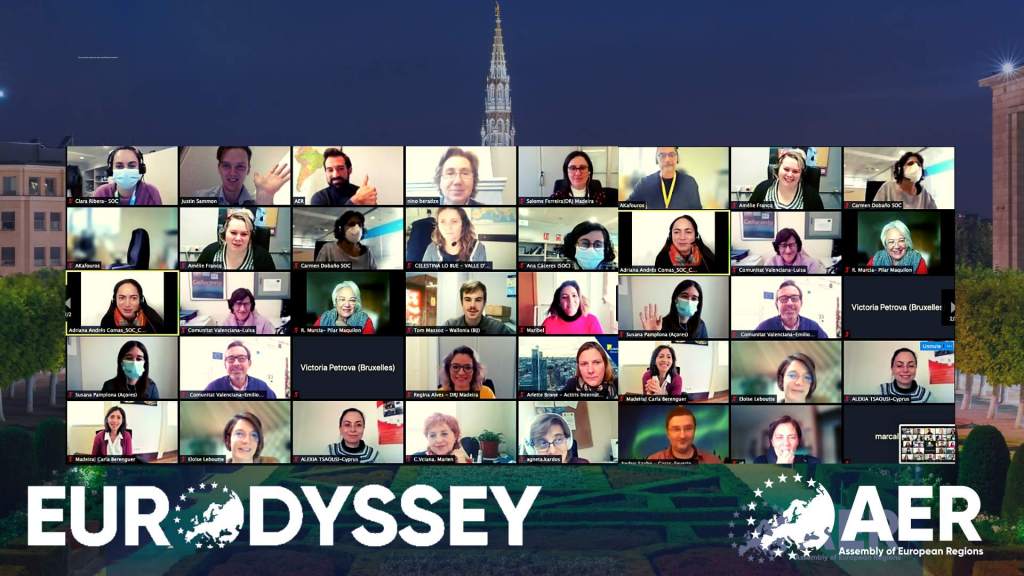 Share this!
Over two days on 2 and 3 December, the Eurodyssey Forum took place online for the second year in a row. This was an opportunity for correspondents from Eurodyssey regions to get together and share perspectives on the running of the programme, and chart a course for 2022 and beyond. Check out our highlights below!
Despite the second year of the pandemic putting the brakes on mobility programmes, 2021 has seen the Eurodyssey programme start to bounce back from the pandemic.
Indeed, this year's Forum was very much an optimistic, future focused get-together, with participants electing a new President and Steering Committee, learning how to use the long-awaited new website, and sharing ideas on how to make the programme more sustainable and inclusive in the long-run. Joining the Forum from Brussels, AER President, Magnus Berntsson lauded members for their endurance and stewardship through an exceptionally difficult period, "We congratulate the extraordinary efforts our member regions have made to keep up youth mobility during the current COVID-19 pandemic."
Taking stock; looking forward
The first item on the agenda was a review of the programme by AER Eurodyssey Coordinator, Andrés Muñoz Rojo. The expected negative impact of the COVID-19 was noted here. With that said, there are clear indications the programme is making a robust recovery and is ready to remobilise in 2022. Indeed, excellent planning and adjustments made by members have started making an impact, "Most of the Eurodyssey regions are back on-track thanks to increased coordination efforts via the regular monitoring group meetings."
Later, Andrés Muñoz delivered a presentation on the 2020 Statistics and Employment findings, which highlight the significant, positive impact the programme continues to have on young trainees' employment prospects, with 46% of trainees finding employment within four months of completing their traineeship.
Another important agenda item was the election of the new President and Steering Committee, with Esther Estany from Catalonia (ES) re-elected as Eurodyssey President and Antonis Kafouros from the Union of Cyprus Municipalities elected as a new member. Upon being elected, Ms Estany and Mr Kafouros thanked "all the member regions for the vote of confidence that will allow us to continue to lead the Eurodyssey programme for the next two years."
Day 1 concluded with a presentation of the ALMA Initiative by Catalonia representative, Ms Adriana Andrés. 'ALMA' (Aim, Learn, Master, Achieve) supports disadvantaged young people by helping them take advantage of youth mobility and find their way into the job market. Members who want more information on the initiative should send an email to [email protected].
Sustainability, reciprocity and promoting Eurodyssey
Day 2 began with a presentation by guest speaker, Lana Pasic, Research and Youth Policy Officer at the EU-Council of Europe Youth Partnership. Ms Pasic set out how members can make their mobility programmes greener through a Sustainability Checklist with nine areas of action, including transport, accommodation and venues, food/consumables and more. By working through the checklist as a blueprint for change, host regions can help make a difference not just to young people's job prospects, but to protecting our planet, too. Ms Pasic's presentation is available HERE.
Next, there followed break-out sessions for Eurodyssey members on important themes: sustainability, promoting Eurodyssey and assessing the reciprocity principle and hosting quality standards.
Touching on the sustainability theme, participants concluded that a key component will be promoting rural employers in the host regions, including offering traineeships in growth areas like sustainable agriculture. On the question of ensuring reciprocity between regions, it was suggested that greater flexibility is required in terms of levels of qualification and language ability of participants, and offering a greater diversity of sectors to improve uptake by applicants. Creating a checklist for regions with concrete criteria to improve hosting was also mooted.
A fruitful discussion was had on identifying Eurodyssey's distinctive features and selling points. Among many other advantages, members highlighted the personalised mentoring, language training and collaborative network as major advantages.
Indeed, how to make Eurodyssey more appealing to would-be trainees was an important theme in the last presentations of the day, where Mr Rojo and Justin Sammon, AER's Communications & Events Manager, shared ideas for regions on how to create an attractive regional profile on the new Eurodyssey website, and how to make the best of its new features. They advised that when it comes to marketing your region, "It's not just about the job prospects, though that is, of course, vital," To get the attention of applicants, "You need to paint a complete picture of what working and living in your region is like." Members who might need more support with setting up their profile are advised to contact Andrés Muñoz and Justin Sammon directly.
Thus concluded the 2021 Eurodyssey Forum. While the past two years have had no shortage of setbacks for the programme, with renewed energy and commitment, the Eurodyssey family is ready to get young people moving again in 2022.
Missed the 2021 Eurodyssey Forum? Visit the event page to download all the working documents, presentations and other key reports.
Follow AER!