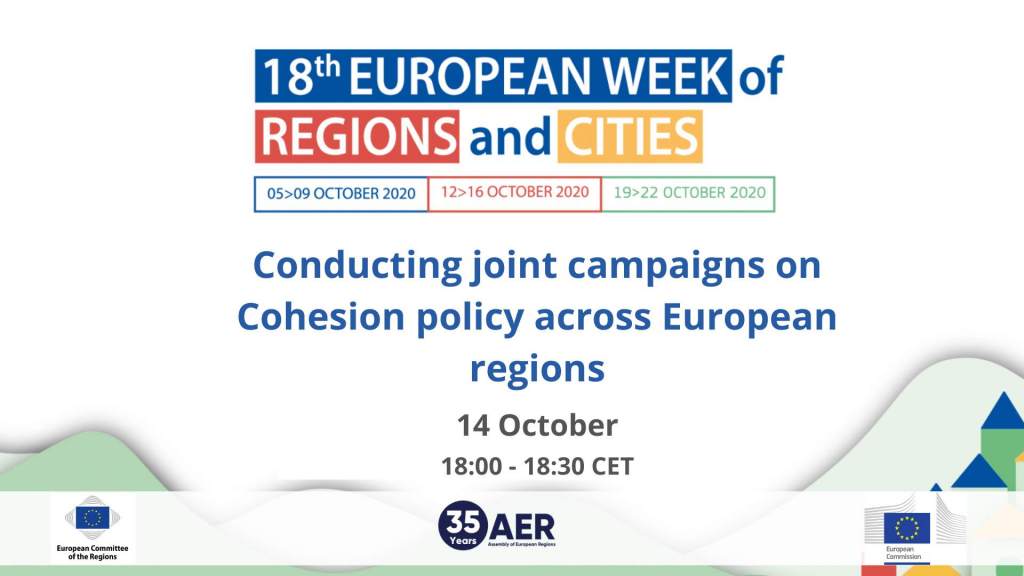 Share this!
Join our EURegions Talk on 'Conducting Joint Campaigns on Cohesion Policy across European Regions' next Wednesday, 14 October from 18:00 – 18:30 CET, part of DG-REGIO's Media Programme within the European Week of Regions and Cities! By presenting the steps, achievements, and challenges of the "Together for Cohesion: Let's rEUnite" campaign – we will follow-up and continue further our successful work on the promotion of the benefits of European cohesion policy among citizens.
As you may recall, Together for Cohesion is a wide-reaching communication campaign co-financed by DG-REGIO, and ran from March 2019 to July this year by the Assembly of European Regions (AER) in cooperation with the Media Consulta International Holding (mc Group) and with the strong involvement of six flagship regions [Alba (RO), Catalonia (ES), Csongrad-Csanàd (HU), Timis (RO), Trentino (IT), and Varazdin (HR)]. Through the organisation of multiple local and international conferences and webinars, training sessions, interviews with local stakeholders and citizens, our aim was to raise awareness of the real-life benefits of cohesion policy for citizens, as well as to empower the policy's main beneficiaries (citizens and stakeholders) as primary actors engaged in the communication of the policy.
The interactive EURegions Talk "Conducting Joint Campaigns across Europe" will be a great occasion to involve the broad and diversified European audience in a journey through the six European regions, the activities, and the stories of cohesion projects that fuelled the campaign. Participants will gain valuable first-hand insights into running an EU-wide campaign on cohesion policy and on the pivotal role that cooperation among regions and partnerships between local/regional authorities and citizens and stakeholders play in delivering an effective communication campaign, especially when major external constraints arose (as the COVID-19 outbreak in the case of the Together for Cohesion campaign).
The presentation will be led by Birgit Sandu, European Project manager at AER (Assembly of European Regions), and attendees are welcome to join via Zoom.
Do not miss this opportunity, REGISTER HERE before Wednesday 7th October!
If you are facing some difficulties in registering for the events of the #EURegionsWeek, this video will guide you throughout the process!
Follow AER!