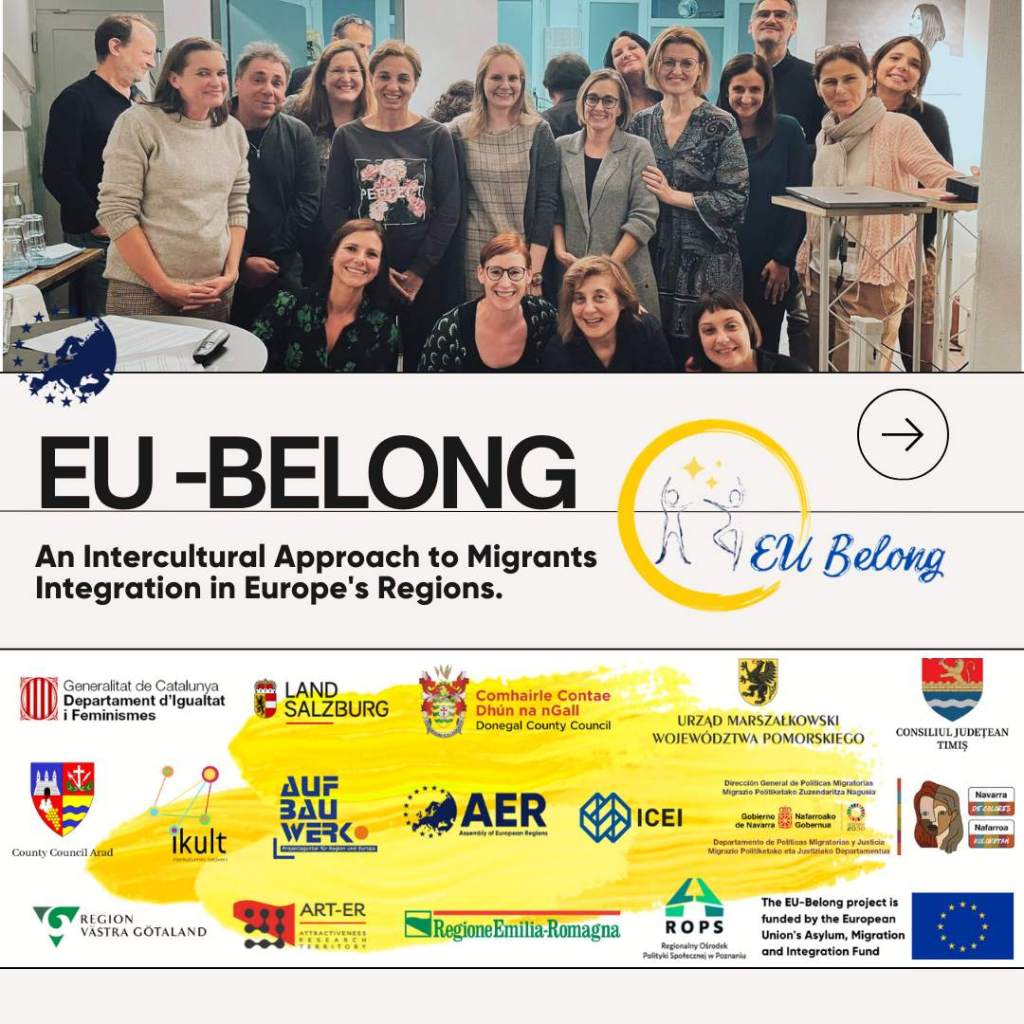 Share this!
On 23-24 February, the Assembly of European Regions, together with 14 partners from 8 countries, kicked off EU-Belong, an ambitious project selected among 300 proposals, of which only 10% were approved by DG Home in its 2020 AMIF call: transnational actions on asylum, migration and integration. We are proud of this great achievement and conscious of the great responsibility that follows, in that we are called to develop and implement targeted integration strategies at local level while contributing to bringing integration policy in Europe forward, thanks to the consortium's consolidated expertise, knowledge and ability to mobilise its relevant network.
This article is a snap journey through the key moments that led to this project, the principles and needs that helped shape its objectives, its first steps and upcoming activities.
EU-Belong: A Long Journey
Europe is a continent of great variety and turbulent history, which has found concrete, yet delicate peace in the coming together of people and countries under a common European project and its core values of democracy and freedom. Here, diversity is likely to increase in the years to come, and our regions are front liners in supporting the whole societal infrastructure to embrace this diversity, unlock its potential and acknowledge it as a resource for everyone.
When it comes to concrete integration issues, a lot of attention has been rightfully given to municipalities and cities, but regions also have a key role to play because of their mandate (competencies, infrastructures, and service providers) and because they can inspire positive developments on their entire territory and other regions with similar characteristics.
This belief is the motivation that brought us together as a consortium. First in 2018, with the AER Task Force on Migration led by Catalonia, answering the need of AER members to discuss the integration of migrants and diversity management at regional level in the crucial time following the migrant crisis of 2015. Then, one year later, following the demand to bring to life a more structured way of dialogue for all interested regions, the AER-led Intercultural Regions Network (IRN) emerged, counting 11 members. The work of the Council of Europe and its intercultural integration approach, as we'll explain below, served as inspiration and guidance for this important work all along.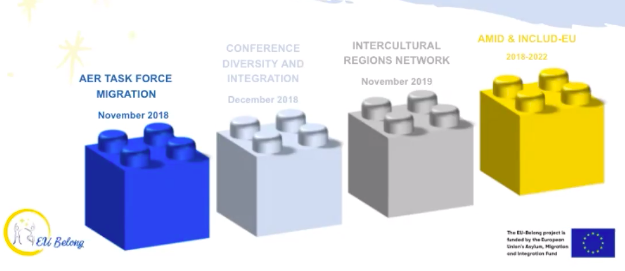 Since then, AER has been moving this cooperation forward and building knowledge, especially through its participation in two key projects, AMID and Includ-EU, until this project was submitted and approved in 2021 -with great effort from all involved partners-, in order to give an action framework and financial support for the IRN to realise its core objectives.
The mission beyond the project is thus to build a stronger Intercultural Regions Network, increase opportunities for regional authorities to learn from each other, exchange experiences from an intercultural perspective and build widespread support for the intercultural approach among policy makers, officials and civil society in Europe and beyond.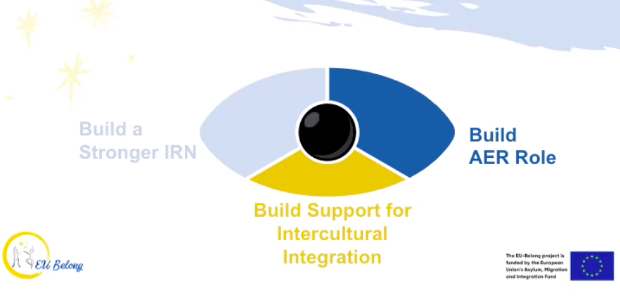 The Intercultural Approach: Equality, Diversity and Interaction
At the EU-Belong Kick-off Meeting, Irena Guidikova (Council of Europe Cultural Policy, Diversity and Intercultural Dialogue Head of Division) pieced together for us the principles behind the Intercultural approach, which is at the basis of the EU-Belong project as well as of the Intercultural Cities Programme (ICC), which she helped found in 2008.
The objective back then was to rethink the approach to integration policy by adding key ingredients there were lacking from previous approaches (i.e. multiculturalism) focused mainly on granting rights to migrants, and less on the social/interaction dimension.
In particular, Ms Guidikova pointed out a gap in perceptions and relationships between service providers in all areas (from education to health care) and migrants: questions about the feeling of inclusion and the sense of belonging of migrants, about social trust and mutual respect beyond their material conditions of life are also critical for successful integration, and need to be further taken into account by public policy, as it becomes clear that a lot can be done, especially at local and regional level.
To make migrants (and descendants) feel part of the society and not "forever foreigners", to empower them to have a voice and be involved in the public and civic life of their territory, to make them feel equal while valuing their diversity is ultimately what defines integration, and this, according to the intercultural approach, is possible if intercultural interaction and co-creation are encouraged by policies and governance models and if officials have the cultural competence enabling them to communicate positively about diversity and manage conflicts as they may arise.
In essence, "equality, diversity, and interaction are three inter-linked values that underpin the development and sustainance of an intercultural city".
How EU-Belong contributes to upscale Integration Policies at Regional level
The EU-Belong project is innovative, in that it will explore these 3 Intercultural dimensions applied to different regional contexts across Europe and will come up with replicable examples and good practices of how interculturality can be translated into regional policy.
A further added value of the project is that it will help develop the practice of interculturalism in diverse areas that were not yet thoroughly addressed, such as housing, integration into the labour market, newcomers/local population interaction, and sport & culture.
With this in mind, the project also fully matches with and contributes to relevant EU policies and strategic documents, above all the "Action Plan on Integration and Inclusion (2021-2027)", focusing on some of the above-mentioned thematic areas as well.
In a nutshell, the project aims to improve the socio-economic inclusion and sense of belonging of migrants by developing ad-hoc regional integration strategies. Over the next three years, we will work with partners from Spain, Italy, Germany, Romania, Ireland, Poland, Sweden and Austria to build the capacity of public and private actors to effectively address the challenges of migrants integration.


The Kick-off Meeting
The kick-off meeting, which happened in Brussels and online, has been a key moment to put the basis for the cooperation for such a large consortium. At the meeting, more than 25 representatives from all project regions got to know each other and were able to exchange ideas about the upcoming project activities. Numerous questions were clarified and plans were made to achieve the project's goals.
In this context, the advisory committee, a crucial body that will accompany and strategically support the project for the next 3 years was set up. It comprises of the Council of Europe, the International Organization for Migration (IOM), Donegal Intercultural Platform, DIVERSIT- Associació Ciutats Interculturals, GRITIM- Interdisciplinary Research Group in immigration (UPF), Mondinsieme – Intercultural Centre, Research Center for Intercultural Dialogue (FID), Arad County and Catalonia Governement.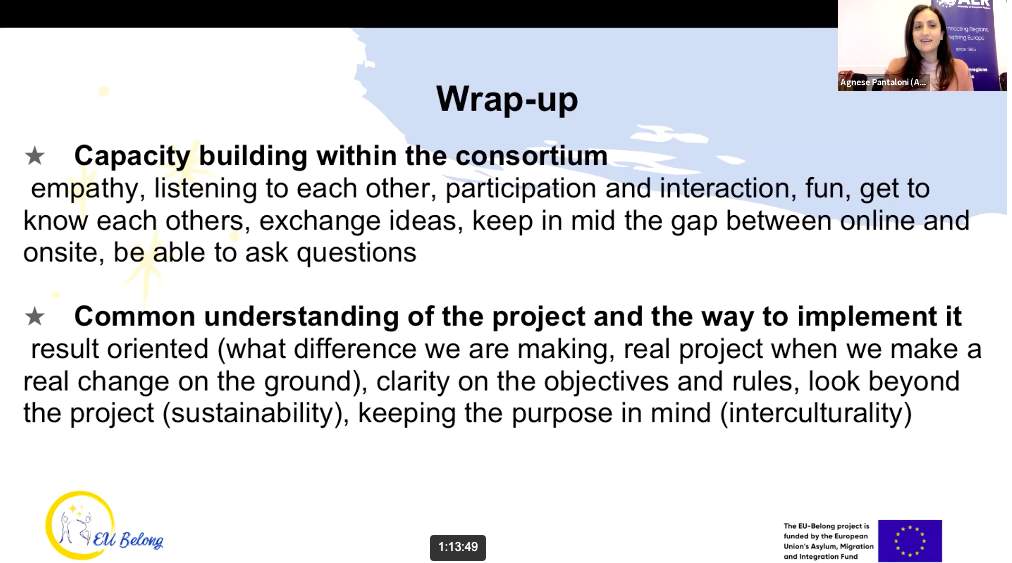 Coming Next
The project foresees next the organisation of capacity-building sessions for public authorities and local stakeholders based on the local needs and knowledge assessment of each region, comprised both of online and onsite meetings.
At the same time, because of the scarce existing data related to experiences and practices carried out at the regional level, a preliminary peer review of good practices is carried out to collect, analyse and present innovative and successful experiences from European Regions on the topic of the participatory design, implementation and evaluation of intercultural integration strategies. The review, to be published in June 2022, will focus on relevant experiences from other European regions that will be selected through the networks of the Assembly of European Regions (read the Call for Expression for more info). This activity will help to elaborate a multistakeholder policy model framework to promote effective regional intercultural integration strategies and multi-stakeholder governance, that will be tested and later thoroughly disseminated.
Also this year, from October 2022, the AER will facilitate the transnational transfer of knowledge and peer learning among partners and associates, but also between them and other regions interested to learn from the project outcomes. All IRN and AER members who want to share or learn from thematic expertise will thus be invited to partake in the relevant Transfer Cluster(s).
We look forward to EU-Belong with great motivation, energy and the will to make a real impact.
Subscribe to our Newsletter, Follow our website, and the EU-Belong Twitter account to stay up to date with project's news.
Here we are, Here you belong!
Contact:
Birgit Sandu, EU-Belong Project Manager, [email protected]
Gisela Guari, EU-Belong Policy Officer, [email protected]
Anna Comacchio, EU-Belong Communication Officer, [email protected]


Follow AER!