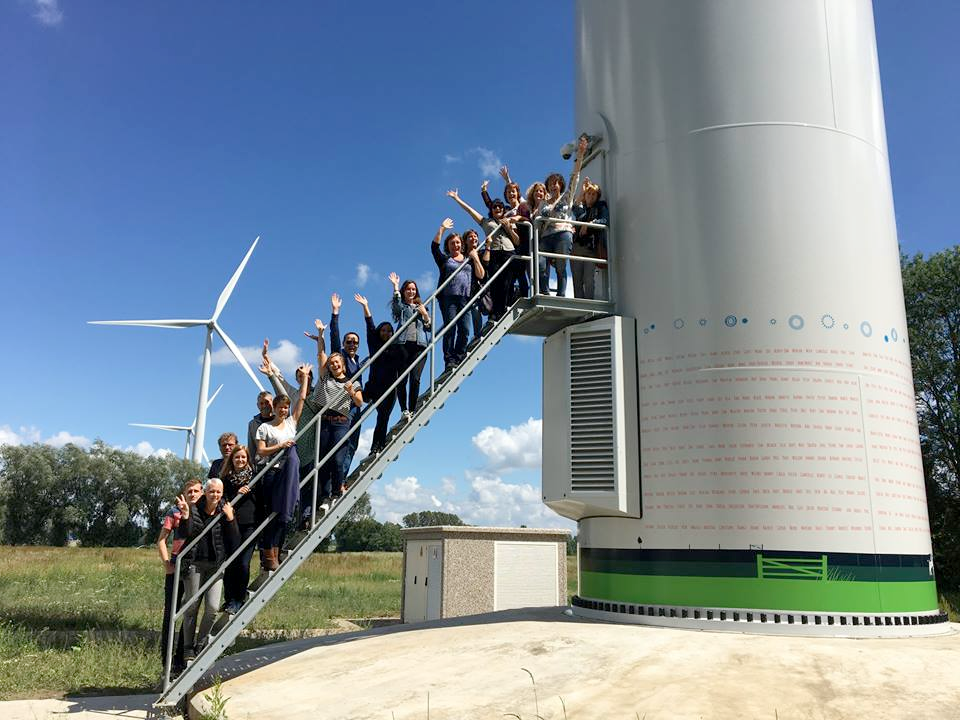 Share this!
From 17 to 19 April 2018 Gelderland (NL) hosted a Study Visit on the energy transition, which focused on governance and participatory approaches. Representatives from Värmland (SE), Vojvodina (RS), Diber (AL), Lubelskie (PL), Elbasan (AL), Gjirokastër (AL) and Fier (AL) had the opportunity to share experiences and observe how the Province of Gelderland (NL) is implementing a bottom-up approach to achieve the energy transition and develop an unique multi-stakeholder collaboration towards an energy neutral province in 2030.
The programme started in Arnhem, with a presentation on perceptions about sustainable energy and the situation of the Netherlands in the past decade. Understanding perceptions is key to  drive change.
From there, participants to the visited joined local stakeholders and policy makers for a serious game on conflicting interests and collaborative searches for solutions.
The group then visited Nijmegen, which has been selected as European Green Capital 2018. Nijmegen managed to become the winning city thanks to its achievements in environmental, social and economic sustainability.
Europe visiting @regioAN second week in a row

Today, with energy visit European regions from @europeanregions @ERRINNetwork

Showcasing energy transition, innovation, cooperation and action from @GroeneAlliantie Liemers @GreenCapital18 @provgelderland @GEAakkoord pic.twitter.com/umJ99sA6Xt

— Bureau Brussel – Regio Arnhem Nijmegen (@BureauBrussel) April 18, 2018
One of the important elements for change and collective action, participants to the Gelderland study visit heard, is the creation of momentum
Nijmegen being European Green Capital 2018 #asgreenasitgets helps building a movement for sustainable urban development. The whole is greater than the sum of its parts @europeanregions #collectiveintelligence

— Johanna Pacevicius (@jPacevicius) April 18, 2018
The European Green Capital Award is also a showcase of good practices which enables all local and regional stakeholders to contribute.
Participants then visited a cooperative windpark which was developped and is run by citizens…
Sustainable energy is also a matter of peace #asgreenasitgets @europeanregions pic.twitter.com/1Af3gMdFgS

— Johanna Pacevicius (@jPacevicius) April 18, 2018
… and climbed on the blade of a windturbine to take a group picture 😎

In the evening delegates went to the Energy Business Park in Arnhem and had the opportunity to exchange with Wim Nabbe about the green alliances for the energy transition. This organisation was founded by entrepreneurs to
-Accelerate the energy transition in particular in the 34 business parks in de Liemers
-accelerate the circular economy, especially in the industry
-transform housing
Indeed, the energy transition doesn't stand on its own, it is part of becoming a circular economy. It also requires to change the way stakeholders collaborate and  become a learning and co-creating society.
On Day Two, delegates visited the Cleantech Region in Apeldoorn. They heard about the way the Cleantech Region brings together different municipalities and entrepreneurs to support clean technological innovations, green growth and an energy neutral region by 2030.
One of the presentations on the entrepreneurs from the Cleantech Region showcased how tiny houses revolutionise the way people live and conceive space. Ministek is a company which creates hightech tiny houses, which rotate with the sun, are breathing and self sufficient constructions thanks to solar panels and green water purifying walls, and communicates with inhabitant via an app
The programme included also a visit to the EnergieFabriek, which produces gas and electricity from sewage with bacteria
Next steps will involve the exploration of peer to peer collaboration on green energy, waste management and green innovation between participating regions, via EU programmes and the AER Working Group on Energy and Climate Change, which is chaired by Eva Hallström, Värmland (SE), who also participated to the study visit. The presentations from the visit are all available on the event webpage.
Follow up actions:
Have an idea for collaboration? A problem on which you would like other regions to provide advice? Contact us!
Regions can engage in peer-to-peer learning activities supported by the European Commission via the TAIEX-EIR programme
Regions can access the programme directly, the registartion is straitforward and applications which are specific enough can often be treated between 3-6 months
The Regional Business Conference, which will take place on the occasion of the AER Autumn Committee Plenaries, will bring together Chambers of Commerce of all over wider Europe, this is an opportunity to develop business partnerships on sustainable energy.
Regions which are interested to develop business partnerships and would like to partiipate in the Regional Business Conference in Vojvodina on 25-27 September 2018 should contact Sanja Shiflish
Featured picture by Christine Wevers: one of the wind turbines of the cooperative windpark in Nijmegen with the shareholders

Follow AER!