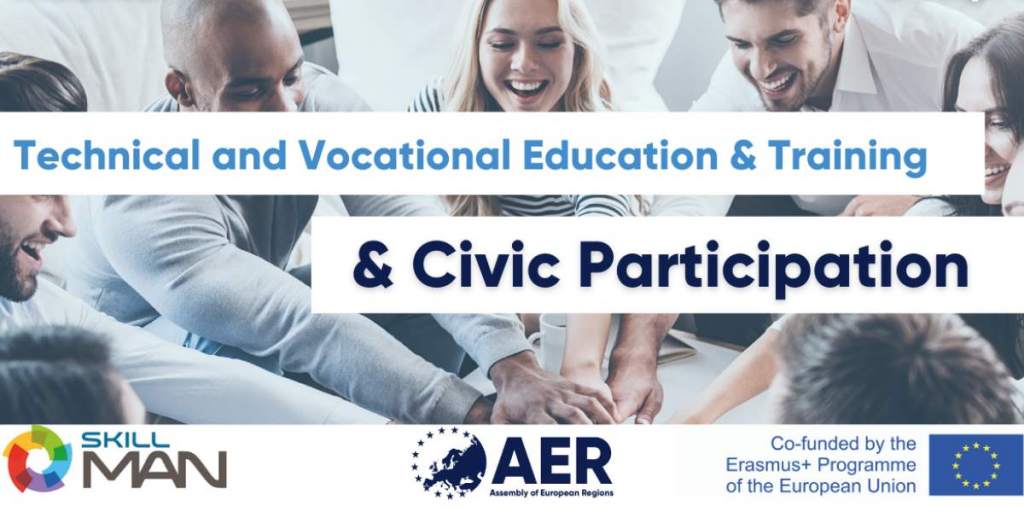 Share this!
Civic participation is a process in which people take collective action to address issues of public concern and can adopt many forms: from individual volunteering, community engagement efforts and organisational involvement to governmental support. With regard to governments, effectively engaging with stakeholders translates into better services, source ideas and knowledge, co-creation solutions and seizing new opportunities.
In the context of its participation in the Skillnet project, AER organised a webinar on the ways in which societies can improve civic participation in a qualitative way, by involving young people from more diverse backgrounds
High-quality civic participation is inclusive by design
To achieve high-quality civic participation, it is crucial to make sure to involve all regional stakeholders. Research shows there is a large participation gap between college students and other young people.
This webinar was facilitated by Aurora Carrasco Minguez, VET programmes Manager at Acción contra el Hambre. The event focused on the factors that can improve the civic participation of people in technical and vocational education.
Civic competences and lifelong learning
To provide insights on how to bridge civic participation and various forms of education Andrei Frank, Policy Officer SOLIDAR Foundation, shared the results of the 2020 Solidar Monitor, a research report on the topic of policy developments in the field of attainment of skills, through lifelong learning, for active participation in society.
This report looked at green and digital citizenship in Europe and beyond. It examined in particular how multistakeholder partnerships are beneficial to develop policies linked to this type of competences. Indeed both green and digital competences imply lifelong and holistic elements. These competences need to be constantly updated.
In order to ensure more inclusive and wider civic participation, multistakeholder partnerships across ministries and across society are needed to ensure this constant updating of civic competences. Partnerships between formal and non-formal education are needed
Good learning environments for all for better participation
Simon Johnson, Chair of the AER Working Group on Education and Acting Mayor of Nordland County (NO) shared the experience of his region. He explained that offering the possibility to all to participate in society is part of the political guidelines underpinning Nordland's policymaking and which are based on the Universal Declaration of Human Rights.
Simon Johnson presented the way in which politcal goals are translated into strategy making processes and result in practices, which aim to provide all students, apprentices and trainees with a good learning environment. This entails measures aimed at promoting good health, wellbeing and learning and leads to building great life skills. Nordland is specifically targetting young people who are not enrolled in ordinary upper secondary education. One of the ways in which the region does this, is through the development of partnerships with businesses.
In order to foster civic participation skills such as critical thinking and ethical acting together with environmental awareness are embedded in the Norwegian Education Law. This means pupils have the possibility to participate in the classroom, at the level of the school as well as at local and national level. Other measures specifically target bullying.
This practice shows how building inclusive learning environments for all, with an approach that includes health and wellbeing, as well as providing structures for young people to participate in decision making -thus providing a space to build civic participation competences- contribute to foster more inclusive civic participation.
Building the TVET voice through the Peer Learning Clubs
In the context of the Skillnet project, TVET stakeholders are invited to share their views and experiences in the Peer Learning Clubs, in order to shape policy recommendations.
Maria Elena Romanini, Project Manager for the Skillnet project presented the Peer Learning Clubs. These four focus groups bring together experts from different backgrounds (TVET providers, companies, government representatives, and individuals) who engage regularly in the discussion of four TVET-related topics through online and on-site activities, with a bottom-up approach.
The four topics are:
PLC1 – Advanced Manufacturing Sector (sectoral dimension)
PLC2 – Advocacy & Policy Influencing (empowerment and social equity dimension)
PLC3 – Work-based learning and standards (QA and curricular dimension)
PLC4 – Train the trainers (operational dimension)
These Peer Learning Clubs are open to all interested stakeholders (see Skillnet website to join)
EU opportunities related to multistakeholder partnerships, civic participation and TVET
Get involved in the Conference on the Future of Europe!
Register to the European Week of Regions and Cities (11-14 October 2021)
Join the 2021 SKILLMAN INTERNATIONAL FORUM (15-18 November 2021)
The EU Youth Strategy: https://europa.eu/youth/strategy_en
The European Training calendar (ETC): Trainings within the Erasmus+ Youth in Action Programme, European Solidarity Corps and beyond: https://www.salto-youth.net/tools/european-training-calendar/
SALTO-Youth, Support, Advanced Learning and Training Opportunities for Youth: https://www.salto-youth.net/about/
European Solidarity Corps: https://europa.eu/youth/solidarity
Erasmus+ Programme Guide: https://ec.europa.eu/programmes/erasmus-plus/node_en
Erasmus+ Programme Guide, Youth Participation Activities: https://ec.europa.eu/programmes/erasmus-plus/programme-guide/part-b/key-action-1/youth-participation-activities_en
[FORTHCOMING – January 2022] HORIZON EUROPE Call for Grants '
The Future of Democracy and Civic Participation
'
Follow AER!