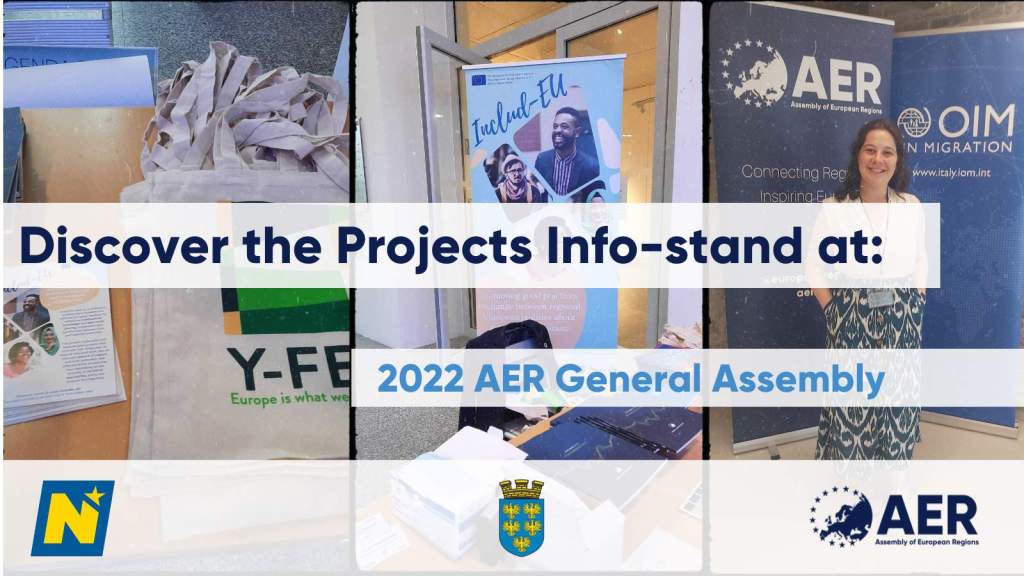 Share this!
You have a project idea? You are trying to build a consortium? Or you have no clue where to begin with EU projects? Come and see us at the Projects Info-stand on 14 October 2022 during the AER General Assembly in Brussels. More info about the event right here!
Let's meet on 14 October!
The Project Unit is very much looking forward to meeting you in person on the occasion of our General Assembly taking place in Brussels at the office of the Representation of the Government of Lower Austria to the EU and online on Friday, 14 October. The team will be available before, after and in-between the different sessions to discuss with AER members about the latest EU funding opportunities, your current and potential projects as well as collaborations for our current and future projects, namely Includ-EU, EU-Belong, YOUTHopia and Meet. We also promise fun and candies!
There are many ways we can work together!
This Projects Info-stand will be the perfect opportunity to discuss how we can work together and bring our projects to life. Our Unit is very active and stays at your disposal for all kinds of services and collaboration all year round. Here is in a nutshell what we can do for and with you:
Support on partner search and acquisition
We support our member regions in building project consortiums. We can contact potential partners within and outside our network and publish Partner Search via our website and newsletter. We invite you to regularly consult our Look for Partners section on our website so you don't miss out on any opportunity to join a project consortium as a partner.
Support for project writing, submission and reporting
If we collaborate on a joint project application where our members are taking the lead, our unit is glad to put their expertise at your disposal for drafting the application in areas such as project management, and dedicated work packages (knowledge transfer, dissemination).
Mapping of funding opportunities
Our unit regularly provides information in form of articles (on our funding opportunities dedicated page) as well as info-sessions and webinars. Specifically, we have been very active lately in unboxing the new MFF through a series of webinars. The content presented during these sessions is presented in a user-friendly booklet that we strongly advise you to check: "Unboxing the Multiannual Financial Framework 2021-2027". You can download it here.
Implementation of AER projects with active involvement of our member regions
As the AER, we ourselves lead or participate as partners in projects that we carefully select on the basis of the value we can bring to our members. As much as possible, we involve our members in our projects by offering them the possibility to attend events we organise and by cooperating with AER regions outside the consortium to shape the content of our activities.
For more details on what the Project Unit offers, we invite you to come see us on 14 October. We hope to see you there!
If would like to raise a further topic for which AER could activate a consortium building and map opportunities, or have any other questions on the above services, please contact:
Looking forward to seeing you and working closer together!
The AER Project Unit


Follow AER!