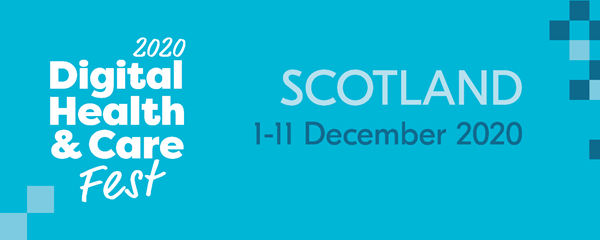 Share this!
The AER Digital Health Network is pleased to invite you to Digital Health & Care Event – DigiFest2020, Scotland's largest annual digital health and care event is back and for the first time will be delivered virtually!
What's the Festival about?
Digital health and care solutions have had a year of rapid scale-up and development. Taking time to reflect and learn about how digital solutions in Scotland and internationally have grown and been adopted is the focus of this year's DigiFest.
2020 has been a challenging year for everyone and for staff working to innovate and deliver person-centred services. Digital tools, services and approaches have had a higher profile than ever before and are recognised as making a key contribution to delivering health and care services going forward.
DigiFest2020 will be an opportunity to reflect on our experiences and explore key developments with contributions from Scotland, the wider UK, and international colleagues.
Details
Your registration will be valid for the whole duration of the festival and you can attend any sessions you wish once the event is live. When you register, you will be prompted to update your profile. This will help you get the most out of the interactive experience. If you'd like to know more about how to attend a virtual event on Hopin, please watch this short tutorial (2 minutes).

#DigiCare4Scot
@DigiCare4Scot
@TECScotland






Follow AER!