Share this!
Through its 2015 multi-annual work programme, the Connecting Europe Facility (CEF) has launched two calls for proposals for projects in the transport sector with deadline on February 16th.
The funds available are divided between allocations coming from the Cohesion Fund and a general call, totalling €7.6 billion (€6.47 through the Cohesion Fund and €1.09 through the general call). For the allocations from the Cohesion Fund, usual rules apply, meaning that only member states that are covered by the Cohesion Fund can receive funding. From the general call, any member state can receive funding.
There are a total of 12 priorities to be funded, divided into three funding objectives:
removing bottlenecks and bridging missing links
ensuring sustainable and efficient transport systems in the long run
optimising the integration and interconnection of transport modes and enhancing interoperability, safety and security of transport.
The priorities range from projects concerning the corridors of the core network (which accounts for as much as €5 billion of the total funds available), to the single European sky and the motorways of the seas, to multimodal logistics platforms.
A proposal must address either works or studies, or a combination of the two as long as the respective activities and related budget are clearly defined and separated. The actions that can be funded are further specified in the description of each of the 12 priorities in the multi-annual work programme (found below). The selection criteria are based on a proposal's relevance, maturity, impact and quality. Further information regarding the selection criteria can also be found in the multi-annual work programme.
Who can apply?
One or more member states or, with the agreement of the member states concerned, international organisations, joint undertakings, or public or private undertakings or bodies established in member states.
Budget
€7.6 billion, where €6.47 billion comes from the Cohesion Fund and €1.09 billion from the general envelope.
Application deadline
February 16th, 2016.
More information
Call for proposals – Cohesion Fund
Call for proposals – General Envelope
Call page (including CEF Transport contact points, FAQ and calls flyer)
Content facilitated by the EU Office Region Östergötland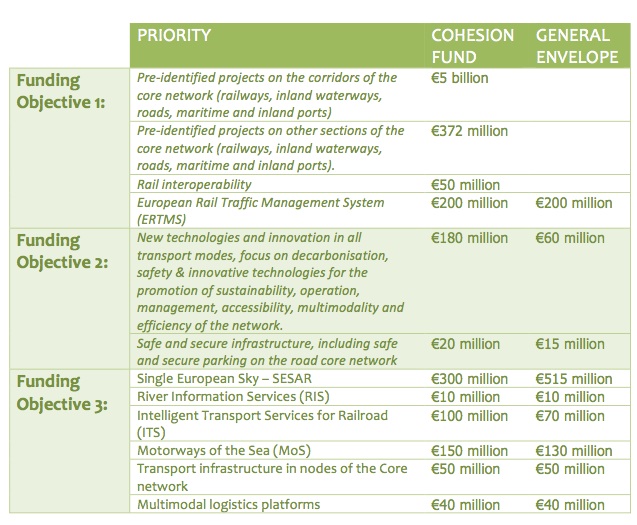 Follow AER!