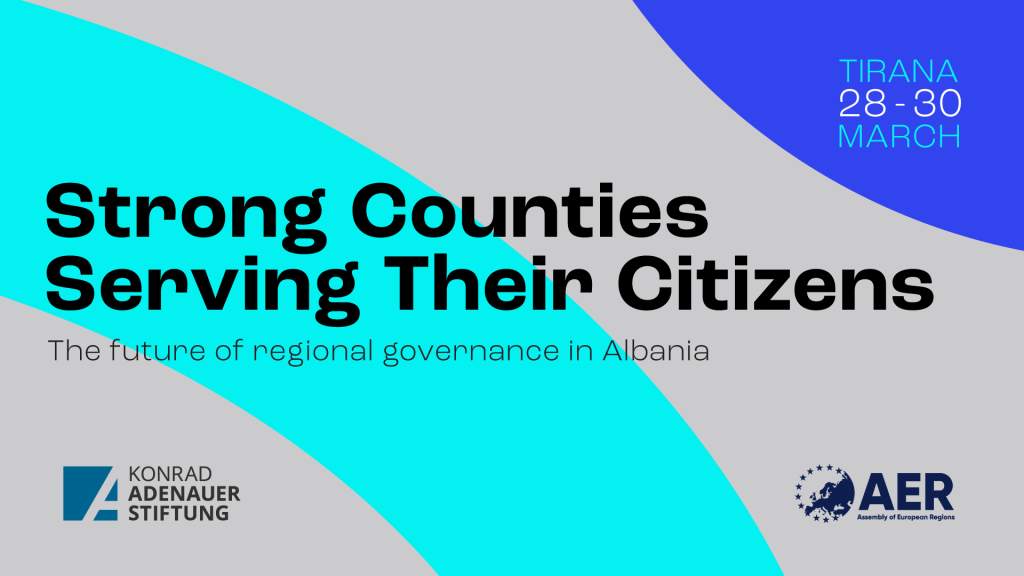 Share this!
It is our pleasure to invite you to the Conference on "Strong counties serving their citizens – the future of regional governance in Albania", held on 28-30 of March in Tirana, Albania.
The Assembly of European Regions is proud to welcome you to our Conference on the Future of Regional Governance in Albania. Our aim is to bring together regional leaders within Albania and to bring about a debate on the future of regional cooperation and citizen-centered policy making at the regional level. During our 3-day Conference, we will look to answer questions concerning the key challenges for regional governance, trends and challenges to citizen-centered policy making and best practices. The event promises to bring together Albanian and international stakeholders to liaise, to cooperate and to add to the debate. We look forward to seeing you there.
Following years of close cooperation and building a successful working relationship, the AER is excited to partner up with the Konrad-Adenauer-Stiftung to host this new event in Tirana with its Albanian member regions. We hope to engage participants in a debate that will lead to increased regional cooperation. We believe this event will be an excellent opportunity to identify common challenges for regional governance in Albania and developing common conclusions and recommendations for the benefit of politicians, civil servants, and our AER network. We look forward to your participation in the event.
We will discuss current needs and opportunities of the Albanian counties within the administrative setting On top of this, the goal is to shed light on how regional governments, businesses and citizens can from increased dialogue, e.g. to trigger investments and advance public participation. The AER will be proud to host these debates together with the Tirana branch of the German think tank Konrad-Adenauer-Stiftung, who accepted to support our conference.
Our list of confirmed speakers so far include:
Mr. Jonas Büchel – Spokesman of the Board, Urban Institute, Riga, Latvia
Mr. Christian Spahr – Secretary General of the Assembly of European Regions, Brussels, Belgium
Mr. Vuk Vujnovic – Secretary General South East Europe Public Sector Communication Association (SEECOM), Podgorica, Montenegro
Mr. Lukas Mandl – Vice President of the Assembly of European Regions, Brussels, Belgium
Mr. Tobias Rüttershoff – Director of the Konrad-Adenauer-Stiftung Albania, Tirana, Albania
The agenda for the event can be found here. Should you have any questions and would you like to register for the event, please contact our Member Relations Coordinator Mr. Anne Henk Bloemhoff ([email protected]).
We very much look forward to see you in Tirana.
Follow AER!