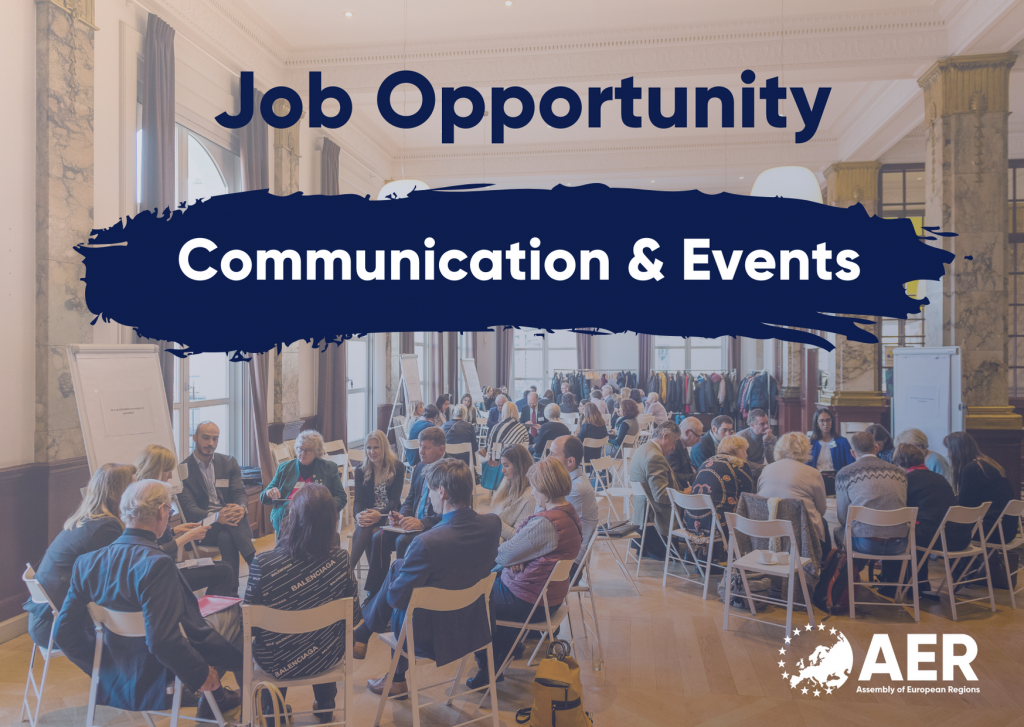 Share this!
This vacancy has now been closed. Shortlisted candidates have been contacted and invited to interview.
We are looking for a colleague to build on a renewed brand identity and to continue innovating our communications systems, taking AER to the next level.
We want this to be combined with a knack for organising events, from workshops, to multi-day conferences.
We offer a Belgian 1-year full-time employment contract, with a competitive salary, and a possibility of extension.
You must have the right to live and work in Europe.
Are you our next colleague?
We need someone who is creative, responsive and upbeat. In this position, you will be expected to constantly strive to improve AERs visibility, recognition and image, to use your insights in a proactive manner, delivering results in a smart, politically sensitive way.
Our new colleague should speak and write fluently in English, have experience in a communications/PR position, as well as event organisation experience, be interested in the regional dimension of Europe, ready to travel across the continent and have a good working knowledge of all modern channels of communication (MS Office Suite, WordPress, Slack, Mailchimp, social networks … ).
Your professional profile should fit the responsibilities below:
Managing the implementation of AER Events (50%)
The Communication & Events Assistant will also be responsible for coordinating the organisation of all our major events. We have statutory events all around Europe, and each of them requires the development of a format that suits our members, and their rich discussions.
In this role, you would
coordinate the sourcing of hosts (member regions) for all of our statutory events;
coordinate the organisation of the AER General Assembly;
coordinate the organisation of the bi-annual AER Bureau & Committee Meetings.
Leading AER's communications & community (45%)
As Communication & Events Assistant in our Brussels office, you will lead our team in "telling the story" of AER. You will disseminate results of our day-to-day activities, contribute to branding AER as the place to be for regions, and help to bring visibility to individual regions and politicians via our channels.
Some examples of how you'll do this include:
building on AER's new strategy for engagement and community development;
reaching out to AER's audience via social media;
developing and managing our main communication channel (our website);
managing our mass mailings and other communications;
liaising with the Member Relations coordinator to promote individual regions and their success stories;
preparing the annual activity report.
Other Tasks (5%)
As a small team, all colleagues do more than just their main tasks. As a computer whiz, we hope you'll be able to take over the handling of our IT responsibilities: handling the email accounts, setting up computers (Mac OS), and making sure the website is up and running efficiently.
Apply
If this piques your interest, here's how you can apply:
Please send a short cover letter with your CV in English to [email protected] with "AER Communication & Events Assistant" as the subject line.
Please include examples of your related communications work (campaigns/website/articles) and the types of events that you have organised (workshops/conferences/trainings).
Please label any attachments as follows "FirstName_Surname_FileName" and send in PDF format.
Deadline for application: Sunday 5 July – midnight.
Anticipated Interviews:
Round 1: 8/9/10 July
Round 2: 16/17 July
Starting date: September 2020
Due to the large number of applications, only shortlisted candidates will be notified.
Connecting regions – inspiring Europe
Set up in 1985, The Assembly of European Regions is the largest independent network of regions in wider Europe, bringing together regions from 35 countries – from Norway to Turkey and from Russia to Portugal.
AER is present everywhere on the European continent, inside and outside the European Union. It is the political voice of its members, as well as a forum for interregional cooperation. AER has offices in Strasbourg (FR) and Brussels (BE).
Follow AER!