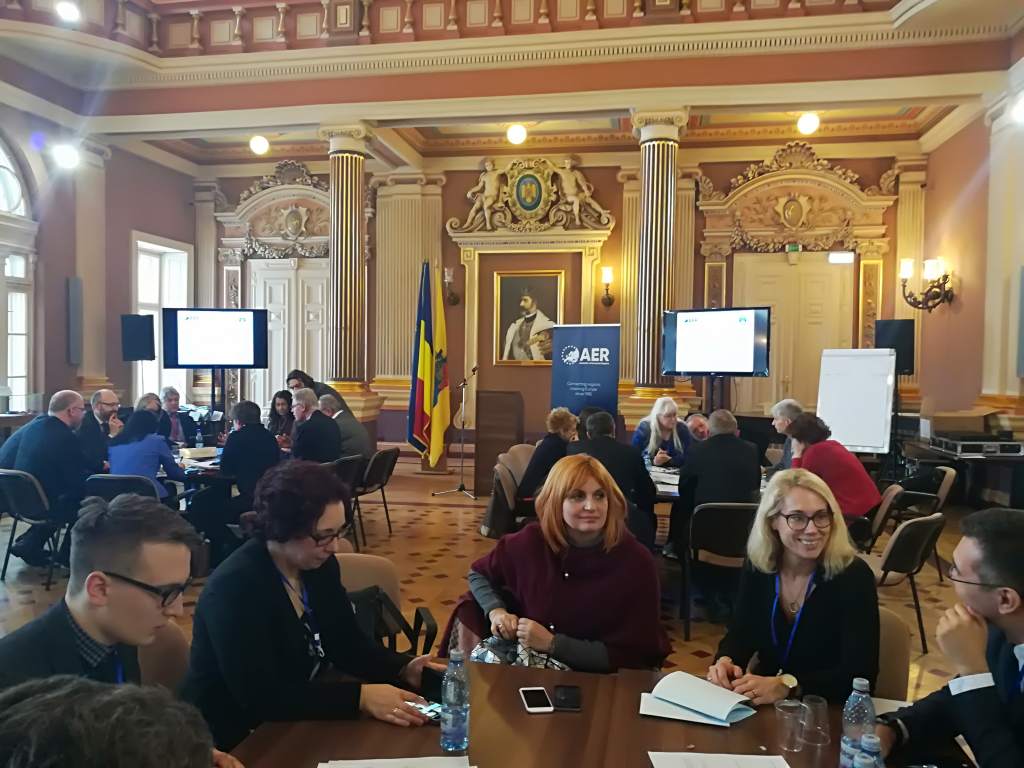 Share this!
On the occasion of the Committees' plenaries in Arad, AER members identified the topics which matter most for them and on which they want to develop joint ations on with fellow regions. The developement of the Action Plan was a collective process to enable all participants to specify needs and decide to initiate activities which add value for their region. The principle is the following: as long as an action fits with the AER values, is in line with the AER priorities and has support from other regions, it can be included in the Committees work programmes.
Committee for Economy & Regional Policy
The main upcoming actions in the AER Committee on Economy and Regional Policy can be summed up as following:
Innovation & SMEs :
-sharing experiences & mutual learning on mainstreaming innovation in all public services
-youth entrepreneurship in link with Committee 3
-Event on the Share Economy led by Brussels Capital & Catalonia
Rural development
-waste management in rural areas
-import & export of local agricultural products
-local food systems/ short supply chains
-potential study visit to Norrbotten (to be linked with the TAIEX EIR peer learning opportunity of the European Commission)
Energy
-follow-up on the visit on the energy transition in Gelderland: preparing peer learning via the TAIEX-EIR tool
-international event on biomass in Vojvodina
-use the Sustainable Development Goals to communicate about AER activities
-event on using the Sustainable Development Goals as regional development framework
Transport and Mobility
-experience sharing on the deployment of electric mobility
-REFIT H2020 project on New Mobility Services
-experience sharing & advocacy in the framework of the European Innovation Partnership on Sustainable Cities and Communities on New Mobility Services and exchanges with AER members
Cohesion Policy
-follow-up activities
Committee for Social Policy & Public Health
The main upcoming actions in Committee 2 can be summed up as following:
Social inclusion
-exchange experiences on unaccompanied migrant children
-AMID project on migrants with disabilities
-exchange experiences on social entrepreneurship & social canteen
-highlight frontrunners to increase visibility& inspire
E-health & health innovation
-leadership programme for policy makers on e-health, integrated care systems and health innovation
-risks of digital exclusion
-business models
-data protection, profiling & mass surveillance
-Artificial intelligence, bots
Equal access to health
-vulnerable groups: meet them where they are & help them
– exchange good practices on reducing barriers to care & access to services
Committee for Culture, Education & Youth
The main upcoming actions in Committee 3 can be summed up as following:
Youth
-Erasmus+ project
-promote youth mobility for all across wider Europe via the Eurodyssey programme & ensure all AER members are aware of the opportunities the programme offers
– training on youth mobility for civil servants in the framework of the European College of Cluny
Education
-workshop on entrepreneurship education best practices
-digitalisation in education
-sexual& relationship education
-LGBTIQ rights & sexual identity in education systems
Youth mental health
-organise a webinar on youth mental health
-workshop for mutual learning & experience exchange
-youth mental health as a topic for an upcoming Summer Academy
-awareness activities on the importance of youth mental health
-data collection on youth mental health & impacts/ costs of ill mental health
-sharing of resources for prevention
Culture
-2018 Summer Academy on cultural heritage for regional attractiveness
-Virtual reality: creation of an informal network of regions with a focus on immersion and visualisation of world heritage and cultural heritage
-walking and hiking paths along cultural routes
AER Action Plan
The AER Action Plan brings together all the activities carried out within and via the AER network, be they large or small. The Action Plan aims to be constantly updated. It is the Executive Board, which approves actions to be added to the AER Action Plan, in order to ensure alignment with values and priorities.
Follow AER!