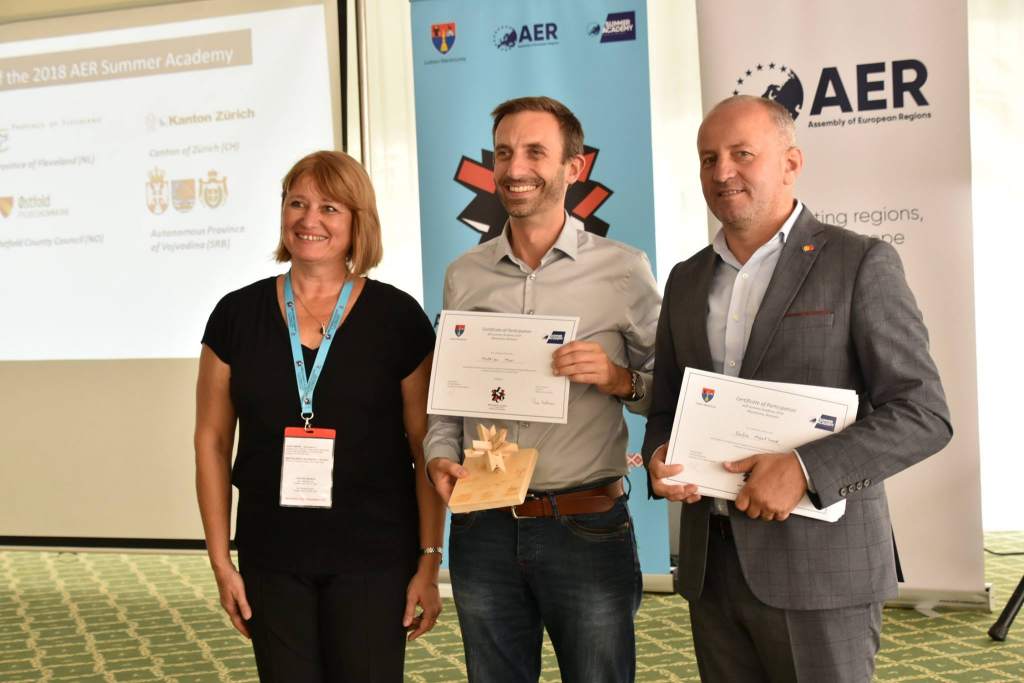 Share this!
If you have not yet heard about the AER Summer Academy, then you should join us at our next meeting on Thursday 27 September – during the AER Autumn Plenaries in Novi Sad (Vojvodina, SRB)– in order to find out more about what this initiative can offer your region. Registrations for the Plenaries are closing on Friday 14 September! 
What is AER Summer Academy's mission?
According to its Statute –recently approved by the AER General Assembly– the programme aims to:
To facilitate the exchange of experience and good practices between regions on issues of common interest.
To facilitate exchanges between policy makers and young people.
To support mutual learning.
To promote regional democracy in Europe & implementation of the principle of subsidiarity.
To provide an opportunity for regional representatives to build networks with their peers across wider Europe.
To foster interregional co-operation.
To highlight regional good practices and promote the host region
To promote European construction, European identity, between young people
Join our Summer Academy Organising Committee !
The AER Summer Academy Organising Committee (SAOC) is looking for new regional partners. There are many benefits to hosting an AER Summer Academy, including opportunities to:
learn about EU affairs;
network with experts and European counterparts;
promote the cultural heritage of your region; and
empower young people.
Our next meeting will be held on Thursday 27 September on the sidelines of the Plenary in Novi Sad. It will be a good opportunity for non-member regions of the Summer Academy to know more about this programme. You will have an opportunity to meet the members of the SAOC, watch a short video of the past edition in Maramures, listen to Vojvodina's proposal for 2019, and provide comments and feedback to the committee members. Please, do not hesitate to contact Andrés Muñoz Rojo at the AER Secretariat for further information.
Looking forward to seeing you in Novi Sad!
Photo credits: @Maramures County Council
Follow AER!