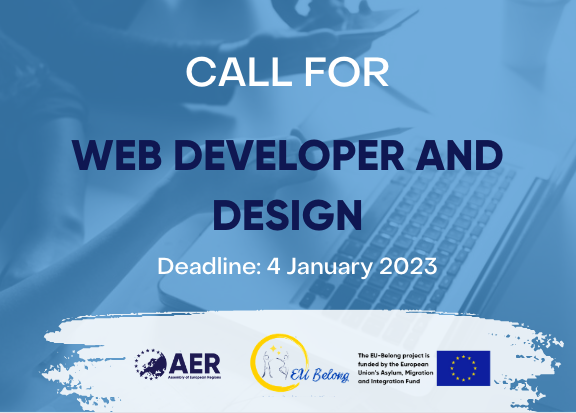 Share this!
The Assembly of European Regions (AER) is looking to engage a web developer experienced in graphic development to build a website section in the current AER website that should serve as an online repository for all project's resources and tools.
Check out the Terms of Reference below and apply with your ideas before the 4th of January!
Interested parties are required to submit the application as requested in the Terms of Reference to [email protected] and [email protected] on or before the 4th of January 2023 with the subject line "EU-Belong: online repository".
Background
EU-Belong is a 3-year project run by the Assembly of European Regions (AER) and 13 partners and co-funded by the AMIF Programme (AMIF-2020-AG-CALL) of the European Union. The general objective of the project is to improve the socio-economic inclusion and the sense of belonging for migrants through the development and implementation of integration strategies with a strong intercultural approach – focusing on the principles of equality, diversity and positive interaction- in Europe's Regions.
Follow AER!