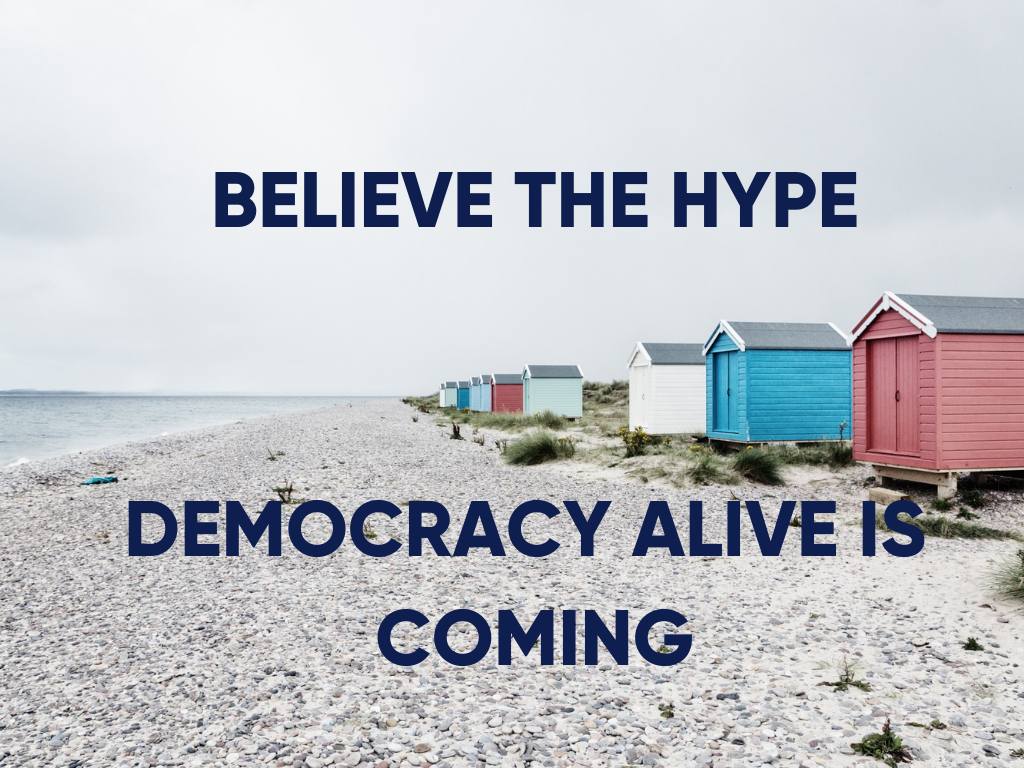 Share this!
Spring has sprung, April has arrived and DEMOCRACY ALIVE is no joke!
For three days, from 11 to 13 April 2019, everybody who's anybody (in European affairs) will be on the beautiful Dutch island of Texel for a true celebration of European democracy.
Inspired by the Nordic tradition of democracy festivals, DEMOCRACY ALIVE will encourage civic engagement and increase interest in European democracy. Bridging the gap between us citizens and our representatives, and reinforcing trust and optimism in the European project, the festival will create a space where citizens, stakeholders and our elected representatives can come together and engage in dialogue on prosperity, the environment, opportunities for the young, employment, human rights and the rule of law.
AER is delighted to be a co-organiser and to have a pavillion at the festival where we will host a number of exciting events. Read on below to find out more!
A Campfire Conversation
#IChooseEurope is a campaign run by the Assembly of European Regions and the Young European Federalists in the run up to the European Parliament elections. It is part of the wider Road to the Future project which kicked off in late 2018. Between March and May 2019, the #IchooseEurope campaign will be on the road around Europe hosting a number of local campaign events encouraging young Europeans to get out and vote!
This campfire conversation will feature two prominent European politicians and activists who will share their experience about how the European context was fundamental to their careers and how working together at European level can really bring about change. The speakers are Magnus Berntsson, President of AER, the R20 group and President of the Regional Council of Västra Götaland, Sweden and Christopher Glück, President of JEF Europe. The event will be moderated by Michael Bruton, Election Officer for the 2019 European Elections at the European Parliament.
Are all Europeans created equally?
An informal discussion looking at the issue of equality in Europe. What has the EU ever done for us? Ever heard of cohesion policy? How can we close the gender gap? Does your degree from one European university mean the same as another? Are fish fingers in Belgium better than those in Bulgaria? How can we truly create a "level playing field" for Europeans?
Four organisations working hard on these issues, the European Women's Lobby, AEGEE – The European Students Forum, the European Trade Union Confederation and the Assembly of European Regions will discuss. The speakers will look at where the EU has made strides in this area, before turning their attention to their views for the future and where there is still room for improvement in the areas of cohesion, equality, and social inclusion.
A Democratic Open Mic Session

Are you an average Joe, Jeanne or Juan, sick of all the high-level discussions, roundtables, and speakers going on in Brussels? Maybe you're 'just' an intern looking to share some worst practices on a low-level panel? We've got the event for you! If you've got something to say on the future of Europe we want to hear it! Democracy is all about making your voice heard, so why not come along to our open mic session to have your say? Whether it's in the form of spoken-word, comedy, or even music, we want to hear your voices!
A sign-up sheet will be available at the AER pavilion all day Thursday and on Friday morning, drop by, sign up and then come along and bring your friends for an afternoon of democratic banter. A great way to brush up on your public speaking skills in a casual way, there will be some prizes at the end of the night for the crowd's favourite performers! The first 10 acts to sign up will also be given a voucher for unlimited 'Mocktails' during and after their stint on the stage! (Spitzenkandidaten also welcome!)
Regions at the forefront of youth mobility in Europe
Have you taken part in a youth mobility programme yourself? #DidYouKnow that the AER Eurodyssey programme, set up in 1985, was pioneer in promoting youth mobility in Europe even before Erasmus was founded? If you are looking for some different professional experience abroad or you represent a region looking to join a dynamic youth mobility programme, then you have an unmissable appointment with us on Friday afternoon to discover what Eurodyssey has to offer you!
This interactive info-session organised by AER in partnership with the Catalan Public Service of Employment will allow you to find out more about the benefits of Eurodyssey but also to take a tour around other european mobility schemes. Furthermore, we invite you to an open-mic session to tell your success stories transitioning into the job market, to exchange views on the opportunities and constraints for mobility to thrive and, ultimately, to convey a message standing up together for Fair Mobility!
Host region of AER Summer Academy
Novi Sad (Serbia) is the 2019 European Youth Capital – THE place to be for young Europeans this year. This is a very special recognition awarded by the European Youth Forum to Europe's most youth-friendly cities. Come along to the AER pavilion to meet the team behind the successful European Youth Capital campaign, OPENS, and to learn more about what's going on in Novi Sad, how you can get involved in the EYC2019 or how you can start your own campaign to make your hometown a European Youth Capital in the future.
This year, the AER Summer Academy "Youth is future, youth is Europe" in the wake of the 2019 Elections to the European Parliament, will take place in Novi Sad, in cooperation with our member region Vojvodina, to mark the European Youth Capital. During this info session and workshop you can find out more about the AER Summer Academy and how you can get involved!
With over 100 events in total over three days, local food trucks, live music, comedy, and hopefully not too many April Showers, this is an event not to be missed!
Find out more at democracyalive.eu
Follow AER!