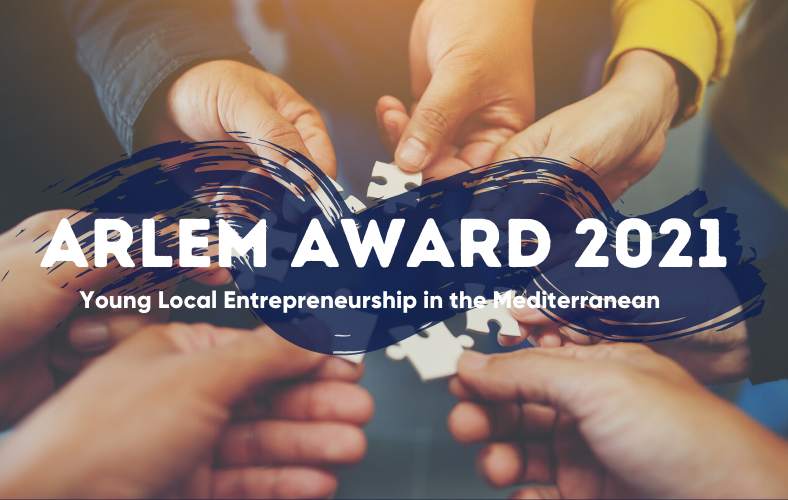 Share this!
Are you a young entrepreneur running a local business in the Mediterranean region and collaborating with your regional or local community? Then you may be eligible for the ARLEM Award 2021.
The Assembly of the European Regions is pleased to present this initiative launched by the Euro-Mediterranean Regional and Local Assembly (ARLEM) to award a young innovative entrepreneur addressing their local needs. Created in 2010 by the Committee of the Regions (CoR), ARLEM aims to give a territorial dimension to the Union for the Mediterranean; promote local democracy, multi-level governance and decentralized cooperation around the three shores of the Mediterranean; encourage North-South and South-South dialogue; promote exchange of best practices; and promote regional integration and cohesion.
In the context of the current COVID-19 pandemic, the importance of the local economy and the realisation of the limits of globalisation came to the forefront. Now more than ever before, young local entrepreneurs need support to develop their businesses and address local communities' needs. With this award, ARLEM focuses on stimulating local business, supporting young entrepreneurs and encouraging collaboration between local public authorities and the private sector.
Deadline for this award is 20 September 2020. More information and the application can be found here.
The winning enterprise and local/regional authority will be announced at the 12th ARLEM Plenary Session at the beginning of 2021 (#ARLEMaward).
Eligibility Requirements:
Young Entrepreneur (under 35)
Supported by her/his regional or local community
Enterprise has been registered and running for at least 3 years
Headquartered in a country on the three shores of the Mediterranean (Albania, Algeria, Bosnia & Herzegovina, Egypt, Israel, Jordan, Lebanon, Libya, Mauritania, Monaco, Montenegro, Morocco, Palestine, Tunisia and Turkey
Take a look below at the previous winners:
Arlem Award 2020
Arlem Award 2019
Follow AER!