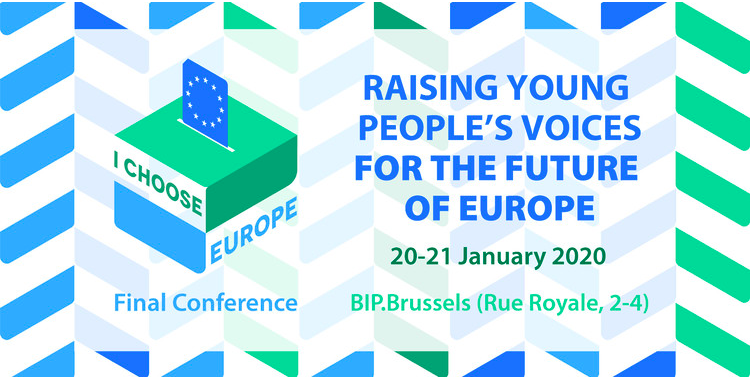 Share this!
After a good number of training workshops, advocacy activities at national and local level, an inspiring bus tour and many other successful lobby actions aimed to encourage youth participation and democratic engagement towards the 2019 European elections and beyond, the Road-to-the-Future / European Youth Together project is coming to an end.
The "I Choose Europe" campaign has been led by civil society organizations, aiming to strengthen young people's public participation before and after the European Elections 2019. Before May 2019, Les Jeunes Européens fédéralistes (JEF, project leader) and partners organized debates and public events intended to raise awareness of the European Elections and send a clear message to current and future decision-makers that young people's voices matter.
With the new Commission just taking office, this final conference will be now the perfect moment to assess the success of the "I Choose Europe" campaign and also look at the future of how youth and civil society organizations can make their voice heard in European-level decision-making in the next cycle of reforms the European Union.
The closing ceremony will take place between 20-21 January 2020 in Brussels, Belgium. It will bring together young Europeans from all over the continent, civil society organizations, as well as representatives of the European institutions.
During the conference, participants will have the opportunity to reflect on the "I Choose Europe" electoral campaign, as well as the role of youth and civil society in shaping Europe's future. Furthermore, a discussion on the upcoming Conference on the Future of Europe will take place. It will be followed by a simulation workshop where participants will be able to discuss their proposals for the future of Europe together with civil society organizations and Members of the European Parliament, as well as representatives from the European institutions.
The outcomes of the discussion will be compiled into a set of policy recommendations addressed to European decision-makers, creating synergies with the upcoming "Y-FED" project aimed at bringing the EU closer to its citizens – in which AER will be also a partner.
Objectives of the Final conference:
Assess the success of the "I Choose Europe" campaign.
Reflect and debate about the upcoming Conference on the Future of Europe, while exploring the role and expectations of youth and civil society organizations.
Why this project conference is so important? Youth policies – an AER priority: Young people in community engaging and organising on the regional level for social change and for better EU-level youth policies.
There are plenty of synergies between the RTF project and the AER Youth Regional Network (YRN). Both aimed to networking, influencing policy by involving young people in decision-making processes at regional and European level and by exchanging best practice and experience by bringing together youth activists and experts on the topic, i.e young representatives from AER member regions. Moreover, the project conference could serve as an opportunity to strengthen the AER vision of regionalisation and the promotion of sustainable governance by broadening the scope of the network to include other regional stakeholders from civil society partners as well as from governments/institutions. In addition, this conference could provide some insights to inspire further other AER youth-led programmes such as the Most Youth Friendly European Region Award – an innovative initiative which greatly succeeds in highlighting the importance of youth policies at the regional level. Noteworthy is also the Eurodyssey programme, that is a flagship and prestigious exchange programme which allows young people from AER member regions to have professional experience and gain European democratic citizenship skills, through a traineeship abroad.
Interested to participate in the final conference?
 Are you between 18 and 30 years old?
 Keen on youth and democracy topics at European level? Have you been somehow involved in this project or in any other activity related to the European Elections 2019 in your region or city?  Would you be willing to share your views or experience about the role of young people within European policies-making processes?
 Are you resident of one of the following countries: Austria, Belgium, Bulgaria, Finland, France, Germany, Italy, Greece, North Macedonia, Malta, Poland, Slovenia, or Spain?
Then, please do not miss the opportunity to attend this unique and inspiring conference and REGISTER NOW since places are limited (first-come, first-served!) All costs related to your participation (incl. accommodation, travel and meals) would be reimbursed!
Registration is now open until 20 December 2019, so please fill in the registration form as soon as possible: https://www.federalists.eu/activities/eytroad-to-the-future/reg-raising-young-peoples-voices-for-the-future-of-europe/
In case that you need more information about this participation opportunity, please have a look at the call for participation and the official conference programme.

For more information, please contact directly:
Eduardo Nadal – Projects Manager:
Phone: +32 2 400 10 12
E-mail: [email protected]

Follow AER!